Even though there are still four months to go before the Oscars, critics and movie buffs alike are already starting to make their predictions. The coming weeks will see theaters inundated with strategically crafted films that will try to make you feel every definable emotion and then some, which is a pretty standard criterion for scouting out Oscar hopefuls. But what has made this pre-awards season particularly fascinating is that it seems to have been infiltrated by a handful of beloved comedians who have shed their lighthearted personas for the sake of potentially receiving the most prestigious award in Hollywood.
To be fair, this is not the first time that comedians have abandoned their roots in favor of what some would consider to be more respectable genres and been generously rewarded for it. For the most part, comedians have been restricted to relying on darker comedies to win the Academy's admiration, a trend which has clearly started to fade, as evidenced by Jordan Peele's recent best original screenplay win for "Get Out." In this year's Oscars, it seems that those with the strongest chances are Steve Carell, Melissa McCarthy and John Krasinski.
Steve Carell in "Beautiful Boy"
Perhaps the most surprising of these transitions has been Carell. The world fell in love with his wit and lovable humor thanks to his iconic characters in "The Office," "Anchorman: The Legend of Ron Burgundy" and "The 40-Year-Old Virgin." But, the world was shocked when, in 2014, he appeared as millionaire murderer John du Pont in "Foxcatcher," a role that earned him a nomination for best actor. Although after this he's served as the comic relief in dramedies like "The Big Short" and "Battle of the Sexes," he's now diving even deeper into his dramatic side with his most recent role in "Beautiful Boy."
Based on the memoirs by David and Nic Sheff, "Beautiful Boy" is a brutally honest depiction of the realities of drug addiction. Carell gives a raw performance as David, a father trying to understand what led his son to addiction and how he is supposed to intervene and keep him alive. The trailer alone is enough to tell you that it's not-so-subtly baiting the awards circuit, and it just might end up working. The fear and desperation are not just an act in Carell's performance but the emotions of an actor so deeply entrenched in his character that he's practically unrecognizable.
Beautiful Boy - Official Trailer | Amazon Studios
As difficult as it might be for some people to imagine, the man on-screen is not the lovable Michael Scott or Brick Tamland. It's not someone who's going to make you laugh with some sort of slapstick comedy or adventure filled with crazy antics. While some might think that "Beautiful Boy" reeks of Oscar bait, that doesn't negate the fact that it represents a turning point in Carell's career. "Foxcatcher" was only the beginning, and if the early predictions are true, then it seems as though the sky is the limit for him.
Melissa McCarthy in "Can You Ever Forgive Me?"
While maybe not as tear-jerking as "Beautiful Boy," McCarthy's nuanced portrayal of author and literary forger Lee Israel in "Can You Ever Forgive Me?" is one that is both a source of redemption for the actress and a step forward in a career already defined by resounding success. McCarthy already made her name at the Oscars when she received a best supporting actress nomination for "Bridesmaids," even though this accomplishment is rarely, if ever, achieved by a purely comedic role.
McCarthy has floundered a bit in the past few years by taking on films that were a waste of her potential and panned by critics. That's certainly not the case with "Can You Ever Forgive Me?" The film uses McCarthy's characteristic wit and timing to tell a not-so-funny story, and she's allowed to showcase a side of her talent that audiences did not think existed. While most dramedies rely on multiple actors to balance the serious moments with just the right amount of comic relief, McCarthy is able to fulfill both responsibilities herself and deliver a performance that is her most realistic portrayal of the human condition to date. Although it's easy to see Israel as just a desperate criminal, McCarthy makes her a sympathetic character that the audience can relate to and subsequently root for, despite her actions.
For the second time in her career, McCarthy has positioned herself to be an awards season favorite without having to sacrifice the comedic talent that made her successful in the first place, which is certainly more than a lot of her peers can say. If her trajectory continues in this direction, then movies like "Life of the Party" and "Tammy" will only be a distant memory.
John Krasinski for "A Quiet Place"
Three years ago, "A Quiet Place" wouldn't have been uttered in the same breath as "Oscar." But then again, the Oscars have changed dramatically in a rather short period of time. The Academy's push for greater diversity in its ranks has included younger members who have a far less restricted view of what makes a film Oscar-worthy, which in the past has been almost directly the result of genre. Peele's win this year not only proved that comedians are fully capable of expanding their reach far beyond the confines of their genre but that horror films can certainly be contenders for the Academy's attention.
You could probably write an entire book that details everything that makes "A Quiet Place" as incredible as it is. The concept of a world crawling with aliens that can hear even of the subtlest of sounds you make is certainly out of the box, and the movie uses the suspense of what you don't see, the danger of every sound, in order to make the viewer feel as though something could go wrong at any moment. Even excluding the fear factor, Krasinski manages to make a film that provides a powerful commentary on the importance of family and the lengths to which people will go to protect the ones they love.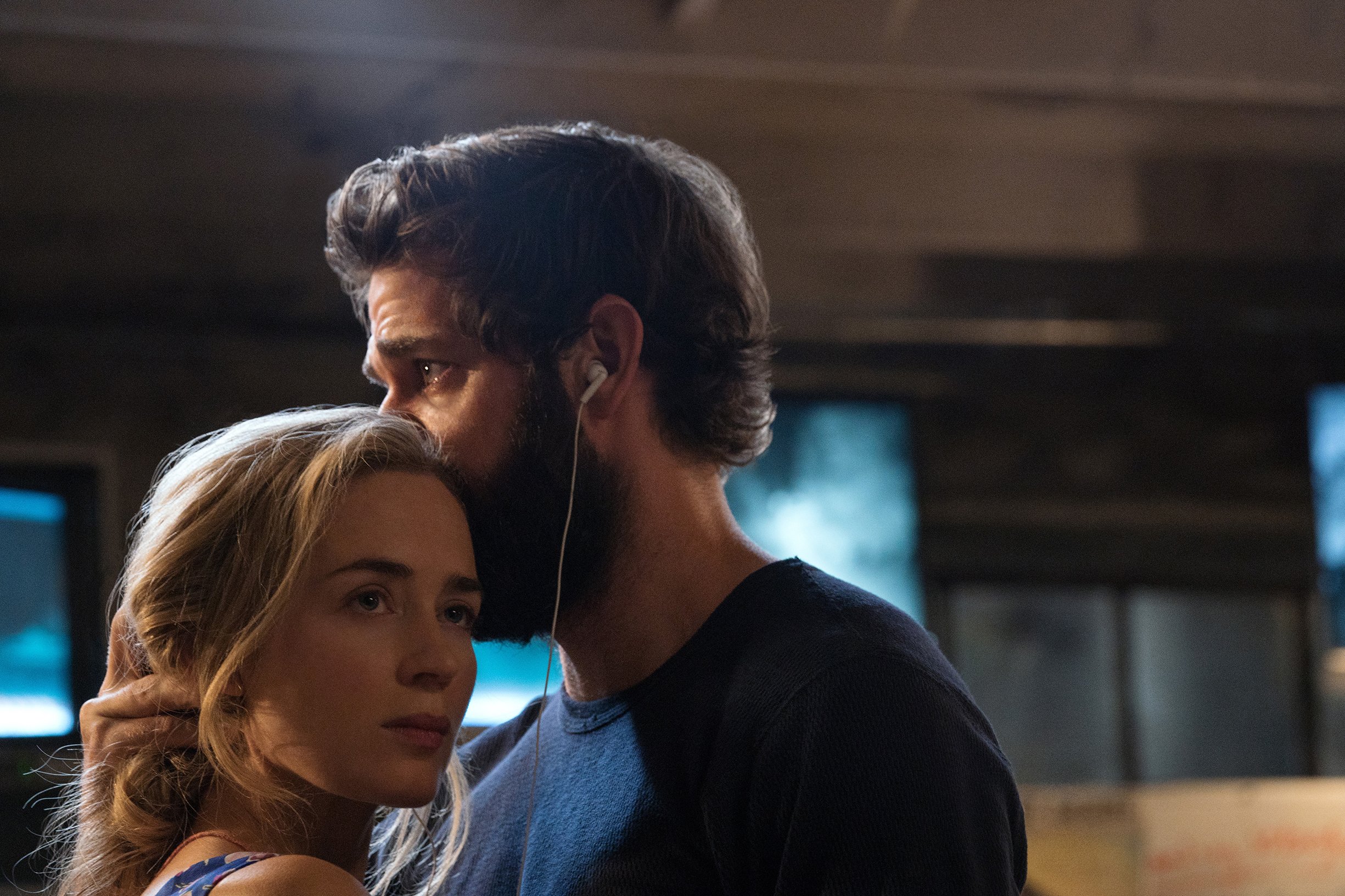 But, beyond its originality and layered symbolism, what made "A Quiet Place" almost unbelievable was that it was the brainchild of Krasinski, who found stardom by starring as lovable salesman Jim Halpert alongside Carell in "The Office." In just the past few years, Krasinski has made a name for himself as an action star with roles in "13 Hours: The Secret Soldiers of Benghazi" and Amazon's "Jack Ryan," but "A Quiet Place" has proved, beyond a reasonable doubt, that he's far more than just a former comedian who buffed up.
The film became a cultural phenomenon overnight, and Krasinski was praised not only for his performance alongside wife Emily Blunt but also for his role as writer and director. Although Krasinski's film is not necessarily as much of an emotional rollercoaster as some other entries, the incredible success of "Get Out" in the last Oscars puts the film in a strong position to be an early Oscar contender, and it would be devastating to see Krasinski be snubbed for any of the awards that he would be eligible for.
All of this being said, early Oscar predictions aren't always correct, and it's too soon to say what the lineup is going to look like. But, the fact that comedians have had such a strong presence in the conversation is very encouraging for the future of the Oscars. Some might think that it's too optimistic to think so, but the image of what an Oscar winning film or performance looks like has rapidly evolved over the past few years. While it does still include the most riveting and dramatic of performances, there is now room for performances that showcase a mixture of talent or sit in another genre altogether. It has created an environment that is favorable to the wide array of talents showcased by some of the best comedians in Hollywood, and there's little doubt that their Oscars invasion is only just beginning.