Amazon's taking big steps and spending big money to bring its Prime TV services up to par. Although the streaming service is included with a normal Amazon Prime membership, it's often ignored as a usable streaming option due to the limited and low-quality shows and movies it offers compared to Netflix or Hulu. However, the multibillion-dollar company aims to change that reputation as soon as possible.
Besides bringing some top-notch executives on staff, like former NBC Entertainment president Jennifer Salke, Amazon is following Netflix's example and producing a number of original shows and movies to beef up its streaming selection. The most recent edition to this growing entertainment repertoire is a series based on Tom Clancy's "Jack Ryan" novels.
The series follows a line of 20 books and five movies done on the character of Jack Ryan, an action hero CIA agent. Amazon plans to make this series the best rendition yet, and the company certainly isn't cutting corners on the project with an $8 million budget per episode and an original storyline.
Rather than follow the usual tales of Ryan's experienced conquests, the show's executive producers Carlton Cuse and Graham Roland are making this all about his origin story. Ryan is a young analyst at the CIA, with just four years into his position. After following a paper trail for some time, Ryan discovers potential terrorist activity and reports it. This uncovering leads to his unwilling participation in an undercover operation to track down the perpetrator in Yemen while dodging bullets, bombs and punches.
Harrison Ford, Alec Baldwin and Ben Affleck are just a few stars who have played the iconic role of Jack Ryan over the years, cementing the character's reputation as a hardened fighter with epic skills. Since this is not the usual Jack Ryan story, Amazon is going in a completely different direction with the starring role: John Krasinski.
Many critics have seen this as an odd choice to play a CIA spy, but John Krasinski was the first and only person that Cuse and Roland approached about playing the part. The doubts about Krasinski come from those unable to shake his most famous role: Jim Halpert. After 10 years of playing the boyish prankster in NBC's television comedy series "The Office," it's hard to picture Krasinski doing anything else, especially pulling off a believable action hero.
Krasinski is aware of this issue, however, and is working hard to remake himself into a more relatable and versatile actor. Over the years, he's racked up 46 acting credits, 12 producing positions, four directing roles and several awards to round out his professional portfolio. Yet, the past two years have been his biggest successes for ditching the lighthearted vibes.
Earlier this year, Krasinski directed and starred in the sci-fi thriller "A Quiet Place," which received mixed but overall positive reviews from critics and earned a cool $332.3 million at the box office.
However, the movie that really prepared Krasinski for the role of Jack Ryan was "13 Hours." The 2016 Michael Bay film starred John Krasinski as Jack Silva, a CIA contractor hired to protect a compound in Benghazi. Krasinski underwent a huge physical transformation for the part and proved himself as a viable option for another military-based role.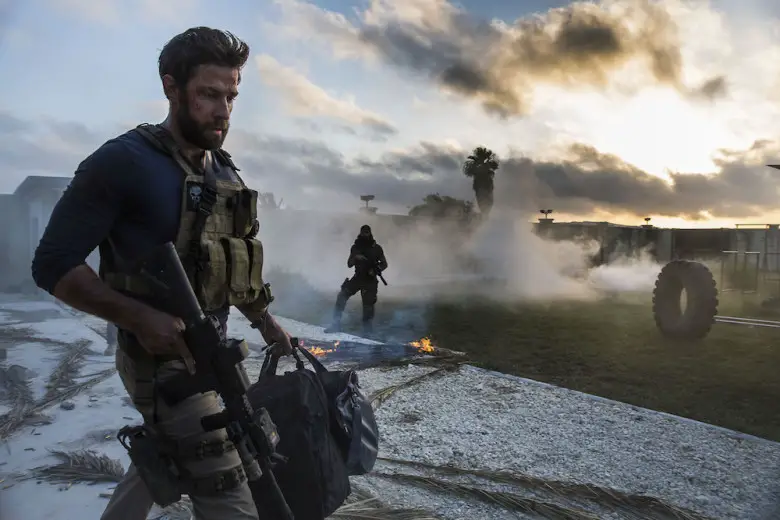 According to Graham Roland, "We wanted to start our story with this guy who was just an office worker who was being pulled into something that he had never done before, and that was a journey that John was making in his career, going from a guy working on a sitcom based in an office to more of an action hero."
Amazon Studios head Jennifer Salke is particularly excited about having Krasinski take on the role of Jack Ryan. The two know each other from Salke's time as president of NBC Entertainment while "The Office" was still filming.
In an interview with Variety, Salke said, "He elevates the role. It's an unexpected Jack Ryan. He brings so many qualities to the role that you wouldn't see in your average action hero. I love that he feels like an Everyman. He has a boy-next-door quality. But then you're surprised to see the intensity that can come out of him."
Cruse and Roland plan to use Krasinski's combination of boyish charm and action skills to really round out the young Jack Ryan character and show his development into the iconic CIA agent. Krasinski's unique take on things will allow Ryan to be more relatable to audiences and, as Roland told Variety, "Play that classic hero that you can really see yourself in."
Although he wasn't currently looking to return to a television series, Krasinski was immediately on board for the project. A fan of the "Jack Ryan" series since his childhood, Krasinski was eager to put his own spin on the character during the developmental period of Ryan's career.
"Let's be honest," he told Entertainment Weekly, "I know I can't be Superman and I know I can't be Iron Man. So Jack Ryan sort of becomes the guy that maybe, if you work hard and dedicate yourself, you could be."
He also loved the idea of telling the story through a television series medium rather than a movie because it allows for more character and plot development without time constraints.
Additionally, Krasinski was eager to work on another military-based story because of his background. Coming from a family with 11 relatives who have served in the military, he hopes that military communities will receive "Jack Ryan" as well as "13 Hours" was.
Even though filming for "Jack Ryan" is currently on a break, Krasinski's been keeping up with the requirements of his role. Earlier this month, Krasinski spent several weeks in Atlanta with his family while his wife, Emily Blunt, worked on Disney's upcoming "Jungle Cruise" with Dwayne Johnson. While Blunt and Johnson were busy at the studios, Krasinski used Johnson's personal gym to stay in shape and maintain his new action-hero appearance.
"I just felt like a moron if I worked that hard to look like that and then gave it up," he told Variety.
The new "Jack Ryan" series will premiere on Amazon Prime Video on Aug. 31 and will be free to watch for all Prime members. Amazon is so confident in the show's success that it already renewed it for a second season that will continue Ryan's adventures in South America.
The proposed plan for the series is to have five seasons that follow similar phases to the books, but nothing is final yet.
For now, you Amazon Prime members can add "Jack Ryan" to your watch lists and join the impatient masses waiting for Aug. 31 to arrive.