In my nearly 20 years of living, I have come to know only a few things for certain: Coffee is always better than tea, "The Hobbit" movies were a disgrace to the Tolkien universe, Woody Allen must be taken out Julius Caesar style and that the seasons, no matter how fun, warm or celebratory, never seem to feel complete without a classic Charlie Brown holiday special.
Most of everyone I know shares the same sentiment that I do, and yet I don't feel like the specific emotional-completeness experienced during a Charlie Brown screening is always sought out. I'm sure many of you can relate: flipping through the channels with your overly festive (but always comforting) mother who jumps in delight at the sight of the familiar Schulz characters. It's not necessarily what you were planning to watch, because you're over the age of 12 now and were probably leaning more toward a fear-inducing horror flick, but it's always what you end up with, isn't it?
This holiday season, with Halloween just around the corner, it seems only fitting to celebrate "It's the Great Pumpkin, Charlie Brown." While the second holiday-themed special featuring the lovely "Peanuts" crew is universally adored and acclaimed by audiences everywhere, I do feel as though "The Great Pumpkin" is often overlooked in relation to its cherished predecessor, "A Charlie Brown Christmas."
Don't get me wrong — I, too, treasure the classic Christmas special and won't lie in saying it's not my favorite. But "The Great Pumpkin" features a shining array of comedic quirks, beautiful artistry and, of course, a heartfelt message to never give up on what you believe in, that makes it a worthy component in the discourse surrounding the "Peanuts" Holiday Specials.
The humor is perhaps the most prominent hallmark of "The Great Pumpkin," something the more serious Christmas special tones down in exchange for explicit poignancy. From the start of the program, viewers are pulled into a charmingly silly scene of Linus and Lucy searching for the perfect pumpkin, their upbeat theme song echoing in the background. Linus has trouble shoving Lucy's selection — a giant pumpkin twice the size of him — through the picket fence. As they finally enter their home, Lucy eagerly starts carving into the pumpkin, Linus screaming out, "You didn't tell me you were gonna kill it!"
Found in this opening sequence are the motifs — pumpkins, jokes and Lucy's incessant belittling — reflected throughout the episode. Immediately following the spooky title frame, audiences are brought into the peculiarly sweet lives of the "Peanuts" gang as they go trick or treating, attend Halloween parties and, in Linus's case, wait for The Great Pumpkin to make its long-awaited appearance.
The Great Pumpkin is, of course, the center piece, the driving force of the special. Fan favorite Linus, Lucy's younger brother prone to dragging around a blue blankie, is dead-set on the existence of The Great Pumpkin. Reminiscent of the story of Santa Claus, Linus proclaims, "On Halloween night the Great Pumpkin rises out of his pumpkin patch and flies through the air with his bag of toys for all the children." Ironically, he mocks Charlie for believing in Santa Claus, adding in a letter to The Great Pumpkin, "You must get discouraged because more people believe in Santa Claus than in you. Well, let's face it … Santa Claus has had more publicity."
Regardless of ridicule by Charlie and Lucy, Linus refuses to give in to their joyless skeptic ways. He ends his tirade with the ridiculously funny closing statement, "there are three things I have learned never to discuss with people: religion, politics, and The Great Pumpkin." It seems like Linus can always be counted on to deliver a solid, adult-minded speech — famously, the "meaning of Christmas" monologue — a strong feat for someone so young.
Fortunately for Linus, Charlie's younger sister Sally has the biggest heart-eyes for him, and she agrees to accompany him to the pumpkin patch on Halloween night. To Linus' dismay she eventually becomes pissed about having skipped trick-or-treating, wittingly replying with "Welcome to the 20th century," after Linus says he thought young girls were supposed to be innocent and trusting. While I can't say I approve of Linus' poorly articulated behavior — this is a '60s children program, after all — Sally's spunky quip back to him is simply great.
Meanwhile, the beloved protagonists of the Peanuts franchise, little ole' Charlie Brown and his sidekick Snoopy, are in full-swing of their own Halloween shenanigans. Charlie, to his shocking delight, has been invited to cool-girl Violet's party. To no one's surprise, it takes less than a second for Lucy to go at him in a full-on roast sesh, telling Charlie, "If you got an invite, it was a mistake!"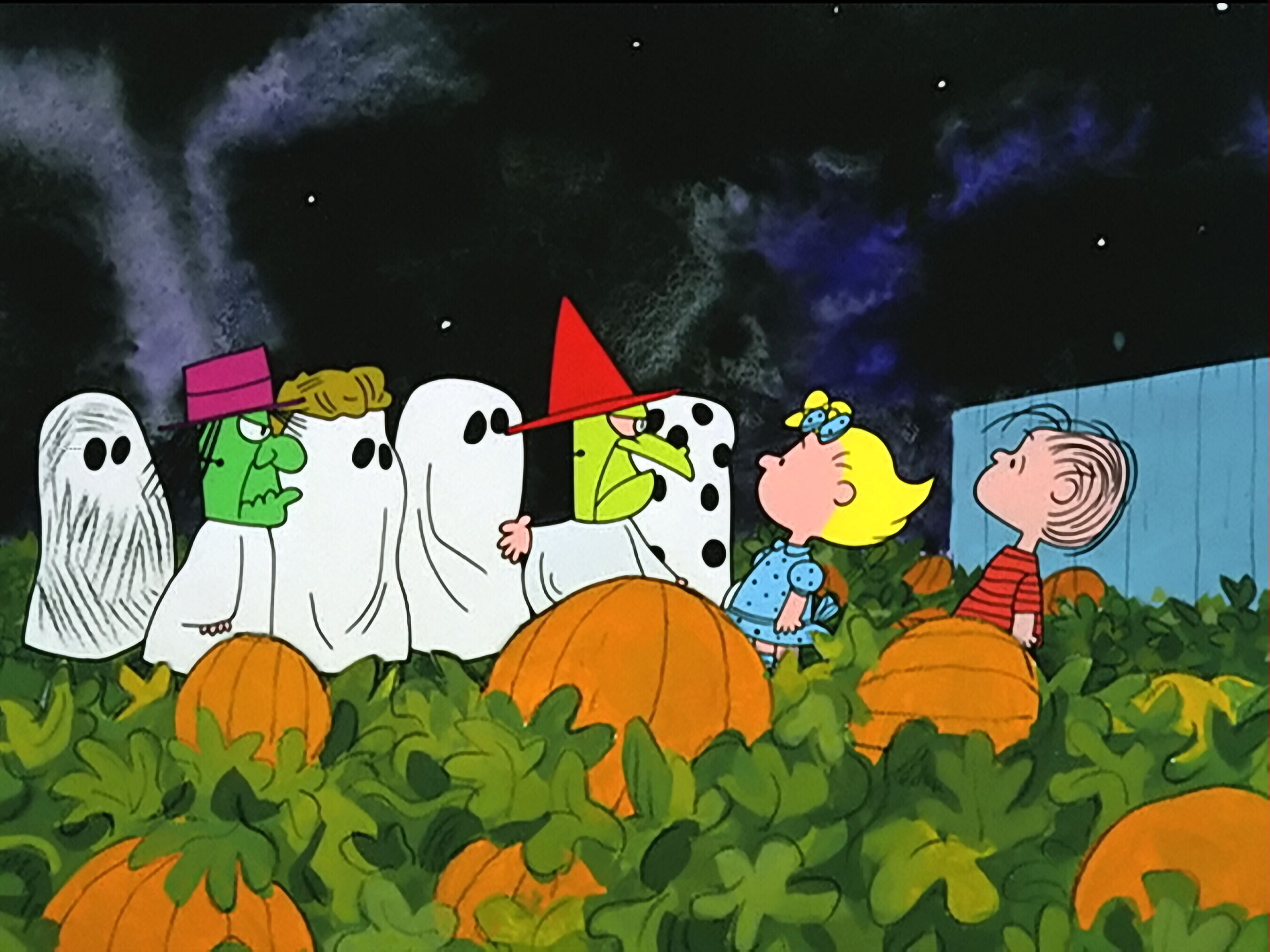 Soon, everyone is preparing for trick-or-treating, or tricks or treats, as they call it. Earlier in the episode, Sally was invited to go with everyone, which she replied to with one of my favorite lines, "Are you sure it's legal, I don't want to be accused of taking part in a rumble." The implied idea that rumbles and legally-defined activities are on the forefront of young Sally's mind is enough to have me in stitches. Ah, if only she had made a cameo in "The Outsiders."
Too bad she missed out. Nonetheless, Lucy, Charlie and a few others meet up to partake in everyone's' favorite Halloween experience. Lucy, in an attempt to "reflect" her own personality, is a witch, while the others go as the classic sheet-with-two-eyes-cut-out ghost. Poor Charlie — who I seem to relate more to every year — has cut an alarming number of holes into his costume, confessing he had "a little trouble with the scissors." As they make their way through the neighborhood, each kid receives the usual bundle of candy at each house, except for Charlie who utters perhaps the most well-known line of the special: "I got a rock." As a kind sort of reparation, Schulz has said that after the program first aired, bags and boxes of candy came in from all over the world "just for Charlie Brown."
During the same time of Charlie's pathetic attempt at trick-or-treating — no offense, Charlie — his dog Snoopy, dressed as a World War I flying ace, is off trying to hunt the Red Baron and shoot him down. In fact, Snoopy's scenes in "The Great Pumpkin" have since been remembered as some of the best animated scenes of all time. Snoopy is shown flying his dog house around like a plane, sending bullets into the air and trekking through — what is imagined to be — the French countryside in an elaborate war reenactment montage.
The animation, sound effects, close-up shots, solemn music provided by Vince Guaraldi and the vivid colors capturing the vibrancy of the fall season have secured the scene as one of the greats. "Peanuts" executive producer Lee Mendelson has since told The Washington Post, "Of the 50 prime-time specials we created with Charles Schulz, I believe 'It's the Great Pumpkin, Charlie Brown' is Bill Melendez's animation masterpiece."
Eventually, Snoopy crawls his way into the pumpkin patch, briefly fooling Linus and Sally to think The Great Pumpkin has finally arrived. Realizing it's just Snoopy, Sally reaches her breaking point, going off on Linus, screaming "I'll sue!" and "I want restitution!" She storms off out of the pumpkin patch, leaving the good-intentioned Linus all alone, waiting.
Here, in the final moments of "The Great Pumpkin," is where audiences begin to see the warmer, more sentimental themes and facets of the special come to fruition. Though it may be expected for older-sister Lucy to leave her brother out in the cold without a care in the world, she instead rolls out of bed at four a.m. to rescue a sad and shivering Linus from a Great Pumpkin-less pumpkin patch and tuck him into bed, safe and sound.
The episode closes with Charlie and Linus discussing their eventful, or perhaps, uneventful Halloweens. Charlie is still hung up on only getting rocks during trick-or-treating. However, Linus is still devoted to The Great Pumpkin, saying "The Great Pumpkin will appear, and I'll be waiting for him!"
Take "The Great Pumpkin" special for what you will — religious, anti-Santa Claus, whatever floats your boat really — it still remains a heartwarming tale about what it means to believe in something. Sure, "A Charlie Brown Christmas," is great, fantastic even, but let's not forget about the special that sets the ball rolling for the rest of the holiday seasons to come. "It's the Great Pumpkin Charlie Brown," is hilarious, visually stunning and, most importantly, invokes feelings of warmth and comfort not even rivaled by the pumpkin spice latte itself. If you haven't tuned in yet this Halloween season, I suggest you do. I don't believe anyone's ever regretted it.