Sure you can reach for the iconic "meal-in-minutes" Styrofoam cup when you're craving the midnight munchies, but there's no fun in gorging on instant ramen alone in your dorm for the third time this week.
Once in a similar position, Sarah Adler and Mackenzie Barth recognized the need for food tailored to their lifestyle as amateur chefs-slash-busy college students back in 2013.
They also heard the way food was being talked about by their generation, had witnessed its impact in shaping culture and had experienced the inaccessibility — at the time — of food culture to college students, and were prompted to start something to address these factors.
As a result, the two created Spoon University, originally a print magazine on their college campus, but now a website and global digital media brand described as "created by and for the food-obsessed generation that is shaping the future of food."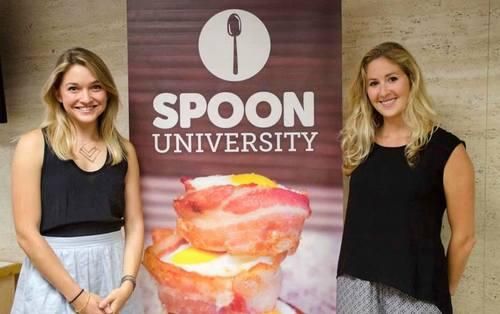 "Looking back now, we did have to prove to a lot of people that college was about more than Top Ramen, but that fact just felt so obvious to us," says Adler.
"When things like travel and fashion and fancy homes felt like they were out of our reach, going into Chicago and trying some ridiculous burger or making a beautiful meal with our friends didn't."
During their undergraduate years at Northwestern University, the two began to recognize the way food was changing the mealtime dynamic in ways that extended beyond simply consuming sustenance.
At the time, their intent wasn't to bridge food and college life. To them, it seemed as if food was an integral part of their daily activities. Social plans and discretionary budgets were centered around food, and the alignment of those things led to the creation of Spoon.
The duo began publishing on campus and by the time they were seniors, Spoon University reached a staff of 100 members. Since then, Spoon has quickly expanded into a brand that now encompasses over 250 college chapters worldwide, recruiting interested students within their respective universities.
Spoon gives students a platform to write about food-related issues of interest to them, tools they need to hone their culinary skills and the resources to build their portfolios.
Spoon's website offers local restaurant reviews, food-event coverage, food tips and, of course, a variety of recipes intended to break the traditional mold, created exclusively by college students to embrace the struggles of navigating both universities and kitchens for the first time.
Says Adler, "We were looking at magazines and cookbooks and TV and all of the food content was designed for people with way more experience and money and tools than us. None of the faces looked like ours and they weren't solving problems like the ones we faced.
"Food was becoming a priority not only for us but also for our whole generation, and Spoon fit into that hole so that we could talk to our friends about food in a way that made sense to us."
Self-described in previous articles as "The Food Network for Millennials," Spoon targets an unreached demographic, Adler believes. From articles titled "Is Bubble Tea Vegan? Here's What You Should Know," to "Noods Noods Noods Oakland: The Ultimate Festival for Noodle Lovers in the Bay Area," Spoon's content is a fresh take on eating that is humorously relatable and down to earth.
It's what students and millennials know best — that food is oftentimes messy and experimental, much like the college experience, and it's inevitable that something gets scorched in the process. Instead of shying away from this, Spoon aims to embrace it.
The brand is more than simply a website cookbook or a posh food blog. Not only does Spoon offer a host of resources centered around food online, but it also equips young people to gain skills for creating content, optimizing media for distribution and fostering the entrepreneurial spirit.
"Mackenzie and I wanted to build something on our campus, and in doing that we helped … students on our campus build their portfolios to get their dream jobs after graduating. As Spoon expanded to more and more universities, creating those opportunities for students to follow their dreams and express themselves creatively remained a driving force for us," Adler says.
It is also innately community-based, both on college campuses and within the global brand. Operating similarly to a college newspaper, the chapters consist of a leadership team and a team of writers, videographers and marketers. Together the chapter works to brainstorm ideas, peer edit and plan events.
"Best of all, food is inherently social — you spend time with your friends and develop relationships over meals. That's what Spoon campus chapters tap into — the community that you can build around food."
This has been made possible by the technology Spoon built its platform on and its continual growth in digital areas.
In addition, with the changes to barriers of entry regarding content creation and distribution modes, social media has played a large role in Spoon's reach. According to Business Insider, around 2 million blog visitors frequent Spoon's website monthly.
"We want to continue to lower the barriers of entry. For example, we just launched an in-browser video editor for our contributors so that anyone can create video content, even without editing software. We … also [want to] increase the quality of content through training and support," Adler says.
Adler has expressed the desire to continually widen Spoon's audience reach through new content formats and platforms. "The Spoon brand, and the content we produce, is imperfect, self-aware and sometimes deprecating, but always confident enough to take risks and bounce back from failures.
"We want to inspire people to do that too by being the most relatable and real resource out there. And relatable means creating content about ideas that cut right to the sensitive, silly parts of you, but also creating content about what's in your backyard."
Most of Spoon's college chapters recruit for much of the year. To get in touch with any of them or start a new chapter of your own, visit spoonuniversity.com/apply.