Anthony Valiulis is a junior at St. Olaf College in Minnesota, studying psychology and economics. The company he founded, DaVinci Industries, has won several entrepreneurship grants from the school, including the Finstad Grant and the Ole Cup.
Its first product, an innovative retail display hook system called Acutrack, has already gone through an initial pilot test phase, and is being prepared for expanded production.
Despite this success, entrepreneurship is, for him, a recent development. Initially Valiulis focused his studies on psychiatry, with the intent of becoming a psychiatrist. A program he participated in the year before he came to St. Olaf, working in the YMCA Business Development Department, helped change the path of his career.
The program, called the YMCA Intern Challenge, involved teams of high school and college students working to help local businesses with their problems. Each week of the challenge, teams would go to different businesses, work with them and at the end, give them a presentation and a business strategy.
The program was competitive — teams went against each other for ideas, and at the end of the week, the losing team would have to fire one of their members — and Valiulis did well in it, getting fourth place overall out of the 21 participants. He says it really taught him a lot about how to run a business, such as how you create a business plan, how you market yourself and how you present ideas.
When he went on to St. Olaf, the business experience he'd gained from the YMCA Intern Challenge worked in tandem with the entrepreneurship experience he gleaned from the school competitions, first the Finstad Grant and then the Ole Cup, to push him further into the business world.
In the process, he discovered his family's entrepreneurial roots. The roots hadn't been much of a factor in his early life, but once he started heading down the business path, he found he was a fourth-generation entrepreneur.
Valiulis's great grandfather started a company making satellite dishes in his hometown of Rockford, Illinois, which eventually expanded to creating the fixtures that held the dishes in place.
His grandfather bought and expanded Southern Imperial, a retail store fixture company, which became the largest producer of retail store scan hooks in the country. His father founded a company in the field of computer-assisted design; their software was one of the first to work with a pen.
This family history proved invaluable when Valiulis decided he wanted to start a company himself. The impetus for that decision was St. Olaf's entrepreneurship competitions, particularly the Finstad Grant. "I've always been interested in doing something like [the grant], but never as a full-time thing. I just applied to those because, why not, let's see what happens with it."
When deciding on the idea with which he would apply for the Finstad Grant, Valiulis took inspiration from his family. He started out by considering his grandfather's business. While the retail store fixture industry is worth about $3 billion, he says there's been little innovation since his grandfather's time.
After deciding on the industry, he went directly to retailers, asking them what issues they were having with retail store fixtures in their current form, particularly the scan hooks that display products.
They told him there were three main issues: the labor costs of having workers manually pull products to the front of the hook (a process called facing, used to give products more visibility), the potential of theft from unsecured hooks and the lack of active inventory management.
His company's first product, Acutrack, is intended to fix these problems, and the idea stems from his belief that an entrepreneur needs to be passionate about the industry they pursue. "They need to look for the type of problem that is interesting to them," says Valiulis.
Acutrack is a specially engineered scan hook, with a combination of mechanical and electrical features to solve retailers' major problems. The hook includes a mechanism that pulls products from the back forward as products from the front are pulled off by customers, avoiding the need for manual facing.
The mechanism is automatically locking, mitigating the possibility of theft. It also has an RFID component to track inventory, letting stores know at all times how much of a certain product is on the rack.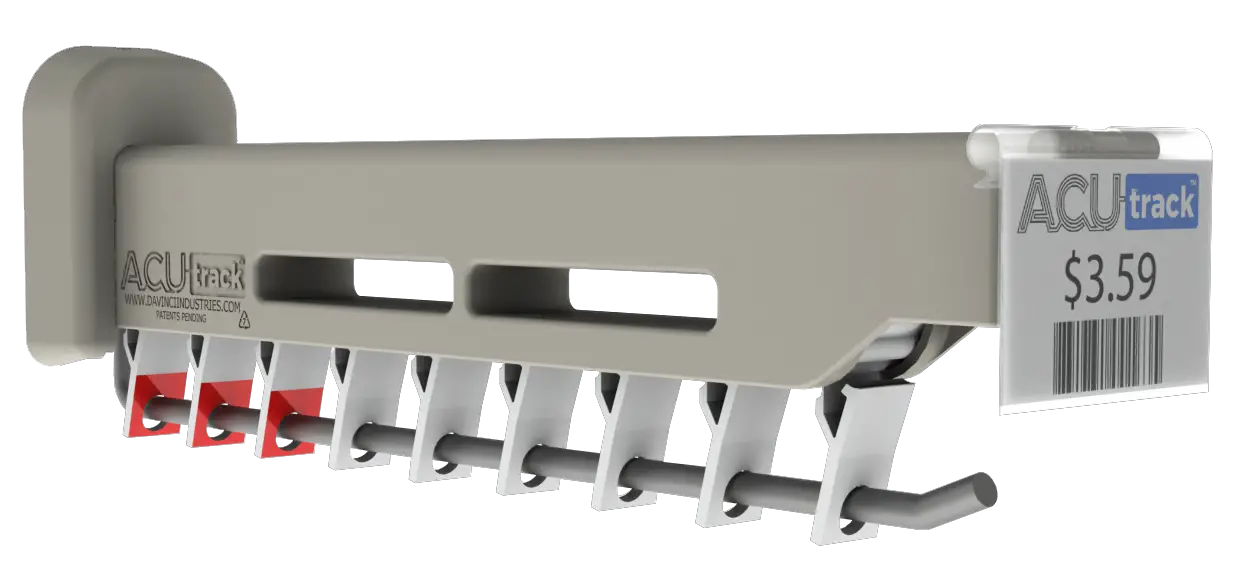 Valiulis started working on Acutrack mostly with fellow students, when going after the St. Olaf grants. Some students are still working with the company, but as the business started to expand, it demanded more time out of those involved, and most students weren't able to commit that much time outside of their studies. To push the company forward, Valiulis began to look for people already in the industry to join their staff.
At this point, his family history tied back in again. Through his grandfather, he knew a lot of people who used to work for Southern Imperial, or for other companies in the retail fixtures industry.
These industry ties helped connect him with people who could help the company grow, such as the current CEO of DaVinci Industries, and with potential sources of funding. In addition, his father had a lot of expertise in the RFID technology that Acutrack was using and came on board to advise that aspect.
In the end, Valiulis has one main piece of advice for anyone wishing to start a company: have determination. "If you hit roadblocks, if you have problems that come up, just keep moving forward with your ideas, and you'll find people who are also interested in what you're working on, and you could really move stuff forward … as long as you're willing to keep pushing forward with your idea," says Valiulis.