Already a decade into his career, Drew Langhart, the senior product manager of an app called Pitch, decided to go back to school to become a more well-rounded individual, comparing his knowledge about business, ventures, entrepreneurship and products to the toppings of a pizza.
"If you look down on the pizza, it's nice and full. However, if you turn it to the side, you'll notice the pizza is missing its crust, the foundation. My studies have helped me develop the formal foundation to a lot of the knowledge I've already gained throughout my career."
Langhart is originally from Baton Rouge, Louisiana, and decided to study online through Arizona State University because of its offerings of obtaining full degrees online. Since Langhart is not the conventional college student — he balances his various business ventures with his responsibilities of being both a husband and a father — he needed something to accommodate his busy schedule.
Because he has a background in digital products, Langhart chose to major in technological entrepreneurship and management, which "bridges the gap between technical engineering and business," according to Langhart.
However, when studying online, Langhart quickly realized that there was no real connection being made between him, the other students and his professors. ASU Online used Blackboard, a tool that allows students to submit assignments online, but Langhart said that it was just that: a platform for assignments and discussions around a single class.
Instead of brushing it off, Langhart decided to contact the ASU Online team to give them suggestions on how to build a real community with its online students. "I suggested some community tools," Langhart says, as he tried to help the ASU Online team come up with an idea to bring ASU Online students closer together.
Realizing they couldn't solve the problem alone, they asked Langhart to move to Arizona to further develop some of his ideas. EdPlus, the organization at ASU that fosters new ideas about the university's digital teaching and learning models, hired Langhart to help create a product to serve the university's digital community.
Langhart explains that because there weren't any students on the EdPlus team, hiring him was a "smart" move because it "brought a student into the mix of the administration responsible for many of the innovative initiatives at ASU."
The end result was Pitch, an instant messaging platform aimed at bringing the students at ASU Online closer together to build a digital community. Since launching out of its beta phase, the app has expanded to any student or faculty across campus, as well as academic advisors, coaches and even fitness advisors.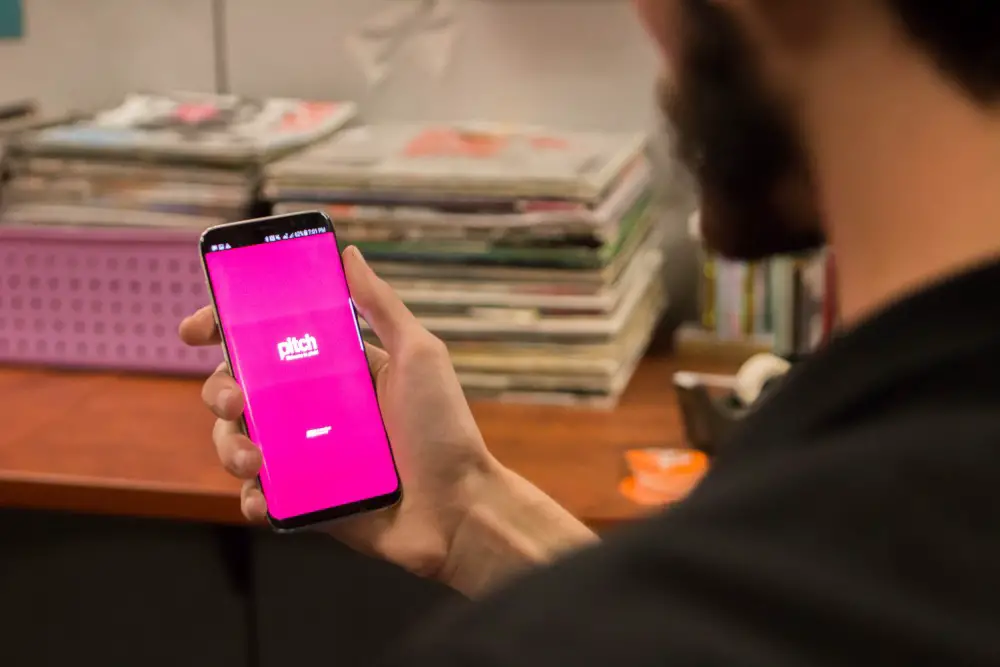 Pitch is different from Blackboard because it's for more than just submitting assignments, and it also doesn't revolve around a single class. Its openness to informal conversation also allows the app to have a more casual atmosphere that is fitting for quick and instant messages.
Pitch has actually been compared to Slack, another instant messaging app that allows students to communicate and work together online. Pitch is similar to the app in that it also has public and private channels and allows students to direct message each other.
However, the similarities stop there, as Langhart says Pitch has "classes" and "team channels (sub-channels) within a class and other apps within the platform," which are characteristics that Slack lacks.
Being a college student himself, Langhart creates new additions to the Pitch app based on problems that he runs into as an ASU student. He and the other creators behind Pitch also take student feedback into consideration for future app updates.
Langhart says, "We've partnered with all areas of the university. I collaborate with all forms of users on the platform, including students, administration and faculty."
The design team directly communicates with the ASU community through monthly design sessions, where they interview the app's users, primarily students, for any concerns they may have about the app. Student feedback actually inspired the creation of the class sub-channels available in the Pitch app today.
Along with the sub-channels, Pitch also has other characteristics that make it stand out amongst other messaging apps. For example, it allows users to make video calls, send audio messages, share and edit documents, request syllabi, lookup classes and save important messages.
The app's most distinguishing feature, however, is Devi, a bot that lives inside Pitch and answers questions for students. The bot has been compared to a success coach because it provides career guidance for students as they progress in their college careers.
Reflecting on Pitch's success, Langhart says that he feels "really happy" about the progress both he and the design team have made since they first came up with the idea.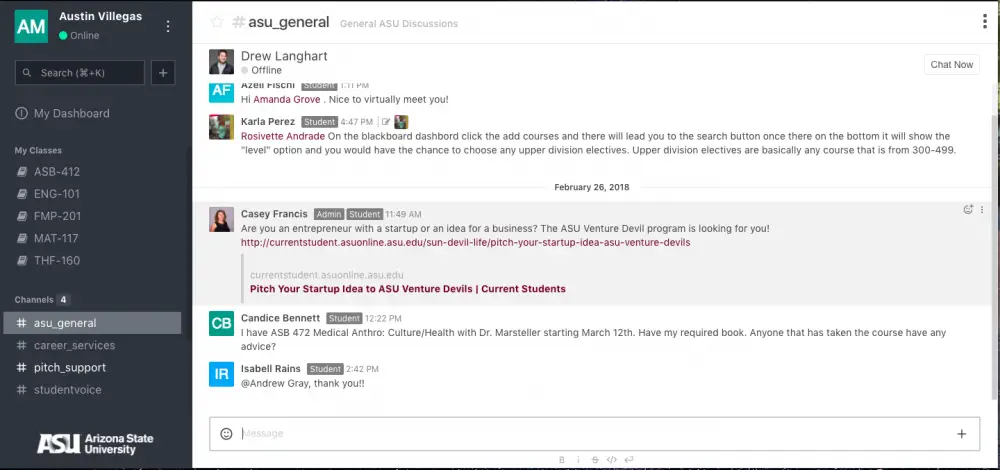 "We were able to communicate the vision and really find a lot of support across the university that proved that people needed this tool," he says. "We're getting multiple requests a week from departments across ASU wanting to start using Pitch to communicate with students."
Langhart also foresees that other college campuses will be able to use Pitch in the future, and he and the design team created the app with that goal in mind. He says, "We have a lot planned for the future, and we expect it [Pitch] to be the go-to place for digital connection across ASU and other universities."
Pitch is just the start of Langhart's app development career, and he expresses his desire to create more apps in the future, revealing that he has other ideas in mind at ASU but can't elaborate on them just yet.
Since he is working on several other projects outside of Pitch and ASU, Langhart says that he isn't sure where he will go after graduation. "I'll either remain here at ASU, helping change the way people learn and how ASU delivers quality education at scale, or will be off working on one of my other ventures."
Either way, it's no doubt that Drew Langhart will be leaving a permanent mark on ASU's students and faculty since he changed the university's definition of what it means to be a community. You can find out more information about the Pitch application by clicking here.