So, you want to learn how to cook, but where do you begin? As a college student, you're likely looking for easy, inexpensive meals. You probably have little time to cook (or, like me, are lazy and don't want to spend hours doing it) and need to save some money.
Ramen is tasty and UberEats takes all of two seconds, but learning to cook for yourself is an extremely useful skill. I'm here to walk you through the basics of making your own meals, from the materials you need to the recipes you use.
Step 1. Equipment
Before you can start cooking, make sure you have the tools that you need. Dozens of pots and pans or fancy William Sonoma gadgets aren't necessary (although you never know when you'll need a cherry pitter), just a few pieces of quality equipment.
This list is by no means exhaustive, but gives a good idea of the starting essentials to have on hand:
Large skillet or sauté pan for everyday cooking, saucepan for sauces and stews, large pot for pasta and soup, sheet pan, glass oven-baking dish, good chef's knife, mixing bowl, cutting board, colander, measuring cups, spatula, wooden spoon, set of Tupperware.
Faith Durand from thekitchn.com provides a great article for setting up a kitchen for under $300, as well as where to buy the equipment.
While not essential, two great investments are a Dutch oven and a Crockpot or similar slow cooker. A Dutch oven is a heavy cooking pot with a lid, and can be used both on the stove and in the oven. While Dutch ovens are usually a little pricier, they are extremely versatile and can be used for everything from simmering soups to roasting meats. A slow cooker is a cooking appliance that uses moist heat to cook food over a long period of time. With a Crockpot, you can pile in ingredients in the morning, plug it in and leave it for the day, and then come home to a hot meal.
A large caveat is whether you're in a dorm with no access to a kitchen or communal cooking space. If that's the case, you'll just have to get a bit more creative. Invest in microwave-safe bowls and plates, and peruse the following links for some recipes and meal ideas. Most of these can be made in a microwave, but investing in a toaster or toaster oven would also help.
Step 2. Groceries
As a pseudo-adult, you probably know all about grocery shopping and don't need another pseudo-adult on the internet telling you how to do it. However, if your usual trip results in a cart of frozen pizza, mac 'n' cheese and margarita mix, it can't hurt to have a few extra tips. For those looking to cut costs (and calories), there are plenty of ways to save a little extra at the grocery store.
First, set up a budget and make a list. Before you leave the house, decide how much you are able to spend each trip. Then, create a list of the ingredients that you need. Grocery shopping will be much more efficient if you know exactly what you need. Start out by planning the recipes you want to make in the upcoming days, and breaking down what's required for each one. A prepared list also makes it harder to purchase extra snacks that you can't afford.
Next, don't grocery shop when you're hungry. Hangry you is probably the reason you spent $30 on Hot Cheetos and cheap wine. This tip isn't just diet magazine fodder—several studies have shown that people who shop hungry are more likely to spend more money and to pick high-calorie junk foods. So not only will you be more susceptible to splurging, you may also spend this money on unhealthy foods.
A few money-saving tips:
Buy frozen fruits or veggies if fresh produce is limited or more expensive. Frozen vegetables have been shown to be just as healthy as their room temperature counterparts. They're also usually picked at peak ripeness whereas some fresh produce is picked before it's ready.
Buy the store brand. While there are exceptions, buying store brands instead of name brands can save you up to 25 percent, and oftentimes, there is little difference in taste. A University of Chicago study showed that chefs tend to buy store-brand foods in categories like pantry staples (sugar, salt, flour), frozen fruits and vegetables, cheeses, breads, spreads and baking mixes.
Find the discounts. Many grocery stores either have a discount card or student discount, so ask about it and use it to your full advantage!
Step 3. Cooking
Okay, so you have your cooking equipment and ingredients, now what? For some, jumping immediately into a cookbook can be confusing because of the unfamiliar terminology. I've been cooking for years and I still get confused every time a recipe tells me to "fold" something. Here's a cooking term dictionary, thanks to Good Housekeeping.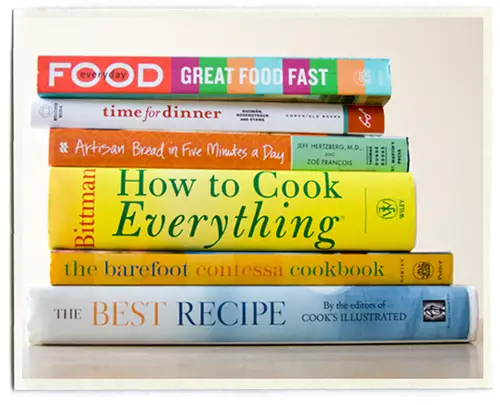 In this day and age, buying physical cookbooks is largely unnecessary thanks to the internet. Websites like AllRecipes, FoodNetwork, TheKitchn and Yummly have thousands and thousands of recipes that are already rated and commented on by other people.
Here are some recipes and recipe lists for the true beginner cook. This is a great place to start if your kitchen experience so far mainly involves heating up Cup Noodles.
Once you start to feel a little more comfortable around the kitchen, here are some more good, everyday recipes that can be made with a minimum of fuss.
As a college student, you're often busy and broke. Cooking for yourself is a great way to save money, and doesn't have to be time consuming. Besides, your body is probably missing the taste of a non-processed food every now and again. While you may feel daunted at first, learning to cook is surprisingly simple, and unlike the Barefoot sitting in your fridge, will actually improve with time.