Sureni Weerasekera, native of San Diego, California, is an American studies major at UC Berkeley. Weerasekera is a firecracker: she's exciting, unpredictable and unafraid to speak her mind. She channels all of these qualities through her passion for stand-up comedy.
Performance has always been something Weerasekera was fond of. As a child, she participated in talents shows, singing national anthems and street performing.
However, it wasn't until high school when she started watching stand-up on YouTube that she had an epiphany regarding how strenuous the field was.
As a result, she challenged herself to do stand-up for the first time after graduating high school. "Coincidently, I ended up in a class about studying comedy. For the final, I did stand-up for the first time," she said.
She described the experience as exhilarating, joyous and satisfying. It was an unmatchable high she had never experienced prior.
With some encouragement and validation from an advisor, Weerasekera journeyed to her rise in stand-up. Although she prefers stand-up, she still loves singing and has toyed with combining the mediums of music and comedy through comedic song.
Weerasekera, now a junior, is taking this semester off to produce and host her own comedic show which features the most qualified comedians in her area. She described the show as getting progressively better where regulars in the audience are already starting to emerge.
Her show is titled "Certified Fresh" which is a play on the popular movie critic website, Rotten Tomatoes.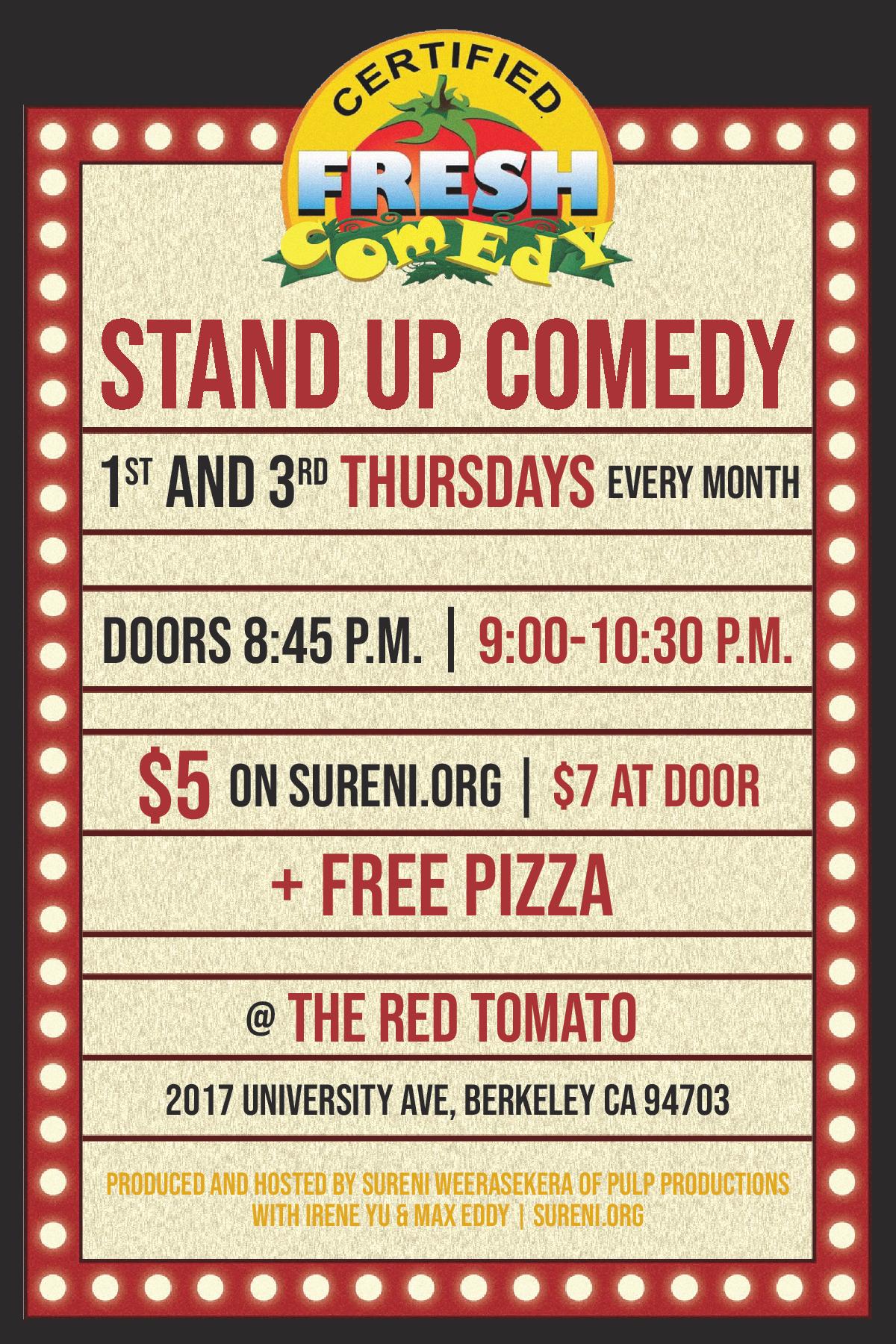 Ironically, the venue where the show is hosted is a local pizza place in downtown Berkeley, called The Red Tomato.
The show, which takes place every two weeks, is exciting, controversial and captivating to the audience. Admission is $5, which includes a slice of pizza for audience members.
Weerasekera has always wanted to produce her own show because of the benefits. "You're creating your own stage time. I created a home base to experiment and try things out without feeling the high stakes of being on someone else's show," she said.
The performing comedian has to become vulnerable and unfold various parts of their life, requiring a substantial amount of courage and a space one feels comfortable in.
The show explores a variety of momentous subjects ranging from being a minority, school shootings, Tinder, working and being a student. "I make a conscious effort to book women, people of color and people who are queer so there's a wide variety," she said.
She describes that comedy is about personal experience and staying true to yourself, so it's essential that an array of individuals are represented.
These weighty topics that many have polarized opinions on potentially cause a backlash from the audience.
She explains that everything is fair game in stand-up and offending someone is just something correlated with it, similar to sports and injuries. The comedian must be willing to take those very risks by putting themselves on a platform for their voice to be heard by all.
Weerasekera says, "I see stand-up as a conversation where I'm talking and the audience is reacting. Depending on their reaction it makes me think about who this person is and why they see this thing in this way."
The audience's reaction is a source of instant feedback which makes one wonder how their views came to be. Ultimately, Weerasekera wants the audience to leave the show feeling motivated to ponder the topics discussed and create paramount conversation.
"I want the content to make you look at yourself and reassess things. You can find out more about things or gain a new perspective. Hopefully, your view of something gets stronger, but more than anything grows your understanding," she said.
Weerasekera has been stimulated and inspired by great comedians that have come before her, specifically Dave Chappelle.
She passionately talked about others who pioneered and carved a path for stand-up, emphasizing her admiration for American comedian Jackie "Moms" Mabley. It is these remarkable individuals that emerging comedians can acquire knowledge, skill and abilities from.
Weerasekera is making numerous strides in stand-up comedy. She was featured at the 2017 DESI Comedy Fest at the Punchline Comedy Club and was selected as a finalist in NBC'S Stand Up for Diversity Showcase.
These achievements are no surprise as a result of her charismatic and bold personality. Her influential comedic content will likely spark perceptive conversation for those who experience her work.
As for now, Weerasekera continues to provoke thought and inspire others to tackle social change every other Thursday night at the Red Tomato. She features updates about her show under the handle @certified.fresh and on her website, sureni.org/fresh.