University of Texas student Allison O'Conor has a stage presence so natural that it's no wonder she has chosen to pursue a career in stand-up comedy.
While attending school, O'Conor had joined a campus improv group that eventually led her to perform at an open-mic night. Since then, she has grown more comfortable on-stage, and now co-hosts Austin's weekly "Buzzkill Comedy" show at a local establishment, The Buzz Mill.
Majoring in International Relations and Global Studies, with a particular focus on cultural media and the arts, O'Conor is intellectually equipped to make jokes that can appeal to a vast audience. And, as a millennial, she also has a cultural nuance that is specific to her generation, and is becoming increasingly popular because of it. In other words, Allison O'Conor is very funny.
"I don't know how long I've been interested in stand-up, because I've always been a comedy fan. As a kid, when going to things like Netflix or DVR, comedy was always the category I'd go to first. So I've always been interested in comedy, but I didn't see myself actually doing stand-up until I started doing it."
"My first time doing stand-up was on a Monday night, at midnight, at an open-mic night at Spider House in Austin, called the 'midnight mic.' I went with two of my friends who were in my improv troupe. I told them, maybe a week or two before, 'We should try and do stand-up,' so we wrote jokes together that week and went up together. They only did it a couple more times, but I just didn't stop after that."
"My greatest personal success could be that I now run a great show in Austin (Buzzkill at The Buzz Mill), which is awesome and I take a lot of pride in that. But it's hard for me to name my greatest success because I feel like I'm still pursuing it."
"Buzzkill at The Buzz Mill's previous host felt she was ready to pass it along and got in touch with my friend Devon Walker. He and I had been trying to host a show together for a couple months; we had been talking to different venues and looking at other places. And when the host got in touch with him he was like, 'Okay, hell yeah!' And since we had already been planning to host shows together, he went ahead and brought me on and that's how that got started."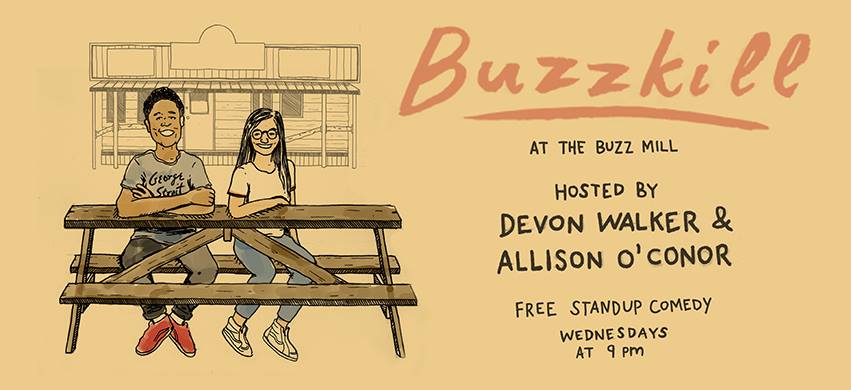 "Actually my style is just really funny! But really, I don't know, a lot of people ask this and it's kind of hard to say what my style is. I wouldn't say its family friendly but I'd say maybe it's more like observational and is becoming more personal the more I do it."
"I'm really inspired by a lot of local comedians here in Austin; they have a really talented team here. They inspire me with their work ethic. There's a lot of people here working really hard, which motivates me to work hard as well. So I guess friends and peers are who I look to for my inspiration."
"I'm not really somebody that has stage fright; I've never really had a problem with public speaking, and I don't think that negative feedback is a big part of stand-up, in Austin at least. A question I do get a lot is how I deal with hecklers, but the most hecklers that I get are people wanting to be a part of the conversation, so like they'll yell out, 'Hell yeah!' which doesn't really help me. But I guess the challenging part of it is a feeling that you're not doing enough. I think a lot of comics wonder if they're not doing enough or not improving. I guess how I deal with that is by just trying to work harder and get better."
"I do like my major, but I don't see myself working in it as a Foreign Service officer or something. Comedy is really what I want to do. I graduate in May and I'll get a job to pay the bills, but in the long term I really do want to get a career in comedy."
"I say don't wait; there's really nothing you're waiting for. People often have this mentality, 'I'll do this when I graduate,' or 'I'll do that later.' But you're never going to be more ready than you are now, so just jump into it if it's something you want to do."
"Chelsea Peretti, her special 'One of the Greats' is one of the funniest stand-up specials I've ever seen. I like pretty much everything about her presence and her comedy; I really look up to her. She's on Netflix so if you haven't seen her you need to go watch her, it's so fucking funny."
"You can follow me on Twitter @aoconor, and you can also check out 'Last Gas Comedy,' which is a great resource to find out all about Austin comedy. There you can go to Austin comedians and click on my name to see my upcoming shows. And of course you can also go to 'Buzzkill Comedy at The Buzz Mill' on Facebook."