When you think of a collection, you don't expect it to consist of Crocs, but that's exactly what Jordan Childs compiles in his. After his junior year of high school, Childs' collection of Crocs started and has grown ever since.
After rising to the challenge set out by his big sister, Childs bought a pair of knock-off Crocs during a beach trip when he misplaced his sandals. Once the words "I bet you won't buy those" came out of his older sister's mouth, he had to buy them.
As anyone with siblings knows, once the words "I bet you won't …" are uttered, the only response is to do whatever someone doubts you will do. So, because Childs was always competitive with his sister, he bought the shoes.
Soon after, he realized how comfortable they were and decided to visit the Croc outlet in Myrtle beach to buy a real pair since the other ones were off-brand. Having played sports throughout high school and gaining foot problems because of the activities, he saw Crocs as a convenient and enjoyable choice of footwear.
When he first started rocking Crocs, he received a lot of attention, both good and bad, from everyone, and he thought it was funny.
Despite the stigma and meme culture that people associate with Crocs nowadays, Childs chooses to embrace the attention he receives and doesn't let it deter his choice. At the core of it, he's just having fun and isn't hurting anyone.
Before the start of his last year in high school, his sister instigated another challenge by daring Childs to wear Crocs on the first day. And, guess what he did not only do on the first day but every day of senior year? He wore Crocs.
Not only did he wear Crocs every day during senior year, but he also wore them to prom. When he asked his date to the dance, he told her that the only condition was that they both had to wear matching Crocs, and that they did.
Since prom happens later in the year, people at his school were accustomed to him wearing the iconic shoes. But, wearing Crocs to prom is a bold move, and he took it as an opportunity to continue his streak of wearing them.
However, because the school knew that he wore them on all occasions, they put in their policy that students couldn't wear Crocs to graduation.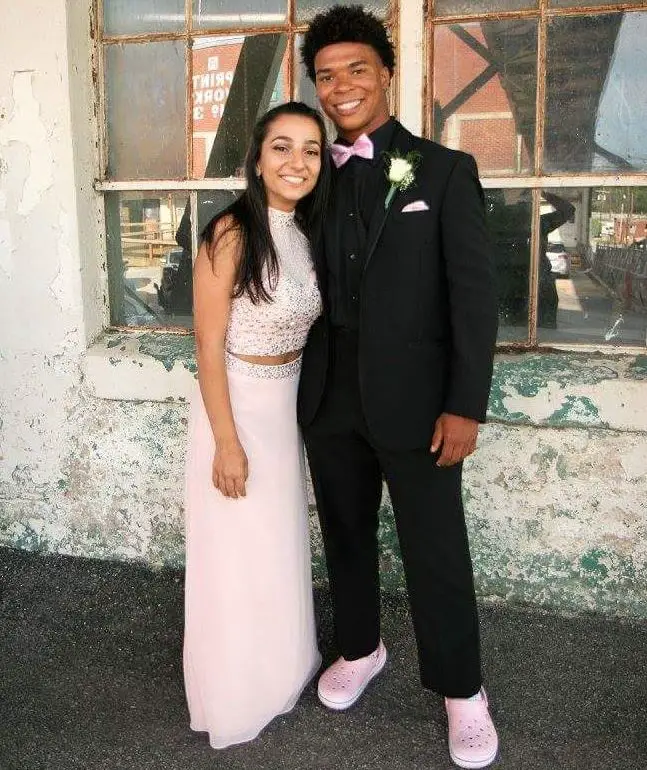 For Childs, what once was a bet-instigated purchase soon turned into an obsession once he learned how customizable Crocs are. Quickly, he started buying Crocs in different colors to add variation to his collection.
At the moment, he has 13 pairs of the shoes in his collection and considering that he started his senior year in high school and is now only a freshman in college, he's making great progress.
Also, there are so many styles beyond the well-known image of what a Croc is, such as Citilane Crocs or Crocband Crocs. The Citilane Crocs closely resemble a Converse, whereas the Crocband Crocs look the same as the original clog shape, but they're a sleeker fit.
Since he buys so many pairs, Crocs Club, a promotion group, sends him coupons to show their appreciation. The promotional offers he's received have come in handy because including shipping, Crocs can cost as much as $50, but Childs usually gets them for $30 or $40.
When you compare the shoes to Nikes that cost upwards of $100 a pair, Childs is getting a great product that gives him comfort at a reasonable price.
Ultimately, his favorite pair so far is his off-roading Crocs that are great for hiking and going to the lake because they're very supportive. Also, since they're rugged, it doesn't matter if they get scratched up. Basically, the best way to explain them is "to imagine wearing a tire for a shoe."
As a freshman at Clemson University, Childs' Crocs, especially the snug-fit ones, help him get through the day when he has to walk across campus from his dorm room to his classes.
Also, because Childs lives in South Carolina, the holes in the shoes are beneficial. When the weather gets hot, which in SC it can get unbearable, the holes in the Crocs allow air to flow through the feet. Ultimately, this prevents his feet from getting sweaty so they don't feel gross throughout the day.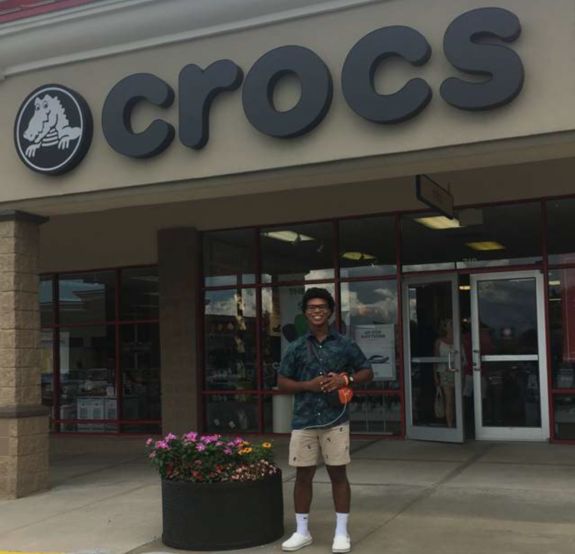 As he transitioned from high school to college, he noticed that even though he still gets funny looks for his footwear choices, no one confronts him about it as they did in high school.
Ultimately, having struggled with personal identity issues in high school, wearing Crocs is a way for him to branch out and accept the fact that everyone is different.
At the end of the day, Childs abides by the Croc motto: "Come as you are." In the context of his life, he has a daily reminder when he looks down at his feet that everyone is different and that he's happy with what he has.
While it's different to wear Crocs, Childs has ultimately come to see his choice of footwear as an aid in boosting his confidence, and he's even gained a new way to look at life.
As a matter of fact, Crocs have become a crutch that he didn't see coming. Even though his friends make fun of him for his collection, he sees it as an opportunity to prove that the Crocs motto, "come as you are," is something to stand by.
Furthermore, wearing Crocs is something that makes him happy and also inspires other people when they see him unapologetically wearing his favorite shoes. After all, why should he feel as if he needs to be judged?