When Sophie Healey was only 8 years old, her younger sister Daisy was diagnosed with Leukemia.
Watching her sister go through the healing process but not being able to do anything showed Healy a glimpse of what people with sick children in their family go through every day. Since then, she's prided herself on trying to help out as often as she can with the cause.
After her sister was diagnosed, her parents started a nonprofit to benefit her sister called the To Be a Star Foundation.
When the foundation first started she wasn't old enough to get too heavily involved but seeing her mother be so passionate about the organization influenced her to join something similar when the opportunity arose.
Healey, who is a senior at Elon University in North Carolina, joined the fundraising committee for Elonthon in her sophomore year at school. Elonthon is the university's 24-hour dance marathon that benefits the children and families at Duke Children's Hospital.
Healey found out about the organization during her freshman year after the event occurred and immediately wanted to be a part of the committee. She already had a passion for the cause as it hit so close to home and after witnessing the impact that the event had on the community and at the hospital, she wanted to help in any way that she could.
This year Healey was made Director of Catering as well as co-director of funding with fellow member Mary Katherine Hilb. She got to stay close to the action during the fundraising as well as the event itself. Seeing the local restaurants and companies join the cause was a moving experience for not only herself but also for everyone else in attendance.
When she was 17, Healey's best friend had a battle with cancer. Having two extremely important people in her life going through this influenced Healy to be who she is today.
These life-altering moments are the reasons why she works so closely with organizations like Elonthon and wants to continue with more nonprofits in the future.
As a human service studies major with a minor in business administration, her dream would be to work for a nonprofit that helps children with cancer just like Elonthon does.
She'll be attending King's College in London next year to work towards a masters in international management and is hoping to continue working with similar organizations in the U.K. while she's there.
England is close to home for Healy as it's where her parents are from and where she spent the last few years of her pre-college education. The rest of her family is still living there and now so she'll be able to go back and see her sister more frequently.
Elonthon kicked off this year on April 13, where roughly 1,300 students and members of the community joined forces to dance and stay standing for 24 hours to help benefit Duke's Children's Hospital and make miracles happen.
The event held four different shifts throughout the night with about half that number sticking around for the full 24 hours and the other half doing only 12 or 6 hours. Healey herself was at the event for the full 24 hours as well as helping the committee set up and clean up.
Elonthon was started in 2003 by a group of students at the University to raise money for their local hospital. In that first year, they raised $28,500 and have since then raised over 2 million dollars for the kids at Duke's Children's Hospital.
The Elonthon today includes competing in color wars, entertainment acts, video games, participating in in-event fundraising, hearing stories from incredible children, and above all a whole lot of dancing. There's only one rule for the 24 hours of Elonthon: no sitting.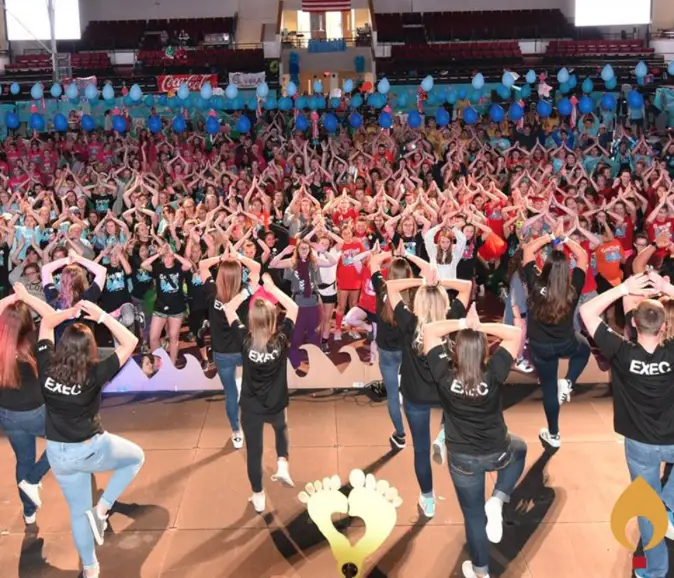 The Elonthon fundraising committee initially challenged their community to raise $400,000 for the hospital but by the time the event had ended they had gathered a total of $452,964.18 in donations.
Healy says the amount raised was beyond her wildest dreams and she was ecstatic that she was able to raise so much during her last year at Elon.
Elonthon has taught Healy how to work for something that she's passionate about and gives her something to work toward. She says it taught her to work towards a goal while also giving back to the community.
Being able to raise money for a cause so close to home while also learning a lot has been extremely beneficial, especially now that she's realized she wants to continue this type of work even after she graduates.
Healey says that getting involved with an organization like Elonthon on campus has made such an impact on her, and that more people should look into the different organizations that their school may offer.
She states that it's so much easier to get involved than you think. There are so many organizations on campus that all work towards making a difference, whether it be raising money for kids, volunteering at a senior center, raising funds for an animal shelter or so many other endless causes.
There are so many people who could use your help, all it takes is taking the first step and seeing what's offered at your school or local community and seeing where that takes you.