Twenty-five-year old Carmen Noyola entered the foster care system when she was a teenager, after ending up in juvenile hall for fighting and experimenting with drugs. Noyola's childhood and adolescence were difficult; she experienced a traumatic assault when she was five years old, and her entire family struggled to deal with the aftermath. While still in high school, Noyola had a son named Adam, who is now seven years old.
After graduating from high school days after the birth of her son, Noyola applied to the University of Southern California to continue her education, the same school that her identical twin sister, Lucero, planned to attend. Both sisters were accepted and Noyola began pursuing a degree in NGOs and Social Change.
While working twenty hours a week at her work study job, balancing parenthood and getting good grades to keep up her scholarship, Noyola has succeeded against incredible odds. According to a national fact sheet on the educational outcomes of foster children, just 10 percent of the kids and teens in the foster care system end up graduating with a college degree, though 84 percent want to go to college. Despite the damning statistics, Noyola was able to overcome a teenage pregnancy and unstable upbringing to find her way into one of the country's top colleges, where she is now thriving.
Currently, Noyola is interning in Taipei at National Taiwan University, where she is working under the global alliances director doing branding and marketing and helping run summer programs for the Center of International Education. Noyola hopes to become a city planner for Los Angeles and build affordable housing, as well as help reform the juvenile justice system and policies regarding foster youth. I was able to speak with her about her childhood adversity, how she overcame it and how she plans to channel her determination to succeed into her future endeavors.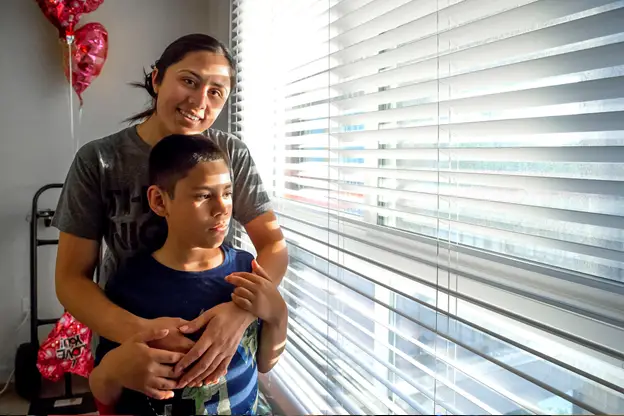 Devon Hodges: Since you're majoring in NGOs and Social Change, which NGOs do you think are doing the best work in their respective fields?
Carmen Noyola: My favorite non-profit organizations are those that are not only focused on humanitarian relief, but are focused on changing, implementing or improving policies as well. I support these non-profits the most, because I feel that they fight for long-term change that has lasting effects on greater populations. In short, they can reach, touch and help more people.
DH: In an article on USC's website, you told the author that you have a work-study job at the USC Marshall School of Business. What was that like?
CN: I am still currently working with Marshall and I love it. I do a lot of IT support, so helping students reset their passwords so they can log into their student accounts, helping faculty, staff and students virtually or physically to install software, fix printing issues, fix paper jams, fix computers, install computers, etc.
DH: You also said that you're currently in Taipei, Taiwan, interning at National Taiwan University. That's so exciting! What is the internship?
CN: I am having a great time in Taipei! I am currently interning at the National Taiwan University under the International Affairs Office, an internship I was placed into after applying to a USC program called Global Fellows. I am working under the global alliances director helping with delegations and branding/marketing, and I am also working for the Center of International Education in assisting them run their summer programs.
DH: What's the best thing about the internship?
CN: The cultural and professional experience. I have learned so much!
DH: What's the worst thing?
CN: Being away from my son—it's almost unbearable. I think if I didn't have a son, the worst thing about the experience would be their food variety. Taiwanese food is great, but living in Los Angeles, I have become accustomed to eating a variety of food from different ethnic groups.
DH: Do you have any advice for other students who are juggling the responsibilities of school, parenting and work?
CN: My advice for students that are in a similar situation is to know that it is okay to take a break. Spend some time with your family before it starts haunting you. And also, just make sure you finish! You did not put up with all that to not come out on top. It's hard but doable.
DH: What are some of your plans once you graduate from USC?
CN: Once I graduate from USC, I hope to be working as a planner for the city of Los Angeles, specializing in affordable/low-income housing. One of my biggest goals for the future is to be working on and implementing policies related to foster youth and reinventing the juvenile justice system. Other than that, it is making my son proud and making sure he takes advantage of all the opportunities presented to him.