While most kids were learning to read picture books and count building blocks, Natalie Fenaroli was learning to drive. After hearing about a study that suggested that children best develop the motor skills associated with driving between the ages five and seven, Fenaroli's father put his five-year-old daughter in her first Go Kart and took her to the racetrack. "He really wanted me to have those skills hardwired before my brain was supposedly going to go out the window when I turned sixteen," she says, "so he put me in a Go Kart, and I loved it."
She won her first national championship two years later.
Now, a junior at Whittier College in Los Angeles, Fenaroli is studying Business Administration. She spends her weekends as a technical official for IndyCar and is dreaming big dreams for the future of her sport.
The Racing Life
At consistent speeds of over 200 m.p.h., IndyCars are some of the fastest four-wheeled vehicles ever engineered. Created to race at top speeds, these cars are being constantly altered and improved within the boundaries established by IndyCar officials, who work to ensure that the cars are safe and the race is fair.
As a technical official for Indy Lights, one of the elite levels of open wheel racing, Fenaroli spends a fair share of her weekends enforcing IndyCar rules and regulations. She also acts as the intermediary between Race Control and Pit Lane—she relays messages any time a crew chief needs to communicate with the race director or vice versa. Her technical knowledge of the sport and her past experience as a driver give her a clear perspective regarding the information that needs to be transmitted from one party to the other, enabling to excel in her position.
Fenaroli didn't end up working for the premier professional open wheel racing series in the United States by chance. Her current position is the result of hundreds upon hundreds of hours spent working toward a career in the racing industry. For all intents and purposes, she began her career preparation when she was five years old and her father taught her to drive a Go Kart. By the time she was fourteen, Fenaroli had climbed the ranks and was ready for the challenge of racing a full-size car.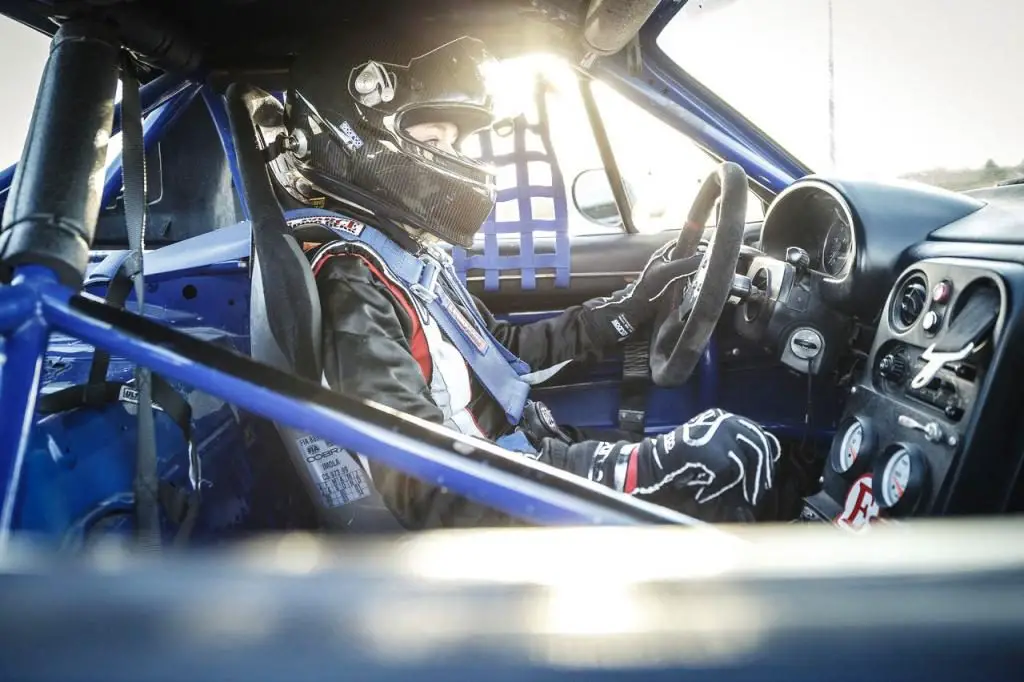 "I actually had a competition racing license and a full-sized car before I had my actual driver's license," she says. Fenaroli started racing a class called Spec Miata, which is essentially a racing version of a Mazda Miata, and gained more and more success. At age twelve, "Autoweek" dubbed the young racer as one of "The Five Fastest Women You Will Ever Meet" and she did not disappoint, finishing as the top-ranked female in the history of Mazda's Teen Racing series at age fourteen.
When the time came to graduate high school and move on to the real world, Fenaroli knew she was going to have to choose between a career as a professional driver and college. The demands of the racing industry were too intense to balance both simultaneously. In the end, she chose to prioritize her education but to remain involved in the racing industry as much as possible while in school. "I love motorsports, but I don't necessarily need to be a driver to fulfill the goals that I have for myself within the industry." Instead of driving, she is putting her knowledge of the sport to good use as a technical official for Indy Lights, and is hoping to combine that experience with a Business degree in order to bring some much-needed change to the future of the racing industry.
Making Changes: Increasing Accessibility for Talented Drivers
The question of "What do you want to do with your future?" leaves most college students filled with dread and uncertainty, feeling like they ought to have plans even though they don't. Fenaroli, however, has a pretty confident answer to the question: She wants to rise up to a high role within a motorsports program at a major car company. "I have a tremendous amount of respect for STEM fields, but I already have the technical background…the gap in my own personal education was the business side of the industry."
For Fenaroli, every aspect of the industry is important. "At the end of the day, even though motorsports is a really complicated machine, it is still a business. And because of how important that business aspect is in the industry, I thought I should have a better understanding of how I can contribute." She hopes that her involvement in the business side of the motorsports industry will give her the chance to help open the door for women in racing.
Fenaroli is currently the only female employee on the technical staff for IndyCar, and with so few women in the industry, bringing in more is a challenge. "There aren't very many of us [women], and because of that simple fact, when you don't have the numbers and the diversity it's harder to bring people in and make it better," she says. "It's just very difficult to be successful in an area that has such an old school mentality. It's kind of a good old boys mentality, and I think that's getting better as more and more young people come into the industry, but I would like to further that."
In addition to encouraging women to take part in the racing industry, Fenaroli hopes to make racing more accessible for drivers from low and middle class backgrounds. The daughter of a middle class family, she learned the value of working hard for what she had. In the racing industry, however, that still tends to leave drivers at a disadvantage. "There's always going to be someone who has more resources and more financial support, who can afford better equipment and can afford the coaching and engineering, and it definitely gives them an advantage." Fenaroli described the experience as an uphill battle; she was constantly faced with the challenge of competing as a middle class girl in a in a very, very expensive sport.
But changes are coming.
Within the last five years or so, the Mazda Road to Indy has been working to make racing more accessible for talented drivers from all sorts of backgrounds. The program is designed as a competition ladder—if a driver wins a championship they will move up to the next race level on a scholarship. "It becomes more about their talent and skill as drivers and less about how much money is in their pockets," Fenaroli says. "It's taken these truly incredible drivers and helped them reach their fullest potential."
In her future, Fenaroli would like to help establish more programs like the Mazda Road to Indy. "I would like to figure out a way, using my Business degree, to make that the norm and to see things like that happening more." It's going to be a long process, but Fenaroli has never shied away from challenges. She has big dreams for the future of the racing industry, but for now she plans to keep working on her Business degree at Whittier College and building up her technical knowledge in the world of IndyCar, working hard to learn the balance between the science of racing and the business of motorsports.