What do college kids love more than discounts and food? That's right, discounts on food. Well, twenty-four-year-old Mitch Gardner and twenty-three-year-old Rob Richardson, the co-founders of Pocket Points, have created an app that allows students to unlock discounts, and even free gifts, at local food businesses for simply not using their cell phone. Pocket Points rewards students for opting to put the phone down during class, minimizing distractions and encouraging the students to pay attention more, which is the motivation behind the app. Pocket Points has been featured in and praised by publications like "Forbes," "TIME" and "Business Insider."
According to Gardner, here's how it works in a nutshell: "Download the app. Pick a school. Go to class. Open the app. Lock your phone. Earn points. Spend your points to receive all types of rewards in our gift page." Yeah, it really is that easy. The gift page also has a map feature that allows students to see where all the local participating businesses are located. All you have to do is walk into your academic building, open up the app, lock your phone and begin accumulating points. The more time you spend off your phone, the more points you will earn. And if you want even more points, then encourage your friends to download the app, because the more students on your campus that download the app, the faster you will accumulate points.
"It was during spring 2014 when we first started putting the concept together," says Gardner. "Rob was sitting in class and noticed everyone on their phone. That's when the lightbulb went off for him. He came up to my apartment above this bar called Riley's Bar, and we started brainstorming ideas as to how we could incentivize people to stay off their phones and focus. From that point on, we have worked every day to make this idea come into fruition."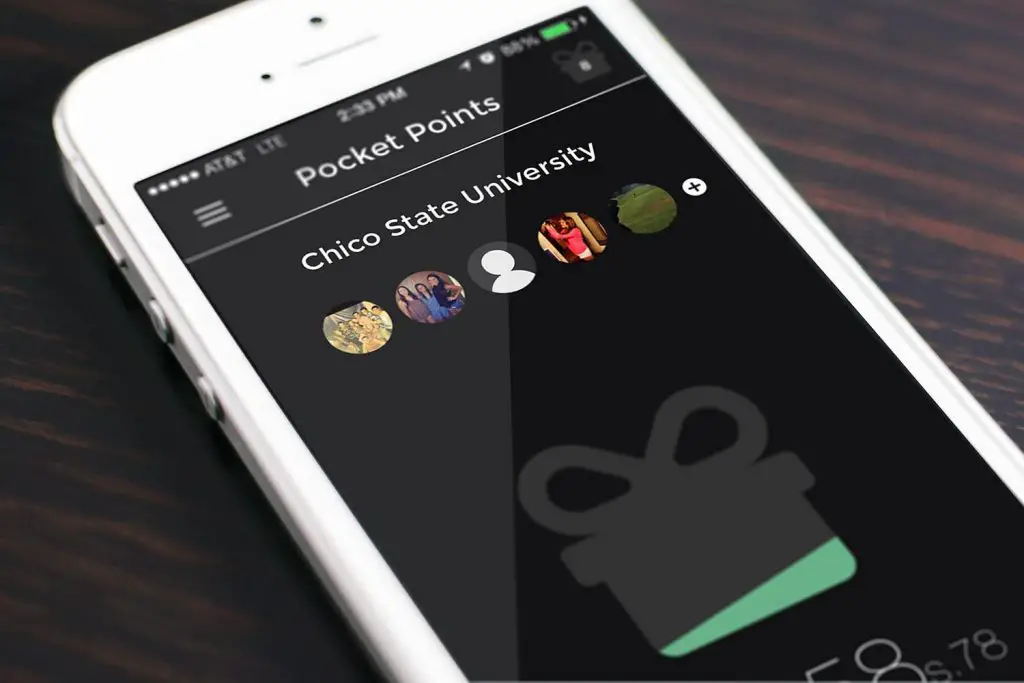 Cell phones continue to prove to be a huge distraction to students, and according to a 2016 study by the University of Nebraska-Lincoln, it is estimated that students spend 20 percent of their class time on digital devices for unacademic purposes. The Pocket Points team is working hard to combat this ever-growing issue in colleges today. Gardner and Richardson, who met in their fraternity, soon spent many busy days together trying to balance their new project and school. They played of off each other's strengths and divided up the responsibilities that came along with their new app. "[Richardson] was a Computer Science major and I was a Business Marketing major. Rob focused on coding and developing the product, and I focused on the business behind the product," says Gardner.
Pocket Points quickly became quite popular with the students of Chico State in northern California, where both Garder and Richardson attended prior to taking a leave of absence to dedicate more of their time to their new app. "It's funny because when we launched the app at Chico State, we were still in school. About 40 percent of the students were using our app within a few weeks. In class, people knew we were the ones behind Pocket Points, and when they saw us on our phones and laptops during class, working on the business, I think some of the teachers looked at us as sort of hypocritical," says Gardner.
Since 2014, Pocket Points has expanded tremendously and is currently available in over two hundred schools in the United States and Canada. Student favorites like Smoothie King, Insomnia Cookies, Jamba Juice, Papa John's and many others are now part of the ever-growing list of merchants who have partnered with Pocket Points to help reward students for their willingness to put the technology down during school hours. As a college student, I know the temptation to scroll through Instagram during a lecture class is all too real, but with the incentive of discounted Insomnia Cookies, I'd be more than willing to keep my phone in my bag and my focus on the class material instead.
Gardner says that right now, "[Pocket Points] is not too far off from what we envisioned. There have been small changes and adjustments as we have capitalized on opportunities along the way. The concept and solution to the problem is still the same—providing incentives to help mitigate technology addiction." The app can still rack up points even if you're not in class, just as long as you are still in an academic building. For example, if the student café is located in an academic building, you would still be able to earn points while there. While this could seem like a problem with the app, Gardner says, "We don't see this as an issue. Even though certain areas on campus are not specific classes, we believe that if we can incentivize people to be more engaged in the real world around them, we are helping to solve the problem of phone addiction."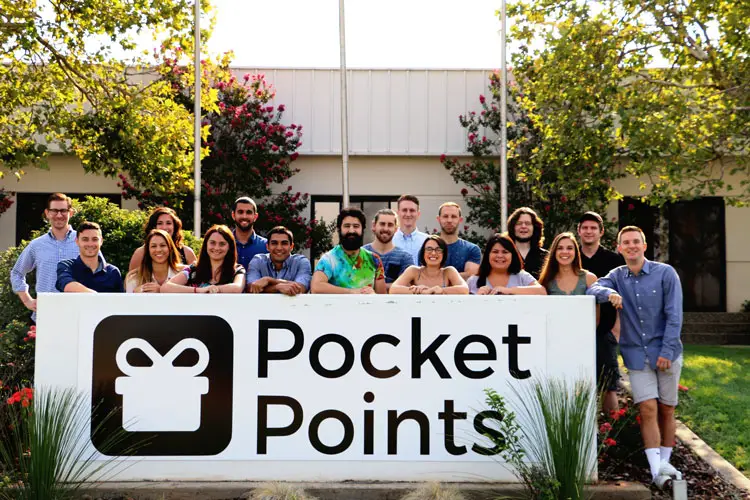 Today, Pocket Points continues to keep Richardson and Garder busy. "All of my time is spent on working to make Pocket Points the best app that it can be. We also have about one hundred campus representatives. The team has worked so hard to get us to where we are today. The challenges we face are great, but I never doubt that we'll get it done," says Gardner.
If a student is interested in bringing Pocket Points to their school, then they can head on over here. "We are always looking for humble, hungry and smart people to join the team!" Gardner says. The team's plan is to continue to expand Pocket Points, "We have a lot of work to do! There are so many great things we want to accomplish in a short amount of time."