The month of March is upon us and for many that means only one thing — spring break.
While the mention of spring break usually evokes images of white sandy beaches inhabited by hyper-sexed college students drinking Four Loko, that party may be over.
Many beach communities, particularly those popular among the spring break crowd, have adopted ordinances in hopes to curb the excessive drug and alcohol consumption often associated with the festivities.
Panama City Beach, a waterfront town on Florida's Panhandle known as one of the most notoriously raucous spring break destinations in the world, has placed a ban on all alcohol consumption on the beach during the season.
The decision, approved in May 2015, was seen by many local residents and officials as long overdue after years of increasingly violent and belligerent behavior from partygoers.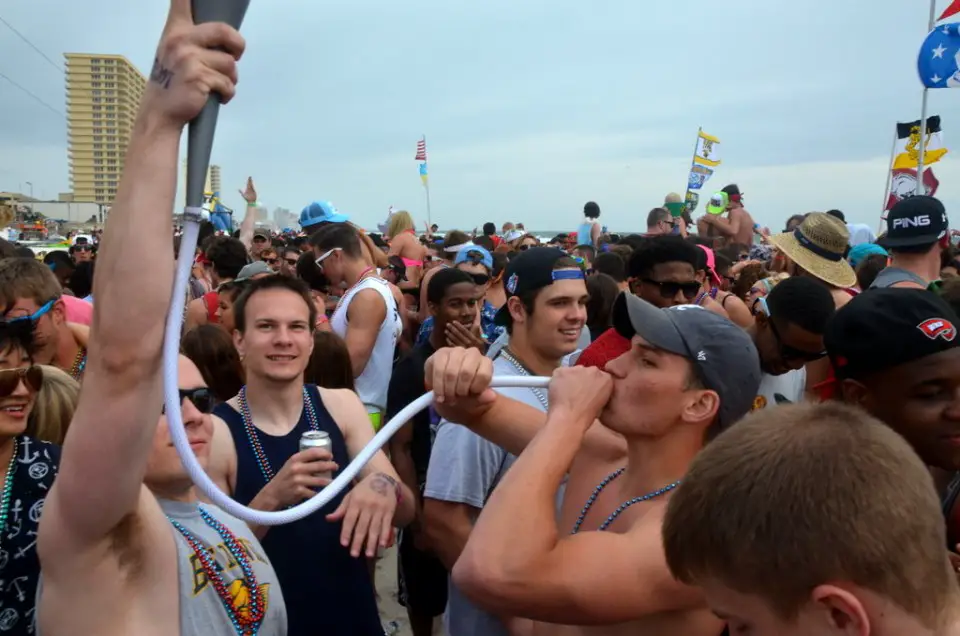 That year the spring break season brought with it a significant increase in violent crimes, confiscated firearms and a number of high-profile cases that left the community shocked and embarrassed, including a house-party shooting that left seven injured and a highly publicized public gang-rape.
Other cases that garnered national media attention for Panama City Beach that year included the assault of a 93-year-old man after his house was burglarized; an explosive car crash resulting in the hospitalization of two motor scooterist, and the unprovoked assault of Mississippi State star quarterback and Heisman hopeful Dak Prescott.
Between 2007-14 Panama City Beach's sheriff's office experienced a 61 percent increase in calls and a total of 42 reported rapes. In 2014, according to the agencies' statistics, local law enforcement made 507 drug arrests and confiscated 93 guns in the six-week stretch encompassing spring break season. By 2015, hard drugs, deaths and rape had become the norm.
"The truth is, we are in a crisis," Wes Pittman, a local attorney told AL. "Do you want to be remembered by open sex on the beach, shootings, rapes, stabbings, rampant drunkenness and chaos?"
In response to the increasingly negative publicity, the Panama City Beach Sheriff's Office began working in conjunction with Florida's Bureau of Alcohol, Tobacco, Firearms and Explosives, the Highway Patrol, numerous social service groups and local churches to try to tame the debauchery.
In addition to the alcohol ban, the Panama City Beach City Council approved ordinances that prohibit drinking in public parking lots and alcohol sales after 2 a.m., as well as expand police officers' jurisdiction to stop and search partygoers. The city also budgeted $348,000 for additional law enforcement, as well as more than $750,000 in overtime for existing officers and assistance from outside the police force.
Portable jails and courtrooms have been stationed across the beach in an effort to assist local government agencies, and stricter laws for local bars and clubs have been enforced.
While these measures have led to a decrease in drug trafficking, robbery, theft, hit and run, assault and public nudity, they have also led to scarcer crowds, and, as a result, diminishing profits.
After the bans were announced, students from across the country quickly spread the disappointing news over Facebook, Twitter, Snapchat and Instagram, warning their friends that the party was over and supplementing their posts with the hashtag #RIPPCB (Rest in Peace Panama City Beach).
Panama City's Beach ecosystem of bars, nightclubs, restaurants, taxi companies and hotels, all of which depend on the influx of partygoers each year, have all taken a substantial hit as a result of the bans.
"There were a lot more unintended consequences than anyone imagines," Jack Bishop, owner popular waterfront bar and grill, told the New York Times. "We've never dreamed it would be this bad so quickly. This tells you the power of the 24-hour news cycle and social media. I'm down 72 percent for the month."
Beachfront hotels and condos are struggling to fill their rooms, and have had to slash their usual rates; restaurants and bars have had to fire employees to make ends meet.
A local hotel manager says business has been so bad that she's had to cut her rates by about half of what she usually charges in order to fill her rooms.
"It is dead this year. I don't know what we are going to do," she told AL. "This money, people save it for the offseason. If you have a $60,000 or $70,000 loss, how are you going to stay open this year? In Panama City, spring break was always good, next year we don't know what's going to happen. Maybe the business will get together and do something about it."
Some local business owners have done just that. Three popular nightclubs joined together in October to file a lawsuit against the city and its new prohibitive ordinances, arguing that the laws could slow business down by as much as 90 percent. However, the suit was dropped after a judge declined to issue an injunction against the city.
While many business owners and service industry workers argue that the spring break revelers are merely out to have a good time, local officials and residents see these young people as a threat to their city's reputation — depraved savages, hell-bent on bath salts and cheap vodka.
Panama City Beach, a small, conservative town that happens to live a double life as a capitol of sin for six weeks out of the year, has struggled with this duality for years. The debate over how to curb the influx of crime brought in by rowdy spring breakers every year, while still reaping the lucrative returns from these seasonal patrons, has been going on for over a decade, but until recently had been sidestepped or approached half-heartedly. Now, it seems pretty much official—the party in PCB is over.