Jimmy Buffett Goes to College
For the Parrotheadz of James Madison University, channeling the iconic musician's laid-back vibe is the key to happiness.
By Michelle Criqui, James Madison University
---
According to island-inspired, gulf and country musician Jimmy Buffett, it's always five o'clock in Margaritaville. But for members of the JMU Parrotheadz, the line takes on a whole new meaning—representing a lifestyle that's as carefree as a day spent sunbathing on the beach.
The student organization, which created its name as a spin on Buffett's existing "Parrotheads" fanbase, was founded in 2014 with just a few initial members. The group has since grown to about 50, with word of the fun-loving organization spreading quickly across campus.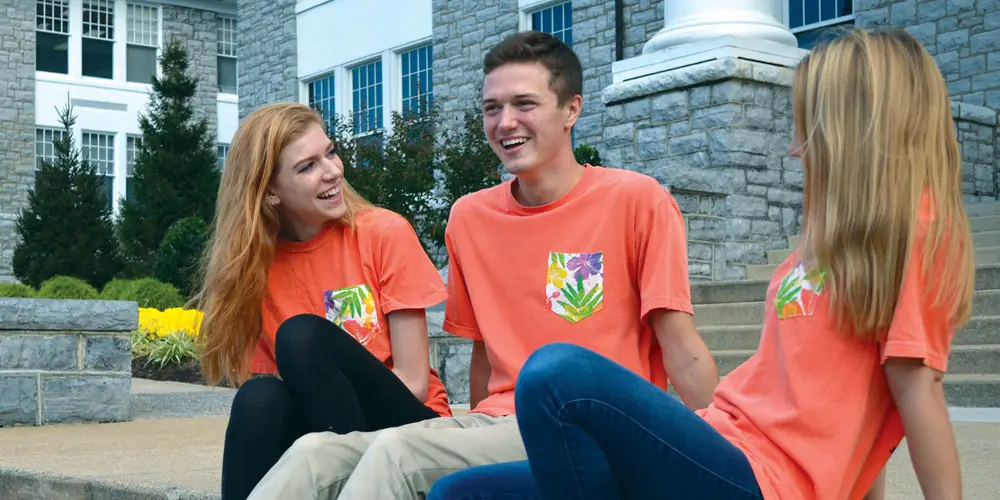 "You don't need to know a single Jimmy Buffett lyric to join this club," Ellie Sparagno, a sophomore Communications major and the club's secretary, says. "We'll teach you. You'll end up loving it. It's a lifestyle. It's about [Buffett's] mentality; it's about how he lives, and we want to embrace that and celebrate it. We want to be like him. People are really attracted to that, I think. It's been huge."
The main philosophy of the organization is that when you come to a meeting, all worries are left at the door. The Parrotheadz strive to foster a welcoming atmosphere for any prospective member, complete with the soothing sway of tropical music playing in the background. During meetings, members simply hang out and talk about what's going on in their lives, forming friendships based on mutual support and respect.
"We all love each other; we're all very supportive of each other," Sparagno says. "It's a very stress-free environment, and that's what I like about it."
Along with regular meetings and hangouts around campus, the club gets together several times a semester for social outings such as roller skating, visiting the local pumpkin patch and going out for ice cream. In the spring of 2016, the Parrotheadz were even able to take a road trip out to Virginia Beach to see Jimmy Buffett himself in concert.
"Everyone was just there to have fun and hang out," Drew Holt, a sophomore Marketing major and the club's vice president, says. "It felt like we were hanging out with Jimmy, honestly. He came up there, and he was just talking to the whole audience and just letting the atmosphere speak for itself. Everyone knew why they were there: To lay back and hang out with each other while we were listening to some Jimmy Buffett."
While Sparagno noted that their group probably lowered the average age of Buffett's typical audience, she emphasized that everyone at the concert was welcoming and carried with them those same positive, chilled-out vibes that the Parrotheadz aimed to emulate.
Now, with an entirely new organizational structure spearheaded by club president and senior Accounting major Morgan Barnes, the ever-expanding club plans on getting as many of its members as possible to Buffett's performances each year. Through collaborative fundraising efforts, including grilled cheese sales on campus, members have worked diligently to make this end-of-the-year goal a reality.
The Parrotheadz also aim to give back to the community as much as possible. Inspired by the nonprofit Buffett founded in 1981 called Save the Manatee Club, members donated enough money in its first year to adopt a manatee named Howie from the Blue Springs State Park in Orange County, FL.
"He has one little fin," Barnes says. "He has some issues, but that's one of the reasons that we really liked him."
At the end of their second year, the Parrotheadz adopted a second manatee named Margarita, and hope to continue their philanthropy in the future. As the group continues to grow and invite in students from all walks of life, Barnes, Holt and Sparagno plan to expand their social media presence, and maybe even reach out to Buffett himself for a meet-up.
In the meantime, the Parrotheadz persist in promoting a stress-free lifestyle that can be difficult to maintain while surrounded by the chaos of college life. But through boundless support and encouragement, the club sets its sights on blue skies and calming ocean waves. As Jimmy Buffet says, "If life gives you limes, make margaritas."