Alex French Guy Cooking is more than your average cooking host on YouTube. Forget Binging with Babish and 15-step recipes that require 30 different kitchen tools. Alex keeps it simple, oftentimes even grabbing household items and garage tools to imitate the fancy kitchen tools he may not have on hand.
The former engineer cooks up a creative storm, combining his math and science knowledge with a love of food to create an honest show of persistence that can inspire any creative person. Here are the three best parts of the show that will inspire you to get cooking, or to take on any creative endeavor you have in mind.
1. His cooking roots aren't glamorous, something he's proud of and open about.
It might come as a surprise because Alex French Guy seems filled with endless cooking techniques, but, at the end of the day, he is a self-taught cook — no fancy schooling in culinary techniques involved.
In one of his early FAQ videos, he explains that when he moved in with his girlfriend, one person took the shopping and cooking duties while the other took laundry and housework. It's not the most romantic or inspiring way to start cooking, but it's definitely a more realistic story of how many audience members might come to start cooking. Sometimes, you just need to pick up a pan, open a recipe book or even pull up a video online and start trying to learn.
Alex French Guy isn't embarrassed about his cooking roots either, as he keeps this attitude toward cooking at the forefront of his show. To Alex, cooking is a constant process of learning and getting better, regardless of how long you've been cooking.
He sets an example of this confidence with cooking on his show by taking on new challenges and trying to master new dishes each video. It might seem odd because most cooking hosts present their feature dishes for everyone to learn, but Alex embraces this inverted formula and instead learns alongside the audience and expands the horizon of cooking possibilities.
This is what makes Alex French Guy Cooking's show down to earth and relatable to the audience. He seems just like "one of us" in his kitchen triumphs and struggles. What's more, when he can't get a technique on his own, he is eager to turn the experts and learns from them.
Even if it means traveling to other countries to find these culinary masters, Alex comes ready to get dirty and get informed about how he can turn master-level work into a realistic process in his own kitchen. His fun and lighthearted personality keeps audiences interested in his excursions while also making friends along the way, reminding everyone that cooking doesn't have to just be about competition and impressing others.
2. His repeated attempts to master recipes illustrate the craft of cooking over the final product.
Not many YouTube channel hosts dedicate weeks and months to mastering one technique while keeping it fun along the way, but, then again, not many YouTubers are Alex French Guy Cooking. It you aren't a frequent viewer, you might think it sounds boring. Who wants to watch videos of a random French guy failing to cook each week?
However, Alex's videos are more than documentaries of cooking failures. In fact, many times they celebrate these failures and highlight the ways that he comes closer to his goal. In a recent series, Alex tackled the process of cheese-making, mozzarella in particular. Through varied techniques and products, he came closer and closer to his goal until he finally achieved a delicious and properly made mozzarella.
He traveled on his bike through the streets of Paris many, many times to acquire milk, and even traveled all the way to Italy (by plane, not bike) to learn from the master makers of buffalo mozzarella.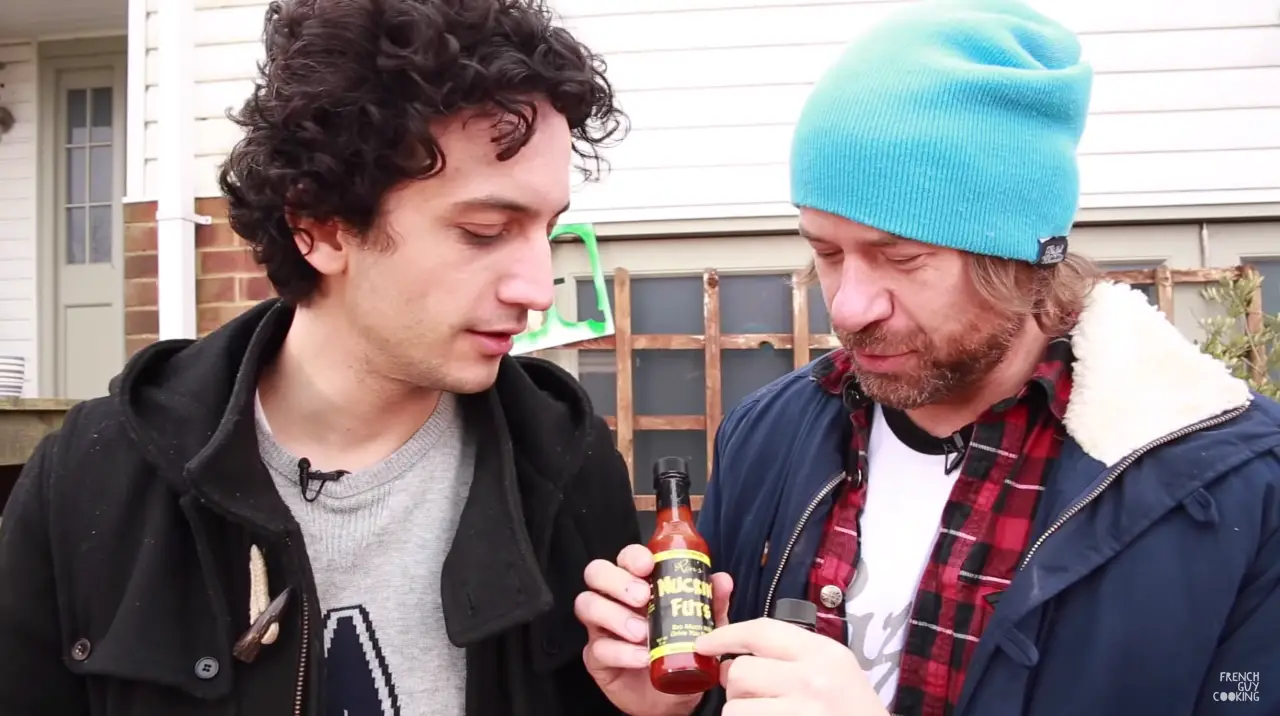 Many content creators, especially cooks, don't exhibit the same determination, and even if they do, most are not so forthcoming and honest about their processes and bumps along the way.
Alex's resolve to successfully create his intended product serves as an inspiration for anybody tackling something that seems completely impossible until it is completed. Alex proves that if you are willing to work for it, you can usually attain your goal, even if that means compromising your initial vision for a new and improved one.
3. He clearly has a passion for cooking, and it's incredibly infectious.
Stories of people changing their lives to "do what they love" instead of striving for success are common these days, so much so that they can all start to feel the same. There's undeniably a trend among young people placing emphasis on what they love instead of what society tells them they should do.
And yet, amidst all of these narratives of risks and dreams come true, Alex's story is still inspiring. Not even so much because he left his career in engineering to become an entrepreneur and YouTube cooking star, but more so because of how he blends together all of his experiences into his current role and path.
Whenever he gets a chance to use his predilection for math and science, he whips out a giant blue whiteboard and sketches out all of his calculations. The numbers might not mean too much to the audience, but the example of using his background in a new way shows that your experiences are never a waste, even if you decide to change the path that you're on.
Because Alex is such a happy-go-lucky guy following his passions, his channel stays fresh and new with whatever new idea is brewing in his mind. He can go from a spice series to a series on how to cook ramen, and then travel to learn how to make his own knife for the kitchen. It's fun, it's exciting and you never know what to expect next.
In all of the foody fun, Alex always encourages audiences to share and expand his fan base with the catchy #spreaditlikebutter. So from one French Guy Cooking fan to you, check out some innovative cooking and always #spreaditlikebutter.