Dakota Herman, a senior illustration major at the University of Arts in Philadelphia, says that she's "always done something involving 'the arts.'" Once a competitive dancer and a cheerleader, Herman has always had a curiosity for anything that involved art.
Her curiosity for the subject expanded when she visited Los Angeles the summer before her freshman year of college and got her first tattoo. A spur of the moment decision became a pivotal point in deciding her future — getting her first tattoo solidified the idea of having a career in tattooing. "I'd always thought about it but I had a female tattoo artist and it kind of made me think, 'Hey I could do this,'" Herman recounted.
Herman's first tattoo is now just one of many on her body, and all of them hold a special meaning — "inkspiration" at its core.
Herman's love for art has put her on many exciting paths, but she wasn't always an art major. Originally on track to go to college to pursue a degree in photography, Herman changed her mind and eventually settled into English. She admits that she "had some bumps in the road after high school," when she left her university and went home to work for a bit.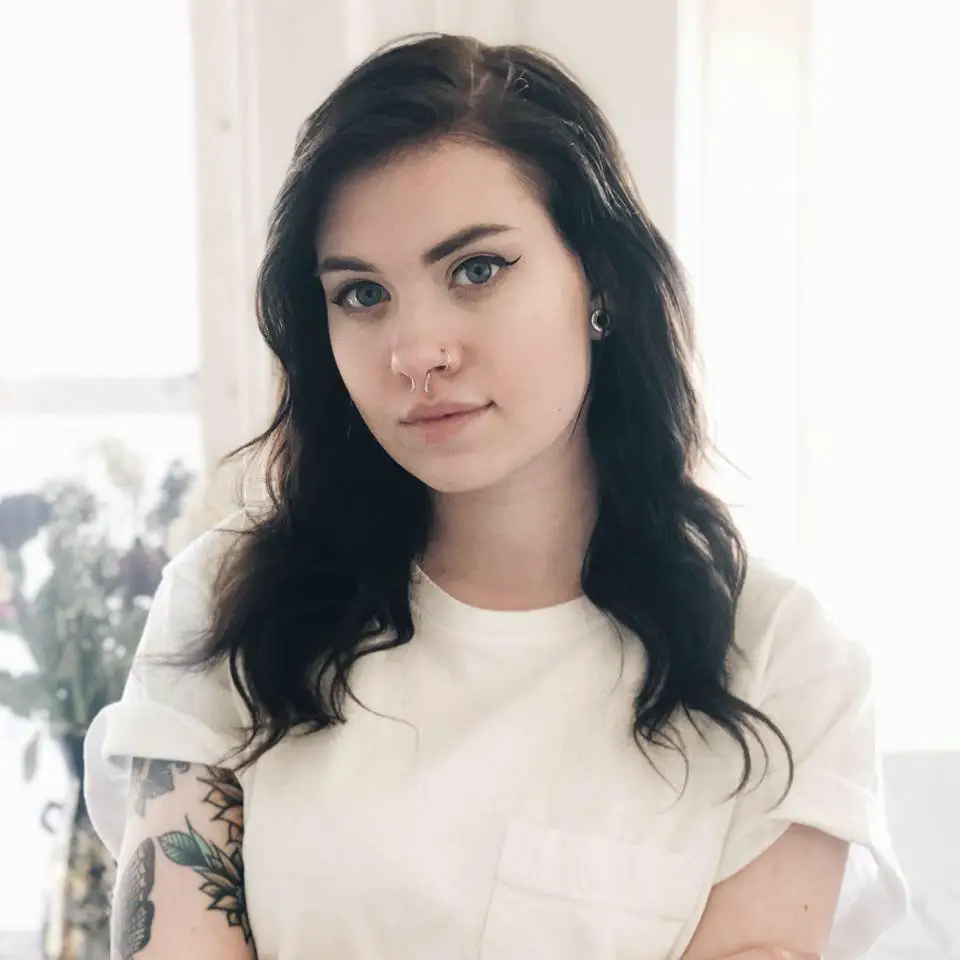 From there, whenever she wasn't working, she was drawing. Her drawings were small then — she describes them as "mediocre flash pieces" — but they are what really inspired her later on.
Now, four years later, Herman has just finished her senior thesis piece and had her artwork featured in her university's showcase, but she isn't done yet — she has begun probably the hardest journey that she will need to accomplish: getting an apprenticeship.
Her thesis highlights and reflects her style and the huge amount of time and detail that is needed to pull off her wonderful works of art. All of the aspects that encompass her showcase also reflect her hopeful path to tattooing.
Herman designed four vinyl-album covers of pop-punk bands that have inspired her throughout her life and was given honorable mention for her hard work. The designs and styles of the covers reflect her sense of style and detailed composition — aspects that encompass the tattooing style that she is most interested in.
Her artwork has been seen outside of her university as well, showing up in band posters, posters for the Morris Animal Refuge in Philly and her work will eventually be seen as a pin design for an Alzheimer's benefit vinyl compilation in June.
All of the work and education that she has received at the University of Arts in Philadelphia has really helped her develop a routine that focuses on taking measures to initialize the start of a project. Symbols and words that come to her mind really help her figure out what she is drawing and then from there, it's all about color and design studies which surface in final pieces.
Herman is drawn to the traditional style that tattooing industry uses. Traditional, aka "old school," tattoos are characterized by bold black outlines and a limited color palette that help enhance the design that the artist has made to be inked.
The pieces that are commonly considered to be "traditional style" are roses, eagles, anchors and heart tattoos — to name a few. On social media and through her other facets, Herman has shown these traditional techniques in her simple yet effective landscapes, flowers, hands and even animals like bumblebees and dogs.
During the spring of 2017, Herman landed an internship with one of the artists at True Hand Society, a tattoo shop in Philadelphia. Artist Kate Collins helped create, evolve and harness Herman's skills so she could make tattoo flash sheets.
Flash sheets are usually the drawings that are displayed on the walls of many tattoo shops and parlors. For some tattoo artists, this also helps set a base for outlining just in case many customers want the same tattoo.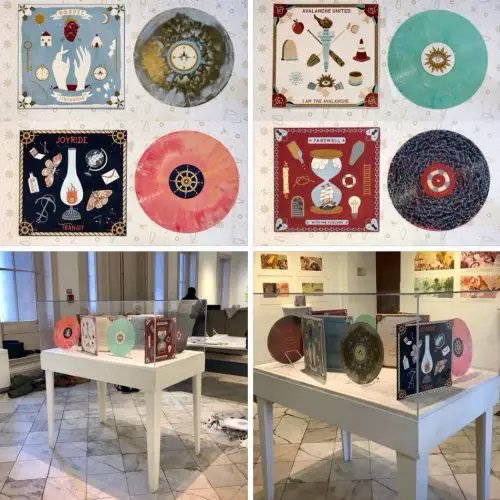 During her internship, in exchange for packing Kate's books and mailing out pins and prints, Herman learned the valuable lessons of how to correctly paint tattoo flashes and how to find herself as an artist. "I kind of lost my traditional route of art in my first few years at school and relied heavily on the computer, [but] painting with her helped me to get back to what I really loved," she says.
Even with the admiration and popularity of tattoos, there is still a negative stigma that surrounds permanent ink on the body. This is despite the fact that a large percentage of the American population favors adorning ink on their bodies. Among young adults between the ages of 18 – 24, 36 percent have a tattoo, while just 14 percent of the entire population has a tattoo.
Despite criticisms and a negative stigma, the people who do know about the tattooing world know that it is a place unlike any other, filled with talented artists who have extremely high standards and make sure that every piece they do is done safely.
Herman doesn't care about what people may think of her future career — she's ready for it all. But before her dream can become a reality, Herman must first obtain an apprenticeship. Apprenticeships are hard to come by, but they are crucial for providing the stepping stones to become a tattoo artist.
Getting an apprenticeship as well as volunteering at a tattoo shop will give Herman the full experience of the craft of tattooing. Though, it'll take some time for her to get an apprenticeship, as she wants to make sure she works with the best artist that she can.
"I find it to be such a sacred and respected art form that should be learned from people who learned it from others that came before them," she says. Tradition, trust, community and artistry are the key foundations to a successful career in tattooing.
Herman has already designed some tattoos for people that have been inked onto bodies. Humbled by people asking her to design art has only pushed her more to find an apprenticeship. For now, she is still working and ready for that day to come.
For Herman, tattooing has given the tools and inspiration to present her art for all of the world to see. As for keeping a positive mindset, Herman really believes that patience, being humble and taking constructive criticism is incredibly important, whether you're going into an art field or not.
It takes a lot to put artwork out for the world to see and to be ready for people to not like your work, but you need to have confidence in your work no matter what.
"It's important to remain humble, kind and receptive to those more experienced than you, it's important not to be too hard on yourself. It's so difficult to put your art out into the world and have people scrutinize a part of you, but hey, you actually made a thing and that is definitely something to be proud of."
Dakota Herman is ready to take her art beyond paper and onto flesh; she's ready for the world to respond to her art and she's willing to take on any project that comes her way.