For people who have trouble committing, tattoos are usually avoided altogether. The idea of having something so permanent and unchanging for the rest of your life is understandably a difficult decision to make. Fortunately, Inkbox tattoos are a temporary tattoo service that is aiding in the decision process for tattoo skeptics and hesitant folk alike.
Beginning as a kick-starter, as most great brands do, Inkbox has grown exponentially in popularity since it was first developed and funded in 2015. Co-founders (and brothers) Tyler and Braden Handley created the project as inspiration from the temporary tattoos they used as kids.
"We wanted something real," they say on their website. "We wanted to be our boldest selves and look badass while doing it." Both brothers wanted actual tattoo designs that seemed trendy at the time but they would probably regret getting a few years down the line.
Putting their minds together, they decided to create an adult version of a temporary tattoo. They formed a team and whipped up a formula that would look and feel as authentic as the real thing but fade over time with no threat to the skin. The result was Inkbox.
The Inkbox tattoos use a unique formula that the team found in special tribes from Panama: tribe members extract the ink base from a fruit called Huito. Used by the tribes themselves for "jagua tattoos," which is decorative body art that has been around for thousands of years, the ink stains the topmost layer of the skin.
There, it reacts with the organic compounds to change the color of your skin to an authentic bluish-black, similar to actual tattoo ink. The whole process is painless and relatively simple.
The best part about it? A percentage of each sale is donated to the Darién Initiative, a community that supports the tribes that inspired the Handley brothers' formula.
With over 600 different designs, Inkbox is sure to have something for everyone. The tattoos have two different forms of application: there are pre-made stencils that Inkbox sends filled with ink, and there are bottles of ink for those who prefer to freehand their own designs.
Applying the tattoo takes approximately 15 minutes, depending on which form of the tattoo you choose. Within 24 hours, the design should be prominently displayed. They last for around 18 days after the initial application, giving you plenty of time to admire your handiwork and Instagram your brand new body art.
Inkbox has taken it a step further with the customization station, which is where customers can now send in their own personal designs for Inkbox to make into tattoos. This way, they can test their personal tattoo ideas to see how they would look, or they can express their own artistic perceptions without any commitment. This is a huge step for Inkbox and their audience because they are drawing in tattoo-lovers and skeptics alike to try out personalized tattoos.
In an interview with Lost at E Minor online, the brothers voice their opinion on potentially breaking an upstanding tradition of tattooing. "We don't see it as a disruption," they say. "We see it as a complementary form of art that is expanding the broader market." Fortunately for them, they've done just that; their business is expanding the market by inspiring their customers to visit real tattoo parlors where professional tattoo artists can give them permanent ink.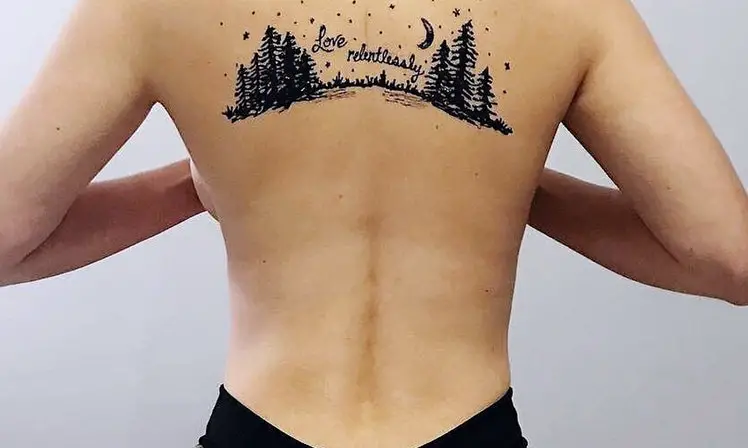 Fitness inspiration Jovana Borojevic, better known as JovanaFit, shares her weight loss story with Inbox and how she came to use the company's customization option as an expression of her growth. Starting at 300 pounds, Borojevic recalls her doctors fearing for her life. It was the wake-up call that she needed, and since then, she has made fitness a core concept in her life.
Inspired by her own journey, she garnered a number of tattoos over time. "For me, tattoos are a way to document my life in a form of art that I personally love," she says in her interview with Inkbox via Facebook. Her own customized tattoo was inspired by her mantra of needing to grow in her own mind before being able to change herself sufficiently.
When speaking of Inkbox's customized tattoo service, Borojevic reiterated how it enabled her to change her body without any long-term commitment. Surprisingly, it turns out that her decision to test it a tattoo was for the best, as she ultimately decided to get a permanent version of the tattoo on her opposite arm. "Just having it for a period of time to really get a feeling for how it would be to have it permanently was an awesome experience," she says, showing off her fresh ink to her interviewers. 
As a personal user myself, I find that Inkbox tattoos are a fun way to express your creativity with freehand designs, almost as if you're turning your own body into a human sketchbook. My friends and I brought out our inner-artists by tattooing each other and watching with delight as our designs slowly started appearing the next day: it was similar to magic.
Those contemplating tattoos should definitely take a look at Inkbox and their company values. There is no harm in having a test-run before committing to the real thing. Showing off body art that captures self-expression brings about a certain confidence that can be hard to come by.
Trying out different designs can inspire you even more, and browsing the wide variety that Inkbox offers online can open your eyes to designs you may not have considered prior. Who knows? Some may even eventually have a permanent residency on your skin.