Instagram has been my favorite form of social media ever since I downloaded the app in my sophomore year of high school. I had always loved taking pictures, so Instagram enabled my addiction immediately.
Some think that macro images of smoothie bowls or silly shots of dogs and cats are a waste of time, but think about it. What else would people post about if they weren't being honest? Daily life isn't full of exciting moments like capturing Bigfoot or meeting a celebrity. These seemingly dull images are what connect people.
But, over the years, Instagram has become a haven for visual artists. The ease of sharing a picture and the streamlined design of the app have made it a go-to for anyone who wants to expand their digital reach when it comes to creativity. It goes without saying that the app is ideal for photographers, but it's also great for anyone creating with their hands.
These artists post everything from works in progress to pictures of food (because even artists don't run on sheer willpower alone). So, whether you're looking for new inspiration for your own work or just want to see some lovely art, here are a few suggested accounts.
Category: Comics Artist
If you're into Marvel comics, you've probably seen some of Kevin Wada's work. He's been involved in series like "She-Hulk," "Deadpool V Gambit," "Han Solo" and "A-Force."
Using watercolors, he creates colorful scenes and portraits that often look like they're straight out of an issue of "Vogue."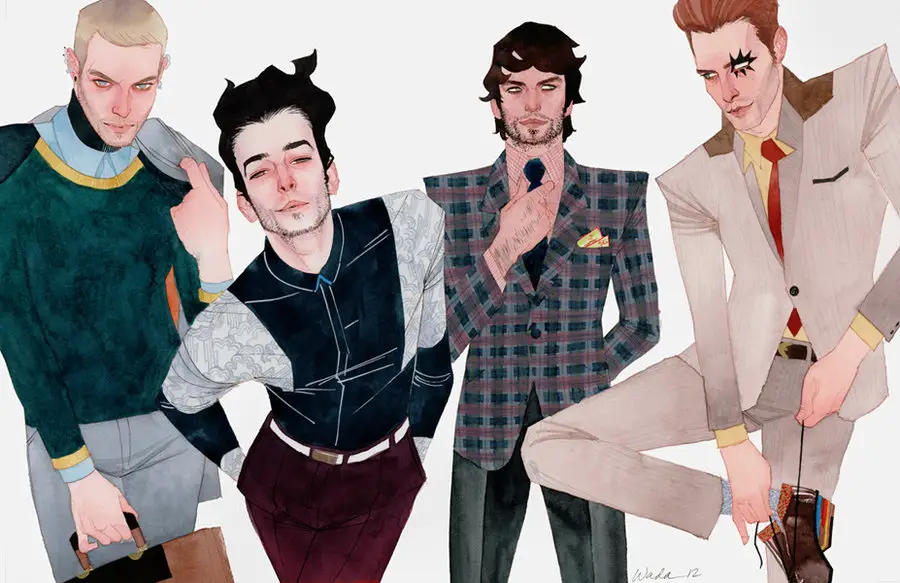 Wada actually became popular through his fan-art of Marvel characters in runway-worthy outfits. Never let anyone make you think you can't achieve your dreams of drawing superheroes and high fashion for a living.
Honorable Mentions:
Fiona Staples: Artist for "Saga" and the newest "Archie" comics
Kelsey Wroten: Independent comics artist
Category: Painter
I have never seen anyone render a traditional painting like Kelsey does. Her work looks like digital art, but her medium of choice is acrylic and oil paint. Most of her paintings are dreamy portraits, mostly of women, with pastel colors and a pop of something vibrant.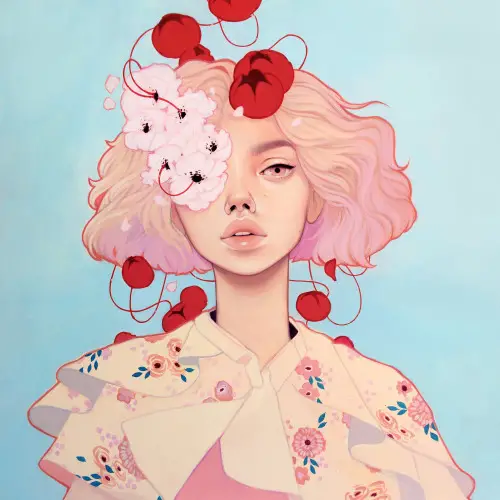 One of the coolest things about following traditional painters is that they post a lot of progress videos and photos. Seeing the process of an artist's work is the quickest way to appreciate what they do, if for some reason you don't already.
Believe it or not, there are people who try to discredit the work artists do. Some critics claim that artistic ability comes down to raw talent as opposed to hard work.
Honorable Mentions:
Aryz: Mural artist
John Larriva: Traditional portrait artist
Reyne Poltavskiy: Gouache painter with emphasis on animals
Category: Illustrator
In 2014, an artist reimagined the characters of "Hey Arnold" to see how they would look as adults, complete with a description of what they've been up to since you'd seen them last. The drawings were popular for a time, and it's no wonder why. Nuri Durr, the artist behind the images, has a knack for capturing personality through colors and poses, which is helpful when handling such iconic characters.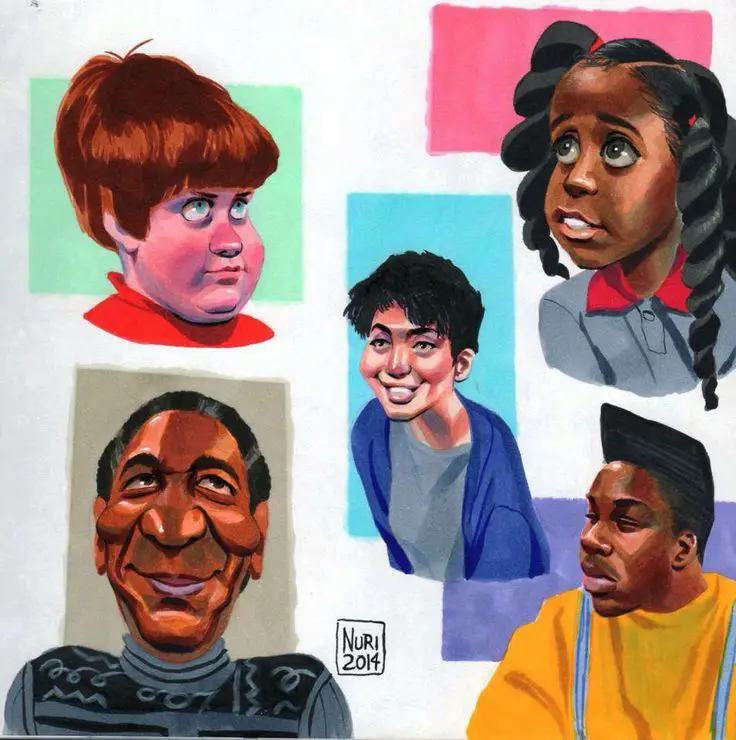 Durr's Instagram feed is full of art dedicated to equally nostalgia-inducing cartoons, video games and movies. For coloring, he uses Copic markers, a brand revered by artists for its blendability and rich colors. Markers are not an easy medium to work with, especially since time is not on your side, but Durr has had enough practice to make it seem effortless.
Honorable Mentions:
Chelsea Beck: NPR illustrator and freelancer
Woonyoung Jung: Visual development artist who makes lovely illustrations of witches and dinosaurs
Ikhwan Waliyudin Gani: Independent Illustrator
Category: Doodler
Some Instagram artists are difficult to categorize. They may only post doodles or rough work instead of full paintings and illustrations. I enjoy doodlers because I can relate.
Sometimes you just want to commit as little as possible, or it's easier to bang out ten thumbnails instead of creating completed works before you know what you want. The work of a doodler may rely more on simple lines and little to no color. Em Partridge is one artist who fits the category.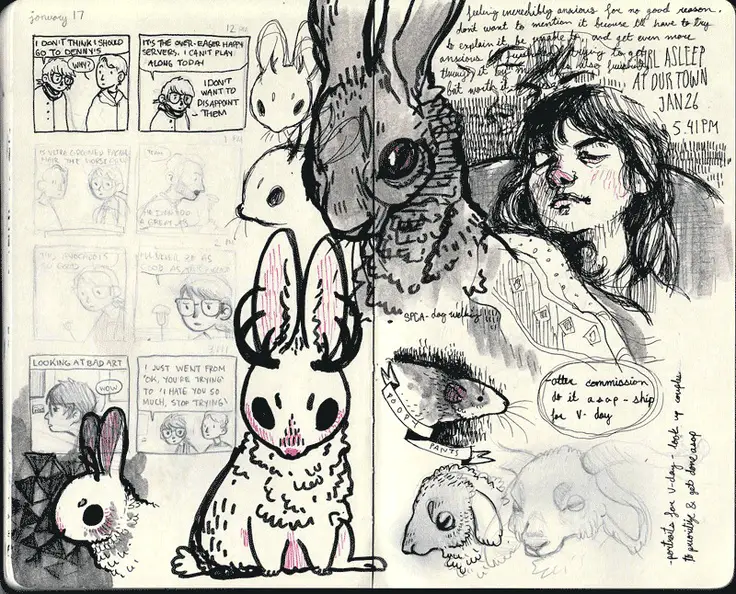 Partridge focuses on animals, like wolves and rabbits. The creepier, the better. You'll find bits of sketchbook and lots of tattoo/t-shirt designs on her account. And if that's not enough for you, you can check out her tattoo work at Black Cat Tattoo.
Honorable Mentions:
Muna: Illustrator who posts sketchbook pages and character designs
Lia Marin: Illustrator who does digital-painting studies from photographs
Category: Tattoo Artist
David Peyote, a Montreal-based tattoo artist, uses Instagram to showcase his beautiful ink skills. The only way to properly describe Peyote's style is to refer to anything Fox Mulder would want to permanently ink on his body.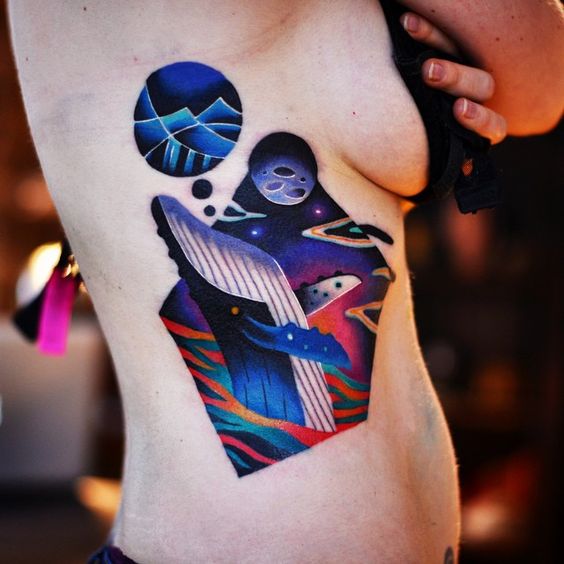 Peyote goes for a high-contrast, high-saturation approach, using shockingly bright colors against dark blue or black. He rarely uses much line-work, meaning that there's little-to-no distinction between the lines of the tattoo and the colors used. This gives the images a dark, storybook quality that sets itself apart from most traditional tattoo art.
Honorable Mentions:
Kelly McGrath: Lisa Frank and Sailor Moon-style tattoos
Pony Reinhardt: Highly detailed black and white tattoos with natural themes
Category: Embroidery
Often thought of as the go-to art of grandmothers everywhere, embroidery has become quite popular among younger artists. Though, instead of daintily decorated handkerchiefs and pillows, needlework has taken on a new kind of intricacy.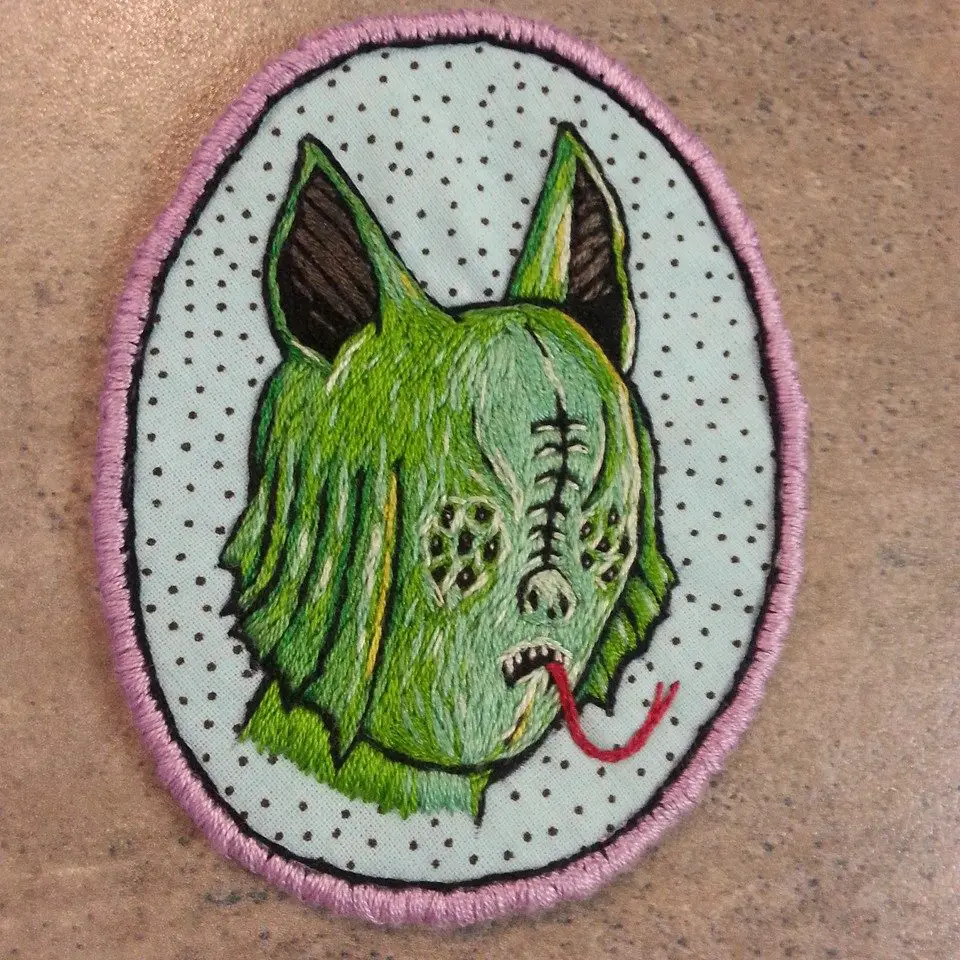 Haley Dicken uses embroidery to create small landscape scenes that look like tiny paintings reminiscent of Vincent Van Gogh's work. As her trademark, she creates the designs on tiny skull patches. No two designs are exactly alike, and the craftsmanship of each patch makes my fingers cramp just by looking at them.
Honorable Mentions:
Sarah Benning: Embroidery with a focus on plants
Adam Pritchett: Embroidery with a focus on insects (I promise they're not scary)