Morgan Witherspoon is a junior at Clemson University in South Carolina studying industrial engineering and business administration. She is also the executive director of the on-campus group Clemson Miracle, an organization that helps fundraise for local children's hospitals by hosting dance competitions that last for 12 hours straight.
In doing so, Witherspoon and her fellow Clemson Miracle members stand for the kids who can't and help raise awareness for the Children's Miracle Network.
Michaela Sickles: Can you tell me a little bit about the Clemson Miracle and what it is?
Morgan Witherspoon: It's a student organization within the school. So, we are a student-run non-profit that raises money and awareness for our local children's hospital, which is Greensville Health System Children's Hospital.
MS: How did you get involved with the organization?
MW: My sister was treated at our local children's hospital in Charlotte, North Carolina. I had heard about dance marathons through that and through some friends, and when I got to Clemson and found out they had an organization, The Clemson Miracle, that worked with the children's hospital, I knew that was what I wanted to get involved in.
MS: Are there any other projects that the Clemson Miracle puts together and works on, or is the dance-a-thon the focus of the group?
MW: We end our year with the dance marathon just as a celebration for what we've done throughout the year. Then, throughout the year, we'll put on different fundraising pushes and different on-campus events.
This past year, for Child Health Day, we had a day that we called "Slide Into Our DMs," where we had a giant inflatable slide on campus, and if you registered for the dance marathon you got to go down the slide.
Then we partnered with Clemson's rival school, the University of South Carolina, and did a fundraising-push competition with them. We're big rivals on the football field, but we both have programs that benefit children's hospitals, so we decided to work with them. We also have little fundraisers like on-campus tabling events and things like that.
MS: How long does it typically take to put these different events together?
MW: The dance marathon we plan year-round, as it's out biggest event. Next year's we will actually start planning once the summer hits. All the other smaller events we usually plan in about a month or so, depending on the event of course.
We try not to be too elaborate but make it work in our small timeframe, just because you can only plan so many events in the few months of the school year.
MS: Within Clemson Miracle, how does planning the different events work? Do people have different jobs planning different events within the organization?
MW: We have an executive board — last year it was 26 members and this coming year it will be 17 members — and everyone kind of has their specific roles for what their job is.
Then, when we do bigger events, such as the dance marathon or the Slide Into Our DMs Day, there's an all-hands-on-deck mentality. Everyone helps with those, but we do have people whose specific job is to plan the dance marathon or any of the other on-campus events.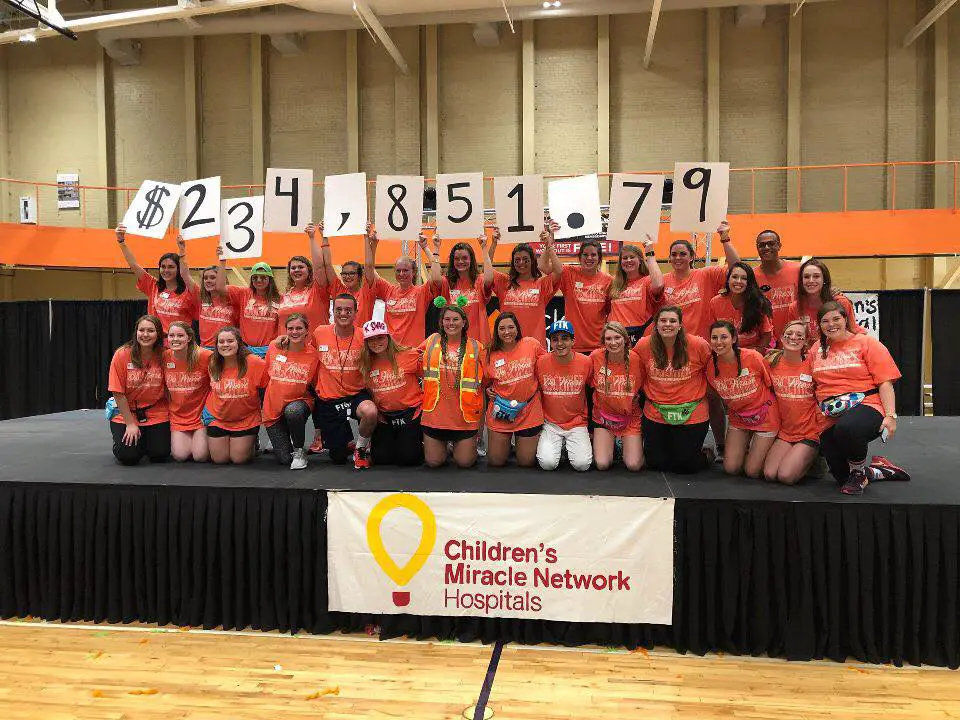 MS: What is your role within the club?
MW: This past year, and as of this week this coming year, I am the executive director. I oversee all of the different board members and my main job is to be the main point of contact with the university and with Children's Miracle Network Nationals.
I make sure we are keeping everything legal and ethical and mostly keep everything together.
MS: What would you say is your favorite event that the Clemson Miracle team has pulled together? 
MW: My favorite is the dance marathon, just because it's so cool to see so many people come together on campus and give up their Saturday in order to come out and help these kids. This year we had over 400 people come, so it was cool to see that.
MS: What makes the dance marathon so unique? 
MW: It's a 12-hour event and there's no sitting or sleeping during the 12 hours. We say that we stand to honor the kids who can't.
Throughout the 12 hours, we have different Miracle families come, who are families that have had a kid treated at our local hospital. They'll come and tell their stories, which is really cool because everyone gets to hear the impact of where their money is going.
We also have some on-campus groups come and perform and do different activities. We also teach a line dance called "The Morale Dance," which is usually about eight minutes long. We have an entire morale team whose job throughout the year is to make the dance and teach it. They keep everyone's energy up on the day of the dance marathon.
To learn more about Clemson Miracle and how to get involved you can check out their facebook page here.