The "Alexa and Katie" official trailer hit YouTube on March 12, and then, almost two weeks later, Netflix released the first season. The show follows Alexa Mendoza, who's been diagnosed with cancer, as she narrates her life and her battle with the disease, but most importantly how she continues to fight her illness with the support of family and her best friend, Katie Cooper.
A great Netflix original with an incredible cast, the light-hearted comedy takes real care of a crucial medical issue while also shedding light on important themes in life.
"Alexa and Katie" intertwines gloomy and joyful storylines to create a moving first season. Even though the series tells the story of teenage cancer, the comedy makes the show so much more than that. In only 13 episodes, the writing manages to bring heavy themes to life as Alexa (Paris Berele) and Katie (Isabel Maya) take on their freshman year of high school.
Throughout Season 1, viewers see how the showrunners and writers handle every topic with care and 100 percent realness. High school is scary, but the characters show how bravery, friendship and parent support can help bolster morale, which helps foster a more positive attitude in the face of adversity.
Throughout the series, Alexa struggles to cope with the harrowing realities of her diagnosis, which often leaves her afraid and vulnerable. As a result, much of the dynamic between Katie and Alexa revolves around Katie's attempts to make her friend feel better, which leads to her performing such pretty outlandish acts to provide Alexa a sense of solidarity.
For example, when Alexa begins losing her hair after chemo treatments, she becomes distraught about what others will think. To help her friend, Katie shaves her hair so they can be bald together. As the two routinely say to each other, "You aren't going through anything alone," a mantra that speaks volumes to the type of message the writing presents in each episode.
The spur-of-the-moment decision leaves both families with heartfelt reactions. Their moms, Lori and Jennifer, are both incredibly humble at how brave both their daughters are.
Later, when Katie is feeling nervous about being bald in school, her mom reminds her, "You are so brave to do that for Alexa." The two moments show how close-knit the families are, as well as how supportive the two daughters are of each other.
While much of the show focuses on Alexa's battle with cancer and Katie's subsequent attempts to distract her, the two deal with other issues more common to teenage girls, such as high school drama.
As a result, between beating cancer and anticipating the start of high school, the best friends help each other navigate the obstacles in their lives, but, as the show poignantly mentions, "not everyone has a Katie." In doing so, "Alexa and Katie" underscores the importance of strong female friendships, not only when dealing with life-threatening diseases, but also just for everyday life.
Every teen show has a strong friendship at the center, but this one sheds new light on being a supportive friend. Katie stands by Alexa through every battle cancer-treatment produces, and there is nothing they can't handle when, as the theme song alludes to, they do " this together."
Alexa continues to remind Katie that fitting in isn't important, but being yourself is. They lift each other up because just being there is enough to turn their bad day to good.
But, as everyone knows, no teen comedy is complete without the hovering, supportive, comedic-relief-offering parents. Dave (Eddie Shin) and Lori (Tiffani Thiessen) deal with their daughter, Alexa, in very different ways.
Dave may be an easy-going father and airline pilot, but he still faces difficulties not focusing on Alexa's cancer, especially after she shaves her head; while Lori, on the other hand, tries to find "cute things to wear on Alexa's and Katie's heads." Even though they show support in different ways, both parents are both incredibly encouraging as a unit.
Lori and Dave provide most of the comic relief in the parent trio, but Jennifer (Jolie Jenkins), a single mother, offers an off-the-wall sense of humor adds to every scene she is in. She is realistic about each situation, yet always gives heartfelt advice when Katie is upset or being brave.
On April 9, only days after "Everything Sucks," a popular Netflix Original, was shockingly cancelled, various reports — including Netflix — confirmed the renewal of "Alexa and Katie." The girls' journey will continue as they take on high school, so the fun isn't over yet.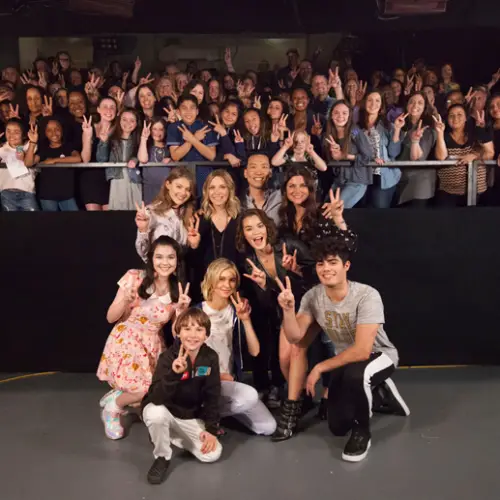 Since the excitement at the season renewal has died down, fans have started to wonder what storylines and themes the second season will employ. Luckily, Season 1 provided a great foundation for intriguing stories.
With the renewal, the show now has the chance to give some characters and their storylines more screen time, including the friendship between fellow classmates Hannah and Reagan, scenes with all four girls, Alexa's readjustment to high school after chemo treatment and more family interactions.
Hannah and Reagan aren't a significant part of the show, but viewers still want more screen time for them. Their personalities come off as the stereotypical ditzy teenage girls, but they can be so much more than that, especially when they hang out with Alexa and Katie.
The differences in the personalities of all the girls is apparent to any fan, but their friendship so far has been fun and hilarious each time the writers put them together.
Another primary focus needs to be on Alexa's positive attitude about cancer and school. Her upbeat perspective on life is a fresh concept and the character lends herself as a courageous role model for fans. The teenager's gradual journey of recovery after chemo is an honest and realistic depiction on those afflicted with cancer.
Alexa's personality and cancer storyline isn't a random choice but a conscious decision by series creator Heather Wordham and Netflix. "We wanted to make sure we were depicting a type that this is most likely this child's journey," Wordham says.
"We picked a time in the process where she would be coming through it, so that we could still show that character but not scare away an audience that we really thought was an important audience to see this."
As Wordham told Indie Wire that there are still more stories to explore. "The friendship between the girls, I think what we want to do is just make sure we're still telling those stories, that we're paying attention to that relationship and showing that support they have for each other," says Wordham.
"Also, now that we know the whole family, it will be fun, hopefully, to get to do those stories and include everybody. The older brother [Lucas Mendoza (Emery Kelly)] will be a senior, so him trying to figure out what he's doing with his life and that kind of thing."
On the surface "Alexa and Katie" appears like any other average sitcom show, but given the opportunity, proves itself to be a remarkable series. The Netflix original won't leave viewers disappointed with its abundant supply of laugh-out-loud moments, tear-inducing scenes and relatable life lessons.
The young sitcom is an installment fit for all ages and worth watching. Fans can expect a lot of crazier adventures from the Coopers and Mendozas as they climb into Season 2.