Born and raised in Dallas, Texas, Bria Whitaker's drive for fashion started when she was between the ages of 10 – 12. She was always intrigued by fashion magazines, colors, patterns and fabrics in the clothes that she wore.
In fact, Whitaker says "I remember always going to the store with my mom and always begging for her to buy me the latest copy of Teen Vogue or Cosmopolitan while in the check-out line."
Bria Whitaker is a master's student at Texas A&M-Commerce, where she is pursuing her degree in marketing. However, her fashion background started when she graduated from the University of North Texas with a Bachelor's of Science in merchandising.
After graduating and interning with Nordstrom, Whitaker decided to utilize her education to launch her streetwear clothing brand, Foreign Closet. Her merchandising degree greatly informed her business decision and operations, in that she learned how to work with diverse groups and conquer numerous tasks.
However, the student says "a degree can only teach you so much about running a business. The best teacher is by making mistakes, taking risks and just the overall experience."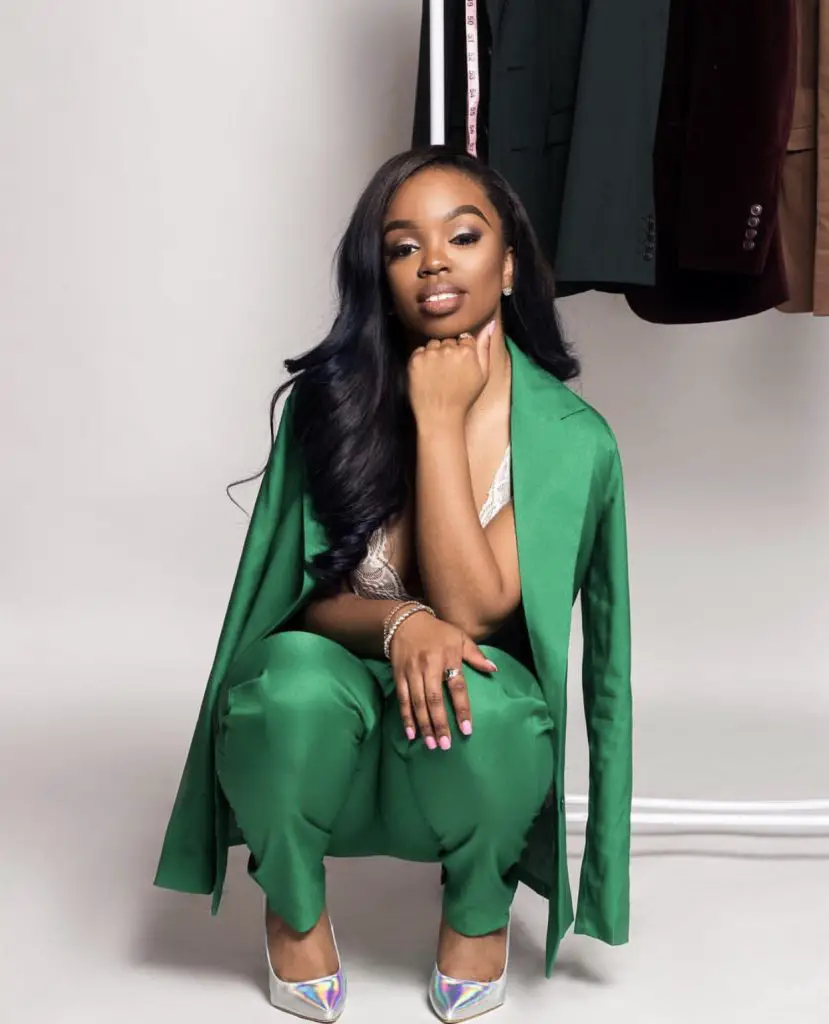 The brand name Foreign Closet was completely random, but fitting for the vision that Bria was wanting to have for her business. Inspired by menswear, her own wardrobe and wanting to fill a void in the both spaces, Whitaker came up with the name. After developing the concept of the brand, she instantly reached out to her male peers for confirmation.
The Foreign Closet man is confident, a risk-taker and fashion forward. He's typically within the ages of 20 – 30. Moreover, he has likely obtained some form of higher education and has a disposable income.
Whitaker wanted to start Foreign Closet after working at Nordstrom with the type of men she described for her own brand in the suiting department and traveling overseas to countries in Europe. That's when she ultimately started to fall in love with men's fashion. This is a shift considering she initially wanted to work in women's shoes.
By working in a male dominant sector of the fashion industry, Whitaker faced gender and race discrimination. Moreover, she also faced age discrimination and was often overlooked by potential customers.
However, after demonstrating tenacious, ambition and resilient characteristics, this changed. By maintaining a healthy, competitive spirit and remaining perspicacious in her work environment, Whitaker excelled and had all of the motivation to start Foreign Closet.
According to the designer, "the menswear market is missing real creativity because everything is becoming so mainstream," but "Foreign Closet can fill the void in the future especially with providing some of our unique characteristics."
Foreign Closet is differentiates itself in that it's not only classified as a streetwear brand, but also contemporary. The pieces that the designer creates are seamless, transitional and functional.
Additionally, she believes that her own unique style and approach to each male client that she interacts with makes the Foreign Closet experience even more seamless. Her main goal is to figure out the needs and wants of a client, and deliver the best results while making them feel rejuvenated and confident.
Some of her favorite items from her collection would be from the Friday Night Lights Collection (A/W 17-18'), because each piece had a unique, creative approach. Her absolute favorite item was the white collarless button down.
Like many designers, Whitaker's travel experiences have also influenced her business decisions and creative process. She's been to eight countries including China, Hong Kong, London, Paris, Jamaica, Amsterdam, Scotland and Canada, but the countries that had the biggest influence were China, Hong Kong, Paris, London and Scotland.
The European countries that she got her inspiration from was merely a result of people-watching and visiting the fashion museums and couture houses such as Yves Saint Laurent and Louis Vuitton. Hong Kong and China were influential in that she learned more about the logistics industry, manufacturing and sourcing.
The designer says, "those experiences stuck with me because it was something I could visually see and more hands on versus reading it from a textbook."
Considering the continual oversaturation of the fashion industry and menswear specifically, it's important that designers like Whitaker remain abreast on all the recent happenings in fashion. The Commerce student stays afloat by people-watching, being active on social media, traveling, researching and subscribing to men's publications.
For fun, she travels, takes professional pictures and does family-related activities. Although she's very laid back, she's spontaneous and open-minded and that definitely keeps her busy.
Although Whitaker has many designers whom she admires and looks up to, her favorite designer from Dallas, Texas, is Don Morphy. Some of the more known, historical designers whose work she enjoys includes Alexander McQueen, Tom Ford and many more. Due to the nature of the industry, Whitaker doesn't have many favorite collections, but the ones she does enjoy come from those designers.
The student is very excited to be graduating with her Masters in marketing from Texas A&M University-Commerce. She plans to utilize her degree by enhancing her skills in management, international marketing and business-to-business marketing.
According to Whitaker, every prospective entrepreneur should "stay true to yourself, work hard, and never give up on your dreams know matter how hard things get." She also notes that one should never let their current hardship or financial situation discourage them from pursuing their dreams and creating the life they envisioned for themselves.
The designer, like many creative entrepreneurs, isn't entirely sure of what is to come, being that she's witnessed the possibility of multifaceted success. But, she knows "for a fact she will be in a total different space in a positive way."
The designer wants to continue to build her personal brand, "I am Bria Charlise" and Foreign Closet, while continuing to execute various philanthropic efforts for her brands. Equipping the youth with the necessary tools to succeed is also something Whitaker is passionate about. The best way to keep up with all things Bria and Foreign Closet, visit her social media and menswear pages.