Nowadays the path to self-acceptance can be a struggle for some girls. Loving every inch of your body is a message that DaQuendra Elston, junior at Alabama State University, has made it her mission to convey.
Since high school, Elston noticed that plus-sized women were discriminated against in organizations that pushed girls to fit into a uniform. From this realization, she decided her high school had a need to give all girls, no matter their size, an opportunity to perform at halftime shows. Elston then took it upon herself to create her school's first ever plus-sized dance team.
Although this obstacle allowed her to become the confident woman she is today, Elston decided that continuing her mission at Alabama State University was the right decision. Upon arriving at ASU, Elston joined the Honeybeez, a plus-size only dance team and has used the platform to continue to spread her message of body positivity.
Adriana Luna: When did your passion for dance start?
DaQuendra Elston: Growing up, I was always the one dancing at family events and taking every opportunity I could to show off my moves. My dance career didn't really take off until high school when my band director noticed I could dance. He then started incorporating my dance moves into solos during the halftime performances in my band uniform.
AL: You mentioned you danced with a plus-size team in high school, was there another dance team as well?
DE: Yes, there was another dance team in addition to my own. It was intended for smaller girls who could fit the uniform. I never tried out because I already knew it wouldn't flatter me like it did the other girls and I didn't wanna set myself up for that.
AL: What inspired you to create your own plus-size team?
DE: I love to prove people wrong. I was always told I couldn't dance because of my weight, and I knew that was wrong. I knew I wanted to dance at halftime with the band and I also knew there was a handful of others who wanted to do the same. It wasn't fair that we weren't being given the same opportunities so I decided "you know what, why don't we just do our own thing?"
AL: Did Honeybeez lead you to ASU?
DE: Honeybeez played a huge factor in me attending ASU because I really wanted to continue dancing after high school. Throughout high school, I danced with the plus-size dance team that I created, so I knew with ASU having an organization like Honeybeez, it was the place for me to pursue that.
We ready to walk in the Black Panther Marvel movie like This! #myasu #BlackPanther #BlackPantherMovie #teamhoneybeez pic.twitter.com/BWogVgEU6e

— Honeyb'z ?? (@honeyb_z) February 13, 2018
AL: What are the requirements to become a Honeybee?
DE: There are few requirements to become a Honeybee: You need to have at least one split down, tumble and be plus-sized. We do not like to exclude the girls who have potential so we offer lessons to try to help make the tryout process a little easier. We only accept six girls each year, but maybe one day it can become a larger team; each season has a new audition process.
AL: What style of dance is Honeybeez?
DE: We focus more on a hip-hop technique; our director likes to compare it to "club dancing." We like to show off our moves, but we also incorporate as much athleticism as possible in doing flips and splits.
AL: It's admirable that you saw a need to give plus-size women an opportunity to dance, ASU is one of the few that does the same. How did the Honeybeez start?
DE: Some of the Beez researched in the school archives and found it originally started in the 1970s, but it was overlooked for a long period of time. In 2004, my director decided to bring it back into the spotlight after he saw something was missing from his halftime shows.
"CAKE CAKE CAKE"??? COME THRU HONEYBEEZ! ? | #HBOB #MyASU | @rihanna FULL VID IN BIO pic.twitter.com/GMCLIwV0ez

— MyASU Buzz ? (@myasu_buzz) January 28, 2018
AL: It isn't often you see plus-size girls receiving the spotlight they deserve. How did people react to the group?
DE: At first, [my director] received a lot of criticism for being accused of making fun of us. He almost pulled us from the show a few times but decided not to since he figured the majority of the audience loved us. Over the years, our greatest obstacle we have had to overcome is the acceptance of others; people haven't always been used to seeing plus-size women perform.
AL: Being a role model for so many girls has to come with a constant pressure to set a good example. How do you and your team handle that responsibility?
DE: We try not to focus on the negativity that comes with being in such a rare organization. We strive to set a good example for younger girls and that comes with encouraging them to be themselves. We keep our DM's open, we want to encourage and talk to as many girls as possible to help with that.
AL: How has Honeybeez provided you with more opportunity?
DE: Honeybeez has opened so many doors for us. My team and I have actually gone viral a few times just within this past year. We also got the opportunity to audition for America's Got Talent, perform on Showtime at the Apollo and on Steve Harvey as well. Not to mention it has provided me with some amazing friendships; my entire team has become family to me.
AL: Society has formed an inaccurate depiction of what beautiful means. What would you say to the girls who often struggle with their confidence?
DE: No matter what people say, know that the opinions of others do not matter in the long run. Focus on yourself and do what makes you happy. Be bold, be beautiful and be you. Authenticity is beautiful.
AL: How do you keep your confidence off the field?
DE: I am plus-sized model for Torrid fashion; modeling has helped remind me that size does not define me.
#NYFW2017 @Pooh_thebee We love this look! #myasu #teamhoneybeez Top 10 competitor for the face of @TorridFashion … ASU show your love! pic.twitter.com/EgvZDqdChQ

— Honeyb'z ?? (@honeyb_z) September 9, 2017
AL: What motivated you to break into the modeling industry?
DE: On social media, every time I posted a picture, I always received comments like "You're so beautiful you need to model!" So, I figured why not give it a shot? I decided to audition for "The Face of Torrid Fashion." I didn't know what I was getting into, but they seemed to see something in me.
AL: What was the tryout process like since it was your first experience?
DE: It all started in August of last year. I found out Torrid was having a model search, so I drove to Atlanta, Georgia to wait for hours to walk the runway. When it was finally my turn, I didn't know what else to do besides throw in some Honeybee stand dances.
I guess they noticed me by my routine and I ended up receiving a callback. After the callback, I found out I made the Top 10, with the opportunity to walk in New York Fashion Week.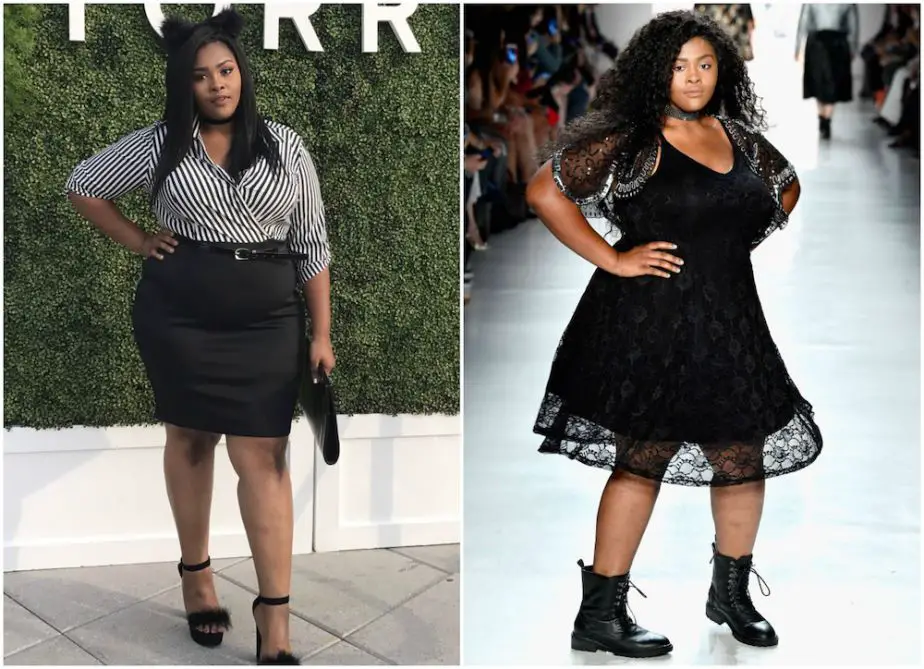 AL: What was it like defying society's standards and proving size doesn't define you?
DE: Walking in New York Fashion week was so rewarding and being a part of the breakthrough for plus-size models. Having the opportunity to do it all as a college student is an amazing opportunity.
AL: Do you plan on pursuing modeling as a career?
DE: In this new experience, it really opened my eyes to the world of fashion and the industry. Before doing this, I had never even considered a future in modeling. From a young age, I always had a plan for myself of becoming a communication disorder specialist.
Yet, after walking that runway, I am especially focused on becoming a public figure to spread body positivity. At my university, I am currently working toward that goal by trying to start a plus-size modeling organization to help build girls' confidence.