Prior to earning their degrees, undergraduates oftentimes struggle with maintaining their grades while also applying their studies to the real world. Students at Siena College, however, have managed to do both through their involvement with e-NABLE, a nonprofit organization that uses 3D printing software to create prosthetic limbs for children.
The organization has created thousands of prosthetics for children in nearly 50 different countries, and chapters exist around the world at universities and other institutions with access to 3D printing software.
On May 4, 10-year-old Colleen Sullivan was given a life-changing gift by volunteer students from the Siena College chapter of e-NABLE: a customized prosthetic arm. The arm, which took a year to design and create, allows Sullivan to grip with her right hand, which she previously was unable to use.
Although the chapter created dozens of prosthetics in the past, Sullivan's particular needs posed somewhat of a challenge for students creating her prosthetic arm.
Sullivan, from Camillus, New York, was born with a deformity that made her right arm small and weak. Her fingers cannot grasp, and she does not have a functioning elbow joint. Subsequently, Sullivan is ineligible for many prosthetic designs that rely upon muscles at the elbow to control grasping mechanisms.
Despite her condition, Sullivan always participated in activities common among other girls her age, but she experienced difficulties when learning how to ride a bike.
When Kristen Ludwick, a junior physics and engineering major and president of the Siena College chapter, and her fellow students accepted Sullivan's grandparents' application for a customized prosthetic, they required more than a year of fitting and redesigning to create the perfect functioning design.
Ultimately, the students designed a hand for Sullivan that opens and closes using sensors that detect the tightening of muscles near the shoulder.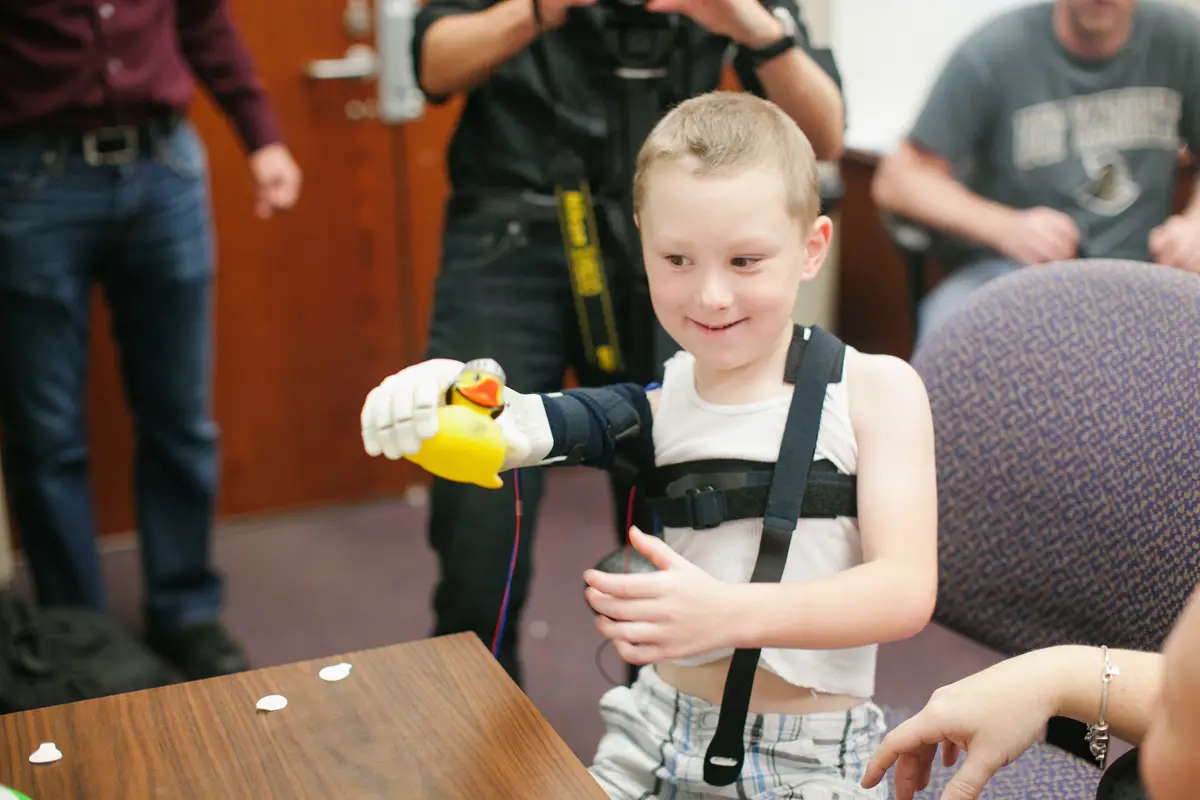 Many children are interested in prosthetics with a cartoon or superhero theme. Sullivan, however, was interested in something a bit different. She requested for her prosthetic to be inspired by Joan of Arc, a prolific symbol of female strength and power in 15th-century France. Siena College students created a prosthetic arm with golden crosses that resembled the female saint's armor but weighs less than a pound.
In addition to Siena College students from the e-NABLE chapter, Kate Putnam, a local eighth-grader and member of Girl Scouts of the USA, also contributed to the creation of Sullivan's prosthetic arm. Putman became involved with the e-NABLE program through Girl Scouts and followed up helping in the creation of the prosthetic arm by raising money to gift Sullivan with a brand-new bike.
With the help of her new arm, Sullivan is now able to grip objects with her right hand, allowing her to finally learn how to ride a bike with fewer difficulties. For more information about the e-NABLE program, visit Enabling the Future or follow the social media pages of one of their local chapters.