The Christmas elves might have understood how painful it is to not have dolls that are special and relatable, and the warm joy of finding a unique toy under the Christmas tree is a feeling that all kids should experience. Our parents told us stories about small elves with pointy ears and green uniforms, but today's elves, while accomplishing the same tasks, are substantially more diverse. One of those elves is Mikaela Nelson, a Prosthetics major at the University of Hartford, who hand makes unique dolls for unique kids. Each figurine is individualized and made with enough detail to match the owner's hair color, skin color and each of their special qualities, such as prosthetics or burn marks.
When she's not in class or studying, Nelson uses her free time to make dolls because of her love for crafts and kids. Troubled by the fact that there were no dolls that could relate to an amputee or scarred children, and looking to make a living from her passion, Nelson began to make her first prototype doll. She bought a used doll from eBay, amputated the doll's leg and used a metal bar as the attached prosthetic. Nothing like this had been put on the market and it sold quickly on eBay. Soon she realized her small project had the potential to become something greater than a hobby.
Nelson has an account on Etsy (or should we say located at the North Pole) where her customers begin by sending Nelson photos of their loved one so that she can get the details right. Next, Nelson will order used dolls, typically American Girl dolls, and begin looking for wigs and other specific pieces that match the child. Then Elf Nelson will cut off portions of the doll and fill the gap with pixie dust and Plasti-Putti or glue to give a realistic effect. Afterwards, she will cut a small metal bar and attach it to the doll's stub and the detached limb to make a mini prosthetic. For burn scars, she will use putty or glue to mold onto the doll's "skin" and paint it to give the burn-mark effect. No, she doesn't wear quirky Christmas hats or sing carols as she works, but her work still feels magical to its recipients.
Nelson specializes in children who could use some magic in their life because they don't have dolls that they can relate to, and she believes that the doll helps children understand that they aren't alone. Also, the toys have proven to be helpful in many ways; in one case, a child who suffered from burn scars and struggled with PTSD received one of the Mickey's Mission dolls, which Nelson says has proven to be therapeutic and reassuring.
In addition to helping kids cope with disabilities after intensive medical procedures, the playthings can also be used before an amputation to help patients understand what, at times, can be a confusing reality. For instance, one of Nelson's clients was born with deformed tibias that prevented him from standing well, so his parents used the customized dolls to explain to their two-year-old how he would look after his feet were amputated. The doll helped the child stay strong and have something to comfort and relate to. After the surgery, he took his mini companion around everywhere.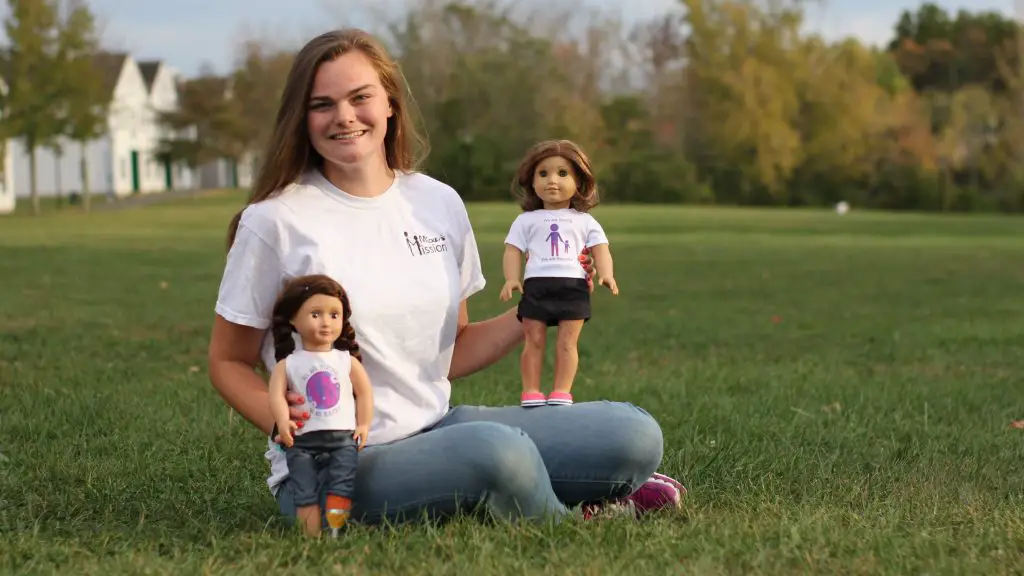 The deepest connection Nelson had with a child was when she made a doll for a little girl who was adopted from South America. The little one-footed girl advocated for other people to adopt children with congenital amputations, and her story alone was enough to shake Nelson. The girl's mother sent Nelson a reaction video of her daughter opening the gift and finding a one-of-a-kind doll, which left Nelson feeling overwhelmed with joy at having made something that empowered a strong eleven-year-old advocate. What's more, the girl even elected to name her doll Mikaela after its creator.
Nelson truly is a modern elf the way she adores children and stays busy. When she isn't at the toy factory, she enjoys playing ultimate frisbee and doing crafts. Her aspirations include working with children because their fun energy is what gives her the stamina to continue a labor of love. Currently, she is studying to work with prosthetics on children. Her small doll shop is intended to be a side project while her dominant focus is to help children with their real prosthetics.
Recently she received a grant from Project Lovely, which recognized her valuable work in the amputee community. Currently, she is applying for more grants to eventually be able to turn her homemade doll project into a nonprofit organization that spreads from clinic to clinic. Nelson is striving to be her own Santa Claus and is saving money to purchase a 3D printer, which will allow her to mass produce the doll parts and customize the doll to fit each child she meets. Like any hard-working elf, she wants to be able to make as many children as she can feel included and happy.