Grounds for Learning
The company, which was started by Northwestern student Lucas Philips, solves a problem for both its clients and its ambitious co-founder.
By Kayla Kibbe, Connecticut College
---
Lucas Philips knows you take your coffee seriously.
So when the Northwestern student and aspiring business owner noticed that students at the school in Evanston, Illinois, didn't have access to quality coffee on campus, the then-freshman found the perfect opportunity to combine his love of cold brew with his entrepreneurial ambitions. The result was BrewBike, an entirely student owned and operated business that provides students with both the convenience and excellence they crave in their morning coffee. And yes, it's really a bike.
Now, just a year after launching a successful crowdfunding campaign to get the business off the ground, Philips is wrapping up his sophomore year, and BrewBike has proven to be a success, expanding to two locations and turning a profit. For Philips, however, the work is just beginning. While great coffee and happy customers helped the business get to where it is today, BrewBike isn't just about cold brew and getting students through their 8 a.m.'s. At its heart, the business is an exercise in what Philips calls "experiential learning."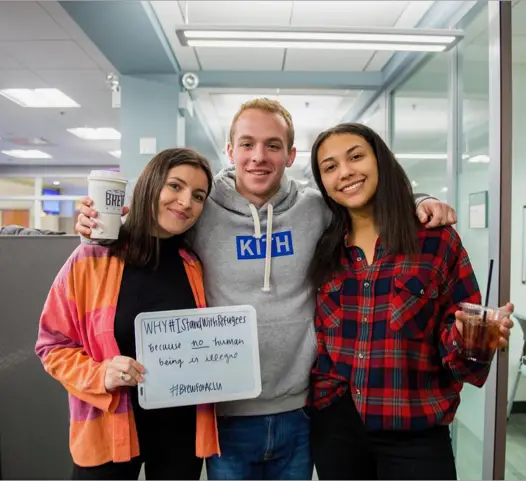 As a business owner, the Learning and Organizational Change major not only works to provide Northwestern with quality coffee, but also to learn, along with his team, the best ways to create, operate and develop a sustainable business. Now that the company has stabilized, the rising junior wants to put his entrepreneurial experience to the test, and he has plans to see his business to perfection.
Ideas Brewing
Philips is always looking for problems. "The first part of starting a business is finding a problem in the world that you want to solve. Every time you solve someone's problem, you're getting a customer," he says. Beginning his freshman year with a goal of starting his own business, Philips began searching for a problem that needed solving. "I was trying to find these billion dollar problems, but ended up finding something that was much smaller, and I'm happy I did."
BrewBike eventually became the solution to two problems, the first of which was inadequate access to coffee on Northwestern's campus. "There's really no quality, convenient coffee on campus," Philips explains. "It's all done by this huge food company called Sodexo, and Sodexo has a focus on profitability, cutting costs, and therefore it wasn't quality. So for those students on campus who wanted really good coffee, we'd have to walk off campus every morning." In Chicago, he adds, weather is not always ideal for a morning stroll off campus.
"The other problem," he says, "is that there was no student-run hospitality business on campus. There's a lot of student-run businesses on campus, but there was no student-run hospitality business operating every day where students could get the learning and experience that we provide at BrewBike."
Once Philips had outlined the problem, he got to work on the solution. After many returns to the drawing board, BrewBike officially opened for business in fall of 2016.
Experiential Learning
Philips doesn't mince words when it comes to BrewBike's first days in the game. "It was a shitshow all fall," he says. "We had no idea what we were doing." But for Philips and his team, the solution was simple—time and experience.
"It all goes back to that experiential learning," he says. Finding a solution to a problem may be the first step towards a business plan, "but the business plan oftentimes needs to change, it just doesn't work and it doesn't solve the problem properly." Through this experience, Philips has come to welcome problems as opportunities to find new solutions.
"With a deep understanding of the problem and a deep understanding of the customer, it's very easy to know what goes into building a business and what choices to make to grow the business. I think that's the biggest thing I've learned."
As Philips and his team gained more experience, both good and bad, BrewBike also continued to grow. By winter, the company was able to establish a separate, indoor location, and by the spring quarter, the business that only a few months before was barely breaking even officially became profitable.
Philips credits much of this success to his team and their shared dedication to experiential learning. "We say that we're providing this learning and I think we are, so we have a much more devoted team than a lot of other student groups. I think the fact that everyone knows we are independent of the university, that we are an LLC, and we really are a business that is entirely student run and student owned makes people intrinsically motivated to learn and become better."
Perfecting the Model
Philips is determined to keep up that motivation. For all the problems BrewBike has solved, there is always more to consider. While Philips constantly works to update and improve the business from an interior perspective, customers often shed light on important aspects of the business from the other side of things.
"Just the other day people came into the shop and told us they thought we had a male-dominated work environment," Lucas explains of one of the more recent problems BrewBike has encountered. "We had a meeting as a whole team and we looked at all the shifts, we looked at the team, we honestly talked about it.
"The administrative team is pretty much gender split. The barista team is entirely gender split, and we make sure that if someone comes at 9 a.m. or 10 a.m. or a certain time every day, they're getting different gendered baristas. So we figured that, internally, the system is working. But there's still this customer-facing side of things. So the problem becomes one of how we can show our customers that we are gender equal. We don't necessarily need to change our structure internally, but we need to make sure we're showing our customers that we're better. And I would say that type of group thought process shows the kind of learning we've gotten as a team."
Looking forward, Philips has his own goals for the company as well, including improving training for contractors, interior organization and working on his own skills as a leader. "It all goes back to perfecting the model," he says. "We want to keep growing, but we want to first perfect what we're doing now.
For more on the innovative coffee company, follow BrewBike on Facebook and Instagram.