Jacob Moore, a freshman at the University of Michigan, recently shared his story of sexual abuse at the hands of USA gymnastics employee Larry Nassar. He was inspired by his sister, Kamerin, who also testified against Nassar.
At first, Moore saw Nassar as a family friend that he could trust with medical treatment and advice. He went to Nassar at 16 years old for an injured shoulder. Instead of treating his shoulder, however, Nassar invited Moore to his home and put acupuncture on his privates while another female victim was in the room. When gauging the female's reaction, Nassar asked her, "Have you ever seen a male body part before?"
Even though Nassar was sentenced to life in prison, with criminal records indicating that he's been charged with molestation and possession of child pornography, Moore's testimony helps build the case that the issue is bigger than Nassar, incriminating both Michigan State University and the U.S. gymnastics team.
To address the issue, Moore has joined his sister in filing a federal suit against Nassar, USA Gymnastics and Michigan State University.
Moore said to the Today Show, "My sister and I shouldn't have to relate to the fact that we've both been abused. It's sickening that he would violate a trust like that, and the things he did were just awful."
In addition to the Moores' legal suits, Aly Raisman, another victim of Nassar's sexual abuse, is also suing the U.S. Olympic Committee.
Since the charges came out about Nassar, leaders of both organizations have resigned or stepped down. According to NBC News, the board of USA gymnastics, as well as the president and athletic director of Michigan State University, have left following Nassar's sentence.
NBC News asked Michigan State for a comment about Moore's allegations but received no comment.
They also asked USA Gymnastics for a comment about the federal case against them. Although spokespeople for the U.S. gymnastics team declined to talk specifically about the case, they said, "We are very sorry that any athlete has been hurt by the despicable crimes of Larry Nassar," adding that the organization was determined not to let anything similar happen again.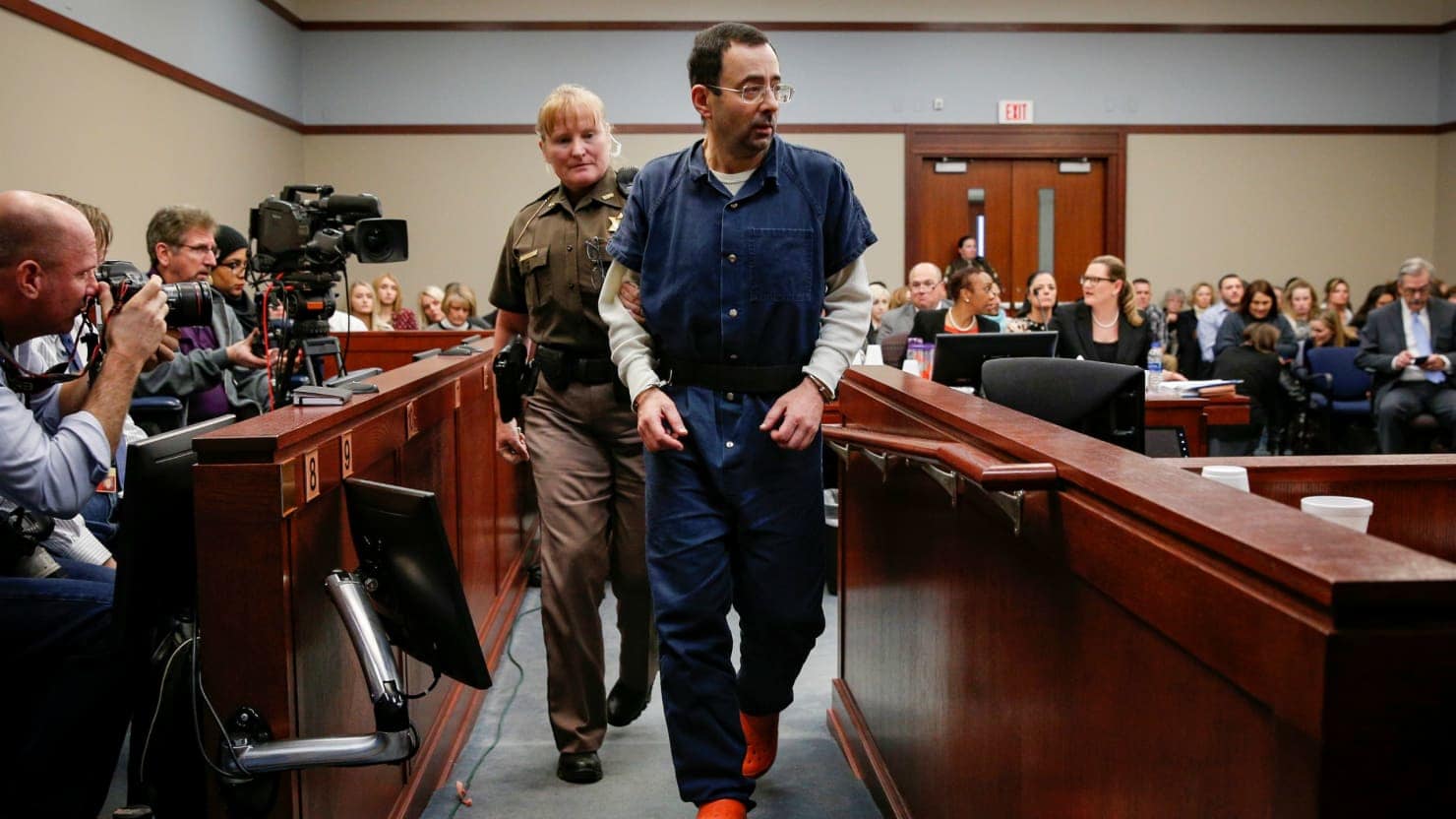 Moore says he hopes that his actions will encourage other male victims who have been affected, saying, "But if there are any out there," he continued, "then I don't want them to be scared to come out because of this stigma that guys can't be sexually abused or taken advantage of."
Nassar's testimony comes in light of a wave of allegations by former and current U.S. Olympic gymnasts against the former physician.
The allegations of sexual violence also coincide with the larger cultural phenomenon of the #MeToo movement, in which victims of sexual crime have taken to social media to share their stories of abuse.
Both movements have sought to tear down systems of oppression that allowed those in power to sexually abuse others without fear of reprisal. Whether in the entertainment industry, world of Olympic athletes or otherwise, former victims have found solidarity in each other and are using their newfound confidence to better the institutions that wronged them.