With her recently published books "Simon vs. the Homo Sapiens Agenda" and "The Upside of Unrequited," author Becky Albertalli has made quite a name for herself in the world of young adult fiction. She is also well known for being close friends with Adam Silvera, the author of "More Happy Than Not," Angie Thomas, the author of "The Hate U Give," and Julie Murphy, the author of "Dumplin,'" all writers who have made names for themselves as young adult writers who create characters that feel alive on the page.
"Simon vs. the Homo Sapiens Agenda," which was adapted into the popular 2018 movie "Love, Simon," focuses on the main character Simon Spier. In the novel, after another student posted on Tumblr for the entire community to see, Spier realizes that he isn't the only gay kid in school. Throughout the book, readers read the emails that are sent between Simon, who names himself Jaques, and Blue, whose real identity I won't spoil.
Albertalli's other book, "The Upside of Unrequited," follows a socially awkward, overweight girl named Molly who has 27 crushes at the beginning of the story. The novel shows her grappling with her social anxiety, as well as experiencing what it's like to finally have a crush that isn't unrequited.
Albertalli's latest book, "Leah on the Offbeat," which was released on April 24, is the sequel to "Simon vs. the Homo Sapiens Agenda," and it follows Leah Burke through her senior year at Creekwood High.
The story shows what happens as her friend group falls apart and as she develops feelings for someone that readers may not expect her to.
Though the book just came out, it deserves, in due time, the same amount of fanfare as "Simon vs. the Homo Sapiens Agenda" for three reasons.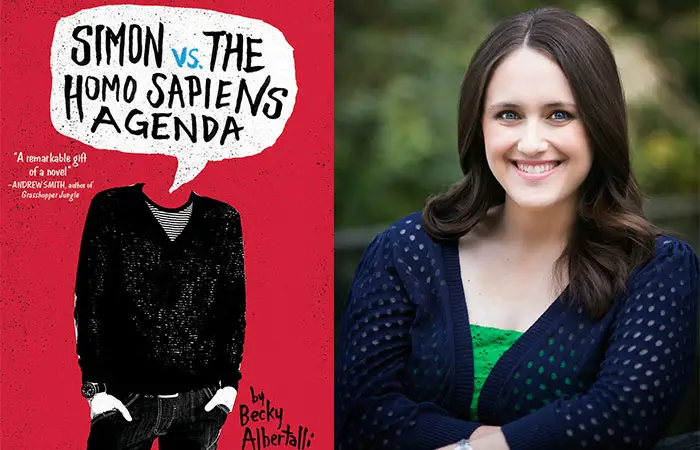 1. It's the Sequel to "Simon Vs. The Homo Sapiens Agenda"
If you want more Creekwood, "Leah on the Offbeat" will give you a glimpse of what the high school looks like a year later, as the novel is the sequel to "Simon vs. the Homo Sapiens Agenda."
As a result, "Leah on the Offbeat" shows where Simon and his love interest are a year after they get together, as well as what the other major characters are up to.
It also adds another piece to that main storyline, because it shows Leah's perspective and thus gives readers a better perspective of the world that Simon inhabits, which I think is pretty neat, although I may be completely biased.
2. It Offers More, Much-Needed Representation
Like Simon, Leah is bisexual, even though she doesn't tell him or the rest of the squad. Leah, unlike Simon, has understood her sexuality since she was 11 years old, making "Leah on the Offbeat" anything but a coming-out narrative.
The novel also differs from Simon's story in that Leah is the daughter of a single mother, making her socioeconomically less privileged than Simon and the rest of Creekwood's students. In several instances throughout the novel, Leah expresses anxiety about her family's economic status, adding another dimension of realism to the character.
At one point, Leah worries about how her mom is going to pay for her prom dress. As a result of the tension, Leah even accuses her mother of getting the money from her boyfriend, whom Leah despises.
If representation is all about helping people see themselves in media, then Leah is an incredibly important figure to portray. As a queer, fat, woman of lower socioeconomic status, Leah has an important story to be told, and Albertalli does just that with her novel.
The book also showcases a relationship between two women, which isn't entirely unheard of, but is still uncommon. For whatever reason, books that feature relationships between men often receive more positive feedback than ones that feature such relationships between women. So, it's important that this book is given a chance, so that the publishing industry knows that these books can succeed both financially and critically.
3. Finally, a Happy Ending
On top of every other reason to read "Leah on the Offbeat," it helps that the book has a happy ending; I won't spoil it, but just know that Leah Burke gets a great love story, too. The book shows her as she decides between dating a guy who wouldn't be her worst option and the girl that she has liked for a while, although she feels as though she doesn't really have a chance with her. All in all, "Leah on the Offbeat" is a book for anyone who wants to read about queer characters that don't die or feel miserable in the end.
At the end of the day, Leah Burke is a heartfelt character who deserves just as much praise as Simon Spier. She's bisexual, less privileged, pretty snarky at times (she describes herself as a Slytherin Rory Gilmore), plays the drums in a girl band and has anxieties that most people can relate to, even if they're just about who she wants to go out with.
Leah deserves her chance to shine, even if she most likely won't be getting a movie of her own (the "Love, Simon" movie was set during the squad's senior year, when it was set during their junior year in the books). It is my hope that readers who adored Simon's story will also find themselves loving Leah's.