After Sunday mass in Havana, Pope Francis met with the world's favorite retired gym teacher, Fidel Castro. The two met at the former Cuban leader's home to discuss religion, Cuba's global ties and most importantly, fashion.
The Pope, who has recently emerged as a fashion icon, spared no expense in composing the perfect outfit for the meeting, but Fidel was not to be outdone. In recent years, the retired leader has retired his guerrilla-chic aesthetic for a more casual look, more befitting a man who's finally given up on the whole "socialist revolution" thing.
Fidel sported what has come to be his signature Adidas tracksuit to the meeting, despite the fact that he would certainly be criticized for his unconventional sartorial choice. Pope Francis, on the other hand, kept it very traditional in a head-to-toe ivory look, unapologetically wearing white after Labor Day. The leader of the Catholic church obviously takes accessorizing seriously, as he was spotted sporting a large silver cross necklace, what looks to be an over-sized yarmulke and a cape that would put a Victorian opera devotee to shame.
Both men looked fabulous in their respective ensembles, but fashion isn't diplomatic. Only one elderly Latino man will be left standing in our fashion drag-out.
Let's break these looks down.
Fidel Castro
Fidel commits to the norm-core aesthetic, drawing equal inspiration from the Brooklyn art scene and Portlandic postmodernism. He ravishes in a blue tracksuit, embellished with black and white accents.
There's need to ask who he's wearing, because Adidas is clearly emblazoned on his chest. Underneath the jacket, the former revolutionary keeps it simple with a crisp white button-down.
The white shirt is a bold move, only because Fidel doesn't appear too confident with a fork and could've easily dropped some ropa vieja on it. Ropa sucia is always a faux pas, but the shirt is clean and the risk paid off — big time.
This very flammable look may be Castro's way of paying homage to his late BFF, Hugo Chavez, another fan of the tracksuit. Fidel's iconic facial hair has turned wispy and white in his old age, but he flaunts it nonetheless: A bald face is socialist suicide.
The only indications that he hasn't joined the Russian mob are on his feet, as his black orthopedic shoes both emphasize his fragility and help complete his grandpater patria look. The stern look on his face suggests that he — in true grandfatherly fashion — is about to bore the Pope with a long, rambling story ("Tell me if you've heard this one, Abuelo").
Overall, the look is strong but could use some accessorizing to make it truly fabulous.
Pope Francis
The Pope is not one to shy away from making a fashion statement. He sports a cape, atop a jacket-dress, atop a shirt — a completely practical choice for a sweltering Havana day. Despite the fact that he doesn't work for a catering company, Pope seems to be wearing a white satin cummerbund that accentuates his waistline beautifully. He embraces alternative skater culture by donning a very small beanie atop his nearly-bald head.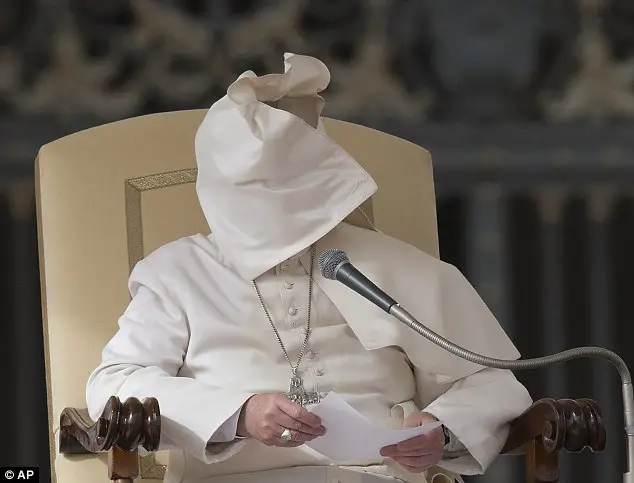 His jacket, cape and shirt all seem to have the same unique collar, an avant-garde take on the traditional turtleneck, and his silver cross necklace adds a nice bit of sparkle. He famously ditched the traditional red papal Prada loafers, presumably because they were gauche, replacing them with subtle black lace-ups.
His monochromatic getup speaks to the fact that he has his finger on the pulse of modern culture. Puff Daddy, who is said to be a style icon for the Pope, popularized the all-white look by throwing annual white parties in the Hamptons, reclaiming the color from the Ku Klux Klan.
It's often said that the devil is in the details, but let's hope not, because the details make this outfit. Delicate white buttons trim the jacket from top to bottom and along each sleeve. His cape flies up at the slightest breeze, sometimes even covering the Pope's entire face, making him look for a split second like baby "Blanket" Jackson dangling from a balcony.
Pope Francis has achieved something that hasn't been done since Constantine the Great: He's made Catholicism cool.
Verdict: 
The white-hot Pope wins the fashion takedown.
Pope Francis and Fidel both showed up to win, but Francis made some deliberate fashion choices that set him apart.
Fidel could have layered more and explored some jewelry options to elevate his ensemble to something really spectacular. It's clear that the former Cuban leader has an intuitive sense of style, but he needs to refine his natural ability in order to be a fashionista.
The Pope is a cut above. He clearly pores over every detail to achieve the most complete and spectacular look. He isn't afraid to go out on a limb and take fashion risks. He's a trendsetter, forward-thinking and vintage at the same time.
Fidel seems to be desperately holding on to the "hot-dictator" persona he had many years ago, but it's time for him to grow up and get a cummerbund.
These two could not be any more different and their sartorial choices reflect that. Fidel seems to be more in tune with street fashion and hip-hop culture, while Pope opts for traditional elegance with a twist. Both looks illustrate why these men have become some of the most influential figures in modern history.