Making and breaking promises to ourselves and others happens every day to everyone. A promise to empty the dishwasher gets pushed aside when "The Office" reruns start playing on cable, but nonprofit organization Because I Said I Would holds promisers accountable in a very serious way.
Founder Alex Sheen started the project back in 2012 when his father died suddenly of small-cell lung cancer. At his funeral, Sheen read the eulogy he had written titled, "Because I Said I Would," after his father's unwavering attitude on keeping his word. For the first time, Sheen would pass out the now renowned Promise Cards to people at the service.
Promise Cards' agenda remains simple: Fill out the card, give it to someone and, finally, follow through. The cards, a symbol to keep your word, appear plain with their white background and the project's name written in tiny written letters on the bottom right corner.
Possibly Sheen's most unique idea beyond the project was the importance of keeping the cards free for those who want them. People from over 150 countries around the world have requested Promise Cards, totaling over 9.8 million since the start.
Promises can be big or small. They can be as simple as quitting cigarettes or as serious as donating a kidney to your brother. A collection of submitted promises appears on their website so future participants can see some of the work that have already been done and also inspire others to participate.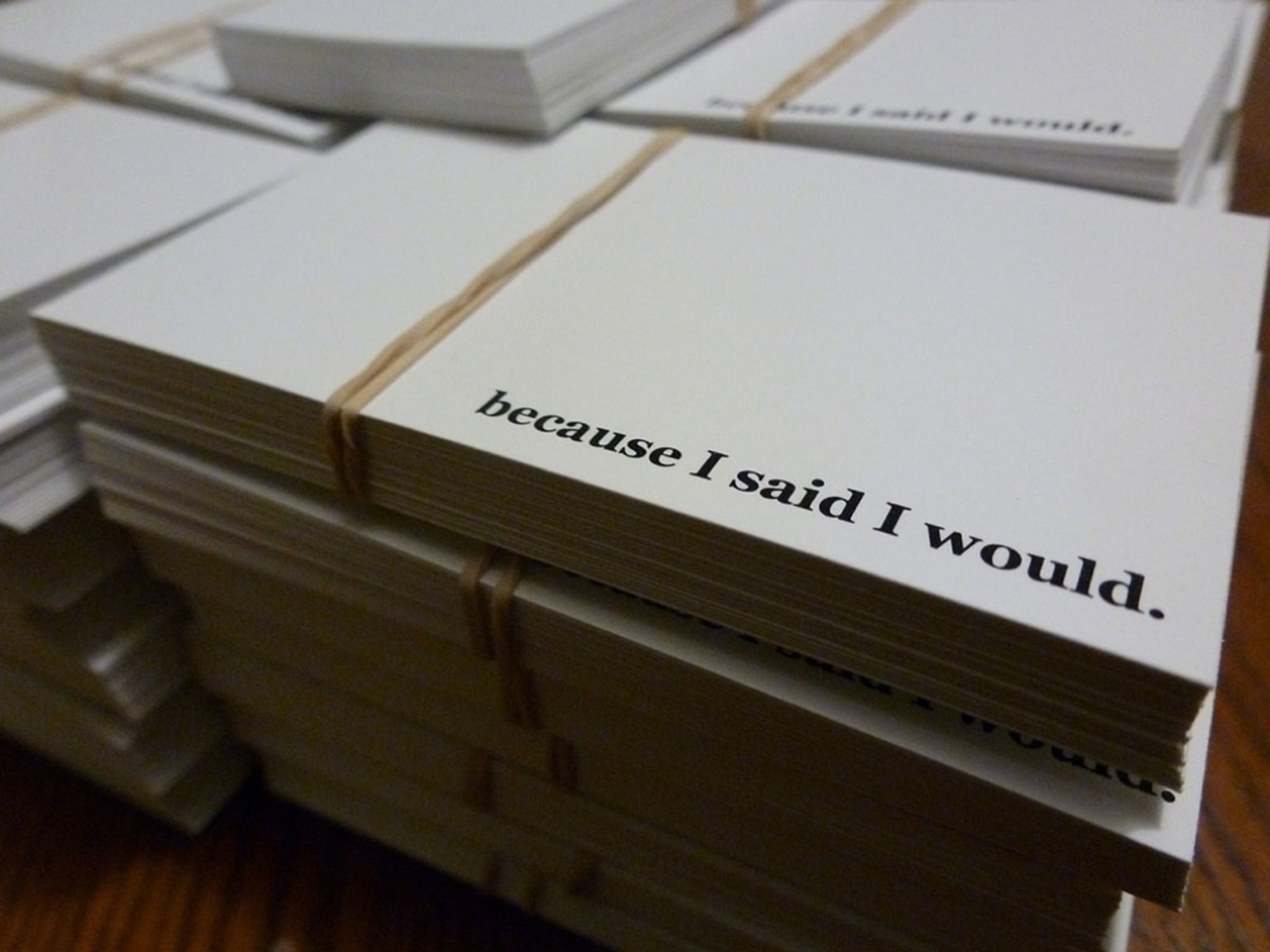 Because I Said I Would's Promise Cards can be used for more than keeping your word. It can be for the betterment of humanity. Sheen has made many of these promises, such as helping clean up Ferguson, Missouri, after riots broke out in 2014 and walking over 240 miles in 10 days to raise awareness for violence against women in response to three kidnapped women held for 10 years in Cleveland.
One life influenced by Because I Said I Would was Matthew Cordle who filmed a video for Because I Said I Would in August of 2013 called, "i killed a man." Although he remained disguised for most of the video, Cordle explains how one night, he drank too much and drove the wrong way on the highway. He struck and killed Vincent Canzani.
After consulting with his attorneys, they recommended he lie in order to have his blood alcohol test thrown out in court. Cordle refused and used Because I Said I Would's mission and platform to confess his crime and spread his message of #saveyourvictim.
He used the video, which has over 3.3 million views, as his confession when he revealed his Promise Card which read, "I will take full responsibility for what I've done," before beginning to beg the audience to never drink and drive no matter the instance.
Cordle pleaded guilty to aggravated vehicular homicide and was sentenced to 6.5 years in prison as well as a lifetime's driver's license suspension. His sister now runs a nonprofit called Save Your Victim, whose mission is to, "Making sure everyone gets home safe." The website posts blog updates from Cordle in prison and hosts a scholarship for students. The Save Your Victim Atonement Scholarship was awarded to De'Ante Winfrey in June for $1,250 and used the prize towards college courses.
Sheen's mission can't bring Vincent Canzani back, but along with Cordle and both nonprofits, the messages of not only drunk driving, but also doing the right thing, can spread.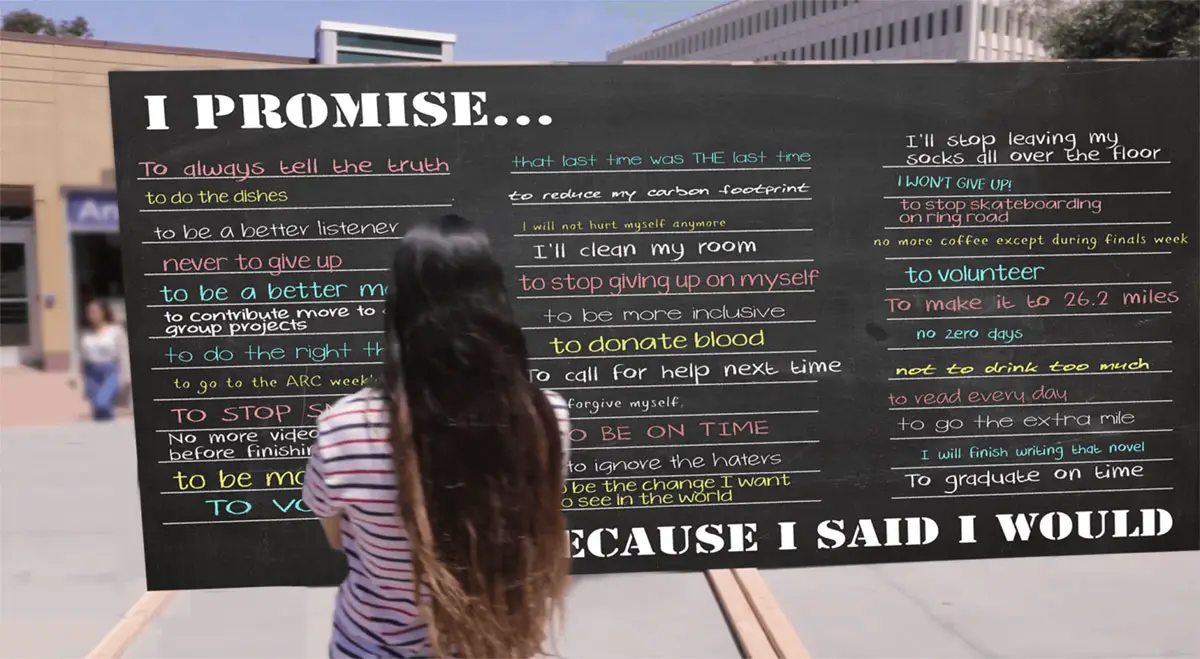 Because I Said I Would's first book uploaded its online store in early 2019. It will feature some of the millions of submitted promises from across the globe for fellow promisees to read. It will retail for $26.95 and 100 percent of the proceeds will go back into their 501(c)(3) nonprofit.
Sheen's work has had tremendous success. It's made it to primetime television when it was featured on networks, such as CNN and ABC and the "TODAY Show." He continues to visit schools and events spreading the story of his father and the stories of people like those in the audience.
TEDxUtica invited Sheen to speak at their event in October of 2013 where he spoke about the nonprofit, but also how he quit his job. Sheen recalled how he received a handwritten letter one day at his desk job. He opened it and inside the person explained how Because I Said I Would saved her life.
Sheen knew this letter would help his boss understand the reason for him deciding to leave, so he brought the note to her and, after just a few seconds of reading, she exclaimed, "I don't know how you got this, but this letter is from my daughter." She recognized the envelope as the ones on her kitchen counter and also the handwriting. Her daughter was 14 years old.
The nonprofit began opening chapters in schools across the country for students to meet monthly in order to learn character education, participate in group volunteer projects and receive leadership training. Chapters have been opened in Akron, Fairview Park and Peninsula, Ohio.
All chapters have a Code of Honor, which consists of practices like compassion, sacrifice, honesty and accountability. Morals instilled in young people will only solidify the importance of the project's mission of making your word mean something more.
After all, it was Jon Snow from "Game of Thrones" who said, "When enough people make false promises, words stop meaning anything. Then there are no more answers, only better and better lies."