Starting a business while in college might overwhelm most students, as they are likely already struggling with due dates, sports teams and keeping up a social life. However, Ithaca College student Mike Zivetti was undaunted by the challenge of creating a startup while in his undergrad, and now, as he approaches the end of his sophomore year, the budding artist is on his way to becoming a successful business owner.
During his second year at Ithaca, Zivetti started a streetwear clothing company called Barbed NYC. Using basic Adobe skills he learned at Ithaca, the rising junior has turned his passions for design into a career. The 19-year-old always knew that he wanted to take his creativity and funnel it into a clothing business, but it was only this year that he was able to begin making that dream a reality.
To put together Barbed NYC, all Zivetti needed was a week. Once he got everything together, he released the fall collection online in October 2017. The line has three shirts, a sweatshirt and beany, and in the upcoming summer collection, he hopes to have more products to release.
Zivetti chose the name Barbed NYC because the company is about creativity and marketing, and he believes that the title Barbed NYC reflects that. He wants the company to have an impulsive mood to it, just as he is impulsive in his creativity. Zivetti wants to create an atmosphere of spontaneity, as he believes that such an attitude will draw more interest from his niche market.
Furthermore, the name obviously recalls barbed wire, which is intentional. Zivetti likens the challenge of pursuing artistic goals to wrangling with barbed wire, in that the pain might deter you, but it doesn't have to stop you.
When asked why he chose to put his art on clothing, the Ithaca student said he believes clothing makes the art personal to the person. This is what Zivetti's art is about: the personal. He believes that if his art is marketed as clothing rather than just a simple drawing, he can make it unique to that person.
"I like the idea that if someone wears something, it makes the art personal to them," he says. "So when I wear something, especially streetwear, you pick things that you relate to in some way. I'm making it because I relate to it in a certain way, but that's going to be a different reason for why someone else is going to buy or wear it because they get something out of it."
The 19-year-old says that streetwear is perfect for expressing more personal forms of art — the clothing style is all about what relates to you as a person and that's why he enjoys putting his art on the clothing. Zivetti relishes the idea of someone looking at his art and wanting to wear it.
He believes it says something about that person and he feels more connected to them than he would if he were selling a drawing. He believes other forms of art for sale is not as special to the individual. He believes that when clothing is involved, people's personalities are involved as well.
Zivetti says the ideas for his company came from doodles he would draw in class. While doodling can be seen as rude, it can also be seen as a form of art and expression. One could view the situation as a 19-year-old's creativity refusing to be stifled — not even in class.
He says, "I procrastinate with this; this is how I waste time. it's not playing games on my phone or scrolling through social media, I'm running a company when I'm bored."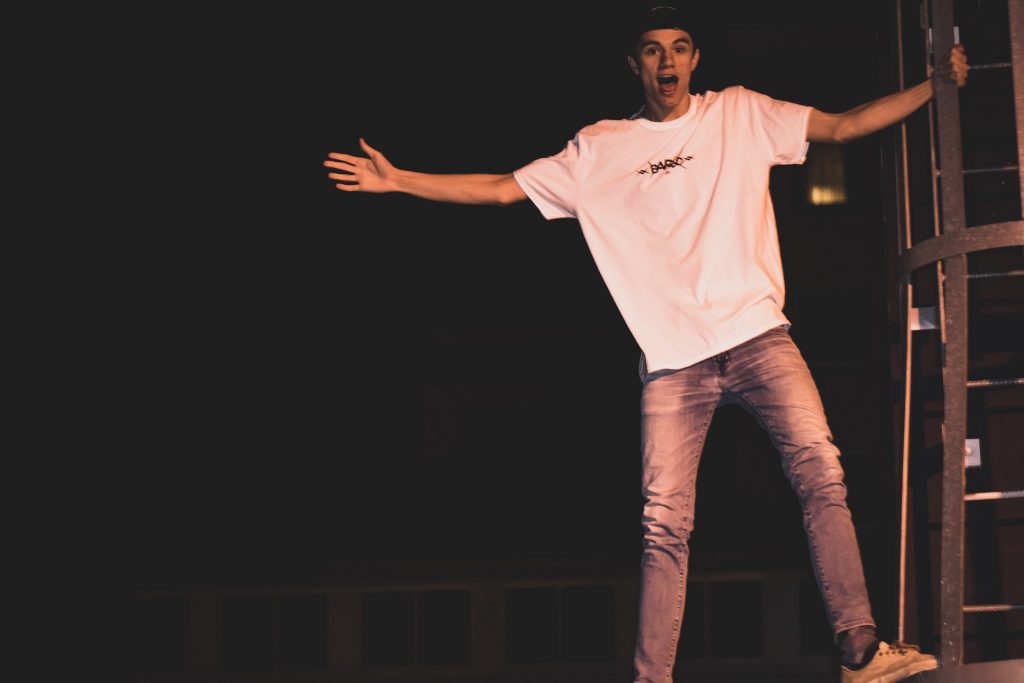 Although he started the brand, a teacher by the name of Edward Schneider also gave him the needed tools to start this brand up. The student says that taking the professor's presentation and graphic design class as critical to being able to achieve this brand.
While he always knew the basics of Photoshop, he did not have an in-depth understanding of the software. As he continued taking the course, he learned both Photoshop and Illustrator, which allowed him to put his doodles to good use.
After telling his professor his interest in creating a clothing brand, Zivetti was also aided by Schneider after class. While he would not go far enough to say that Ithaca helped him create the brand, he credits Schneider for giving him the tools he needed.
His target audience was meant to be skateboarders and people who are into streetwear. He also believes his target market will expand as his brand expands, giving a tease of what coming up next season he says that his clothing will contain graphic designs and photography based pieces. Looking even further ahead, he has collaborations with other artists coming up and hopes that the target audience will become people who appreciate each type of art.
He does not have a set date for his next season, but he does have samples. The next season has similar items with the expectation of the beanie, which he has swapped out for a baseball hate. He is currently trying to get a photoshoot together for the next season and hopes to have the next set sometime this summer.