While most college students spent the night of Thanksgiving watching football or eating large amounts of turkey with family and friends, Montclair State University sophomore Olatiwa Karade spent it becoming an overnight internet success.
After making a sweatshirt that said "Columbus was a murderer" and wearing it on Columbus Day, people told Karade that she should make more of the shirts for others to get their hands on; so, she did.
On the evening of Thanksgiving she launched Splendid Rain Co., a clothing company with the objective of normalizing pro-black messages through graphic fashion and soft imagery — and it went viral.
Splendid Rain Co. is a political and pro-black clothing brand that offers tees and sweatshirts in a variety of colors with phrases like "Roses are red, Black Lives Matter," "Fuck your racist grandma" and "Africa is not a country."
Ironically enough, the name Splendid Rain Co. was actually inherited from Karade's mother. Her mom was a student at the Fashion Institute of Technology in New York and she created a clothing brand called Splendid Rain before Karade was even born.
She took it as far as it could go, but she didn't really have the support or the outreach to make it into a full-scale business. But, since the name was already trademarked, Karade asked to borrow the name and her mother was down for it.
Balancing school and the business traffic of Splendid Rain, however, has not exactly been a simple task for Karade. "Prior to it getting really intense, I was up all the time. The best way to get everything done was just to stay up," said Karade. "A lot of people think I've been doing this for years but I haven't. I put it out on Thanksgiving day and then it went viral that night."
Once the business started to pick up more, Karade decided that taking a semester off was best for Splendid Rain and her education. "I was sitting in Spanish class and I already don't really wanna be there and Huff Post is calling me and they're like 'we want do an interview.' I'm like 'yeah, I have to go,'" Karade joked.
"I ended up skipping my finals for Fall semester. I ended up not even going because I woke up and I had so many missed calls, emails and text messages that I just got overwhelmed. The best thing for my educational career was to step back, withdraw and then come back again."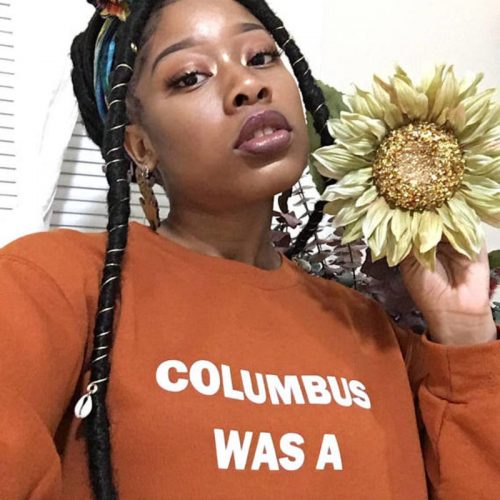 As a designer, Karade's perceptiveness around interactions and conversations throughout everyday life have served as a big inspiration for her pieces. "Definitely just my own thoughts and experiences," she said. "If I'm in a situation where I feel uncomfortable or there's tension, I'll think something in my head but I might not have the balls to say it out loud. I just wanted to break past that barrier."
Karade also notes artists like Beyoncé, SZA and Solange, along with many others, as being beacons of inspiration for her own expression as a black woman in America.
In 2016, the Knowles sisters both offered culturally resonant masterpieces in "Lemonade" and "A Seat at The Table," which were layered in commentary and imagery about blackness, womanhood and the intersections of both.
Last year, SZA's debut album, "CTRL," won the hearts and minds of many as her vulnerability and honesty towards the experiences of being a black 20-something-year-old resonated with black girls everywhere.
Aside from notable personalities like those aforementioned, Karade has also been able to surround herself with close friends who foster her creative interests. "I have a lot of friends who do graphic and visual art online and I love all of them. I love visual art, so they definitely inspired me to find an artistic outlet to deal with the stress of being in America right now," she said.
One of those friends is Meiko Gavia, who Karade recently collaborated with for a special edition Valentine's Day collection. She wanted to give a voice to another black artist through Splendid Rain and Gavia was the perfect candidate for that.
Gavia's original poems now appear on pink tees and sweatshirts that read "Roses are red, violets are blue, love and self-care are radical too," which are available for purchase on the online store.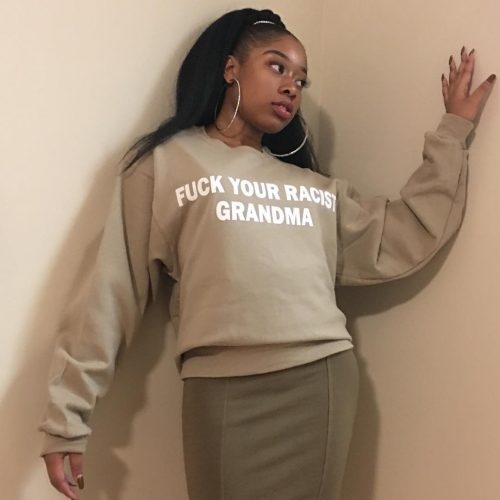 Through social media, Karade has been able to infiltrate different online communities that have served as catalysts in successfully launching her brand. She remembers sticking around on Facebook as many of her peers moved on to Twitter and Instagram years ago.
"I started joining all of these communities, so-called 'woke' communities," she laughed. "I think that was what really boosted my stuff. In those little Facebook communities people knew who I was and I had previously talked to them about wanting to do something like that (Splendid Rain), so they were very supportive of me when I finally put it out there and then it just blew up," said Karade.
With social media being such a strong component of the Splendid Rain brand, it's impossible to escape the trolls and negativity that the landscape comes with. Although she receives some backlash here and there through messages or comments, Karade doesn't like to give the hate any time of day.
"I started getting hate mail but I think they very quickly realized that I'm not the one," she said. "I will clap back at you extremely hard. I'll come for your whole life and then I'll post you on the internet too. So, I think people just gave up." Luckily, the positive feedback and visibility that social media offers have far outweighed the bad.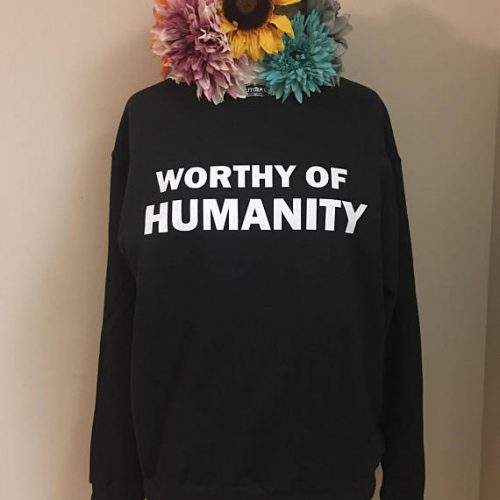 When wearing her clothes, Karade wants for black people to feel a sense comfortability above all else. "I really just want a sense of comfortability because we have to hold on so tightly to our cultures and the things that we create, especially our art," she said.
"People think they can say whatever they want to you because they don't know you. They want to test you. What can they say around you? What's appropriate? The whole 'you're pretty for a black girl' or 'you sound so educated' and microaggressions like that, I want you to be able to look at me and know that I'm not the one. I want you to be able to tell them 'over here we don't do that, we're not about that.'"
At Splendid Rain Co., inclusion isn't just a buzzword. Each product comes in sizes S–4XL, catering to the needs of all people who wish to sport the brand, regardless of their size. "I love everybody and I want everyone to have access to this kind of stuff," said Karade. "Sizeism is a real thing and I just didn't want to be a part of that."
You can shop Splendid Rain Co. here.