Fashion Merchandising student Dylan Skinner printed her own artwork onto a handmade gown, and to this day it is still her favorite evening dress.
The sophomore at Marist College started sewing at ten years old and has since created her own clothing company, Dylan Skinner Designs. The line includes both formal and casual wear, supporting Skinner's aspiration to make women feel beautiful.
When Skinner first started sewing as a little girl, she instantly became obsessed. She thought that she could do anything, incorrectly using only one kind of stitch for pieces that required several. Later she mastered the skill as she got older, even making her own patterns instead of using ones sold in stores.
In eighth grade, Skinner attended Parsons Pre-College Academy in New York City for four years. After her time in the city, she decided to launch her own website and start selling her designs, and in May 2015, Dylan Skinner Designs was born. "I realized that I had this creative outlet that I was using every week, and it was constant in my life," Skinner says. "I knew I had to do something with it; I couldn't just let it die out."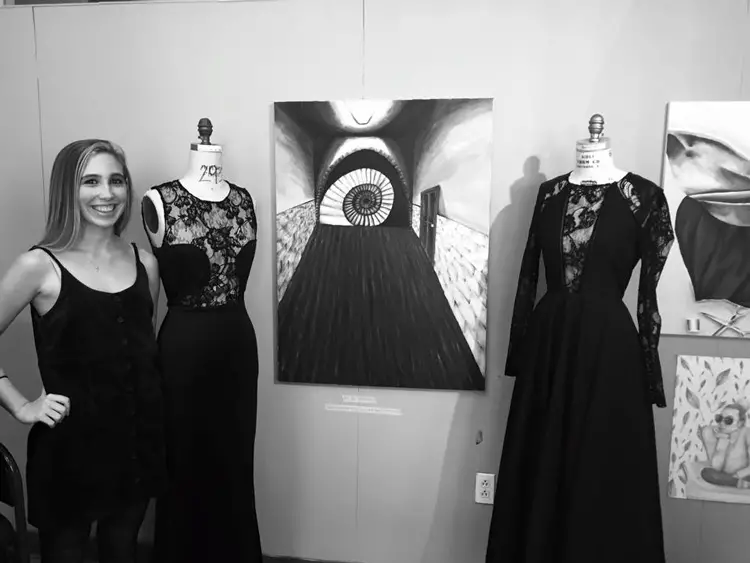 Although the business world can be daunting, Skinner's 2014 internship with designer Abbey Glass helped prepared her. Glass had the opportunity to work for the Calvin Klein Collection under designers Marc Jacobs and Francisco Costa, and Skinner found herself impressed as she witnessed Glass' work ethic. "I realized how much drive you need to have if you really want to make it happen. As far as her design process, I learned to be true to yourself because it's really tempting, especially in the fashion industry, to just fit in a box."
Skinner made sure to stay true to herself with her designs, maintaining her own style even when custom-designing prom and graduation dresses. Although customers requested certain looks, Skinner realized that her name would always be on her clothing, so she made sure that she was proud of the final product. She designed her first custom, formal dress in 2015, and business for the Marist student only grew from there. She later created eleven custom gowns for a high school fashion show in 2016, as well as designed several graduation dresses.
Although some people may prefer complicated designs, Skinner focuses more on fabric quality and simplicity. "It doesn't need to be super crazy, so I think that's always been my style and my philosophy," Skinner says. "I think for me, it just says much more about the piece itself when it has a really cool or nice fabric." She specializes in evening wear, but the rising sophomore challenged herself even more by releasing her casual line, Sticks & Stones, in May 2017. The line includes T-shirts with sayings such as "Fresh out of fucks," "Darty Szn" and "Brains are the new tits." By having bold statements, Skinner encourages women to feel confident in their T-shirts and their own skin.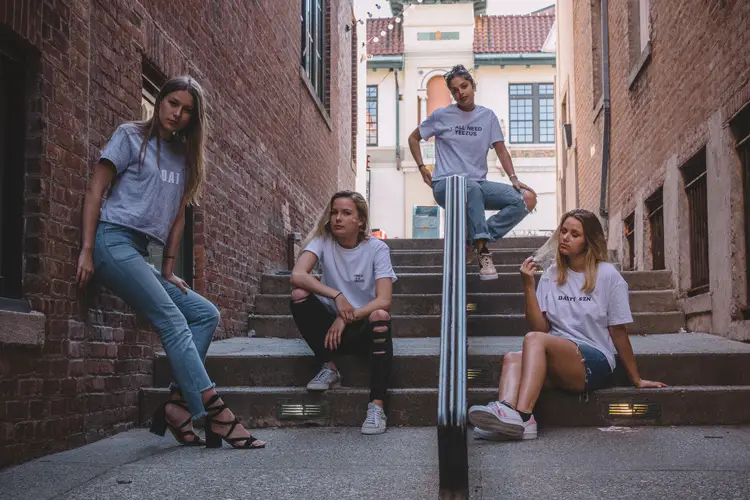 It was difficult for Skinner to change her mindset from formal to casual wear, but she says she feels more connected to her age group with Sticks & Stones. When people send her pictures of them wearing her clothes, she's able to connect and be more social with her customers.
In addition to interacting with others, Skinner is able to reach out to people who don't usually wear evening dresses. "I have this part of my business with all the gowns and evening wear and that's one side of me, but the other side of me is more of, 'I'm going to throw on a pair of ripped jeans, a graphic tee and a hat, and I'm good,'" she says.
Along with adding to her Sticks & Stones collection, Skinner also plans to incorporate a new section to her site in which she revamps thrifted clothes. While she loves the creative freedom her passion has afforded her, Skinner's biggest motivation has been creating clothes that make women feel confident. "Just seeing how happy girls get when they look at themselves and are happy with how they look—that's more rewarding that anyone could imagine, making someone feel beautiful in their own skin. People should feel that more, so I love to be able to give that to someone."