Looking for the best hairstyles for young men? College guys and young professionals have entered a very important time in their lives. Young men are preparing themselves for their future careers, and in the process, are also developing their own personal sense of style. The best haircuts for college guys and young men tend to be those with longer hair on top and shorter hair on the sides and back.
These versatile yet trendy haircuts work well through school and into the office. Whether you're going for an interview and need a business professional look or attending a party and need a stylish hairstyle, here are the top men's haircuts to get right now.
1. Fade Haircut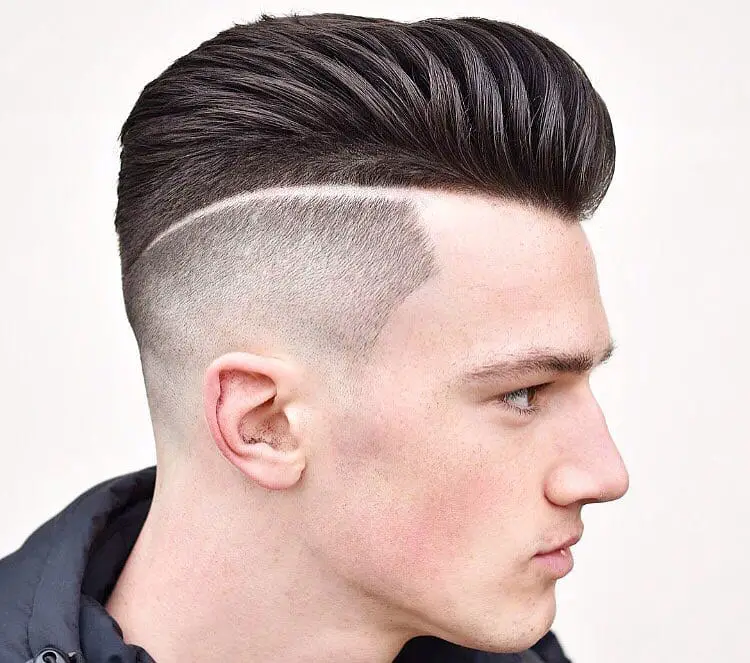 The fade remains the most popular barbershop haircut for guys, according to MensHairstylesNow. In fact, fade haircuts are the foundation for a number of cool cuts and styles. The most common example is the taper fade, which can be incorporated into a variety of hairstyles, including the comb-over, quiff, crew cut, slick back, French crop and messy long fringe. However, there are many different types of fades to consider.
From where to start the fading – high or low – to how short to cut the hair, guys can choose the fade that best fits their style. Ultimately, the cut is clean, fresh and easy to style, so it tends to be a favorite.
A barber creates a taper fade by gradually cutting hair shorter and shorter down the sides of the head and the nape of the neck. In some cases, the fade is high, which means it starts just below the hair on top. In contrast, the low fade starts just above the ears and the mid fade is somewhere in between. Similarly, guys can ask their barbers to leave very short hair or blend the sides into the skin for a bald fade.
College guys aiming for the young professional look may want to consider a low taper fade, with 2 to 4 inches of length on top. The side part, comb over and swept-over crew cut are great styles to try. A beard can also dramatically transform your look, but it must be well-groomed and short.
2. Undercut Hairstyle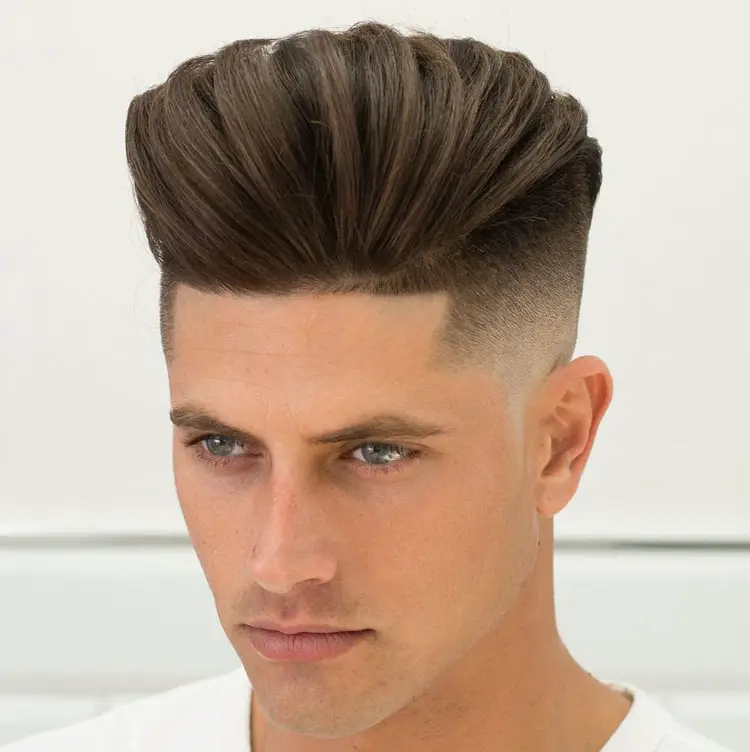 An undercut is similar to a fade, but rather than blending the hair shorter, the cut is all the same length. A feature that makes the undercut unique is the lack of fading and slight disconnect between the sides and top. Brought into the mainstream by millennials and hipsters, the hottest undercut hairstyle has been the slicked-back undercut. By creating a high-contrast look that emphasizes the styling on top, the undercut offers a classy yet edgy style.
A few modern undercut styles worth trying include the pompadour, quiff, comb over and faux hawk, all of which look perfect with a matte styling product to maximize volume and flow. For college guys with thick hair who want a casual, fun and fashionable hairstyle, simply brush back your hair loosely for a natural look.
3. Comb Over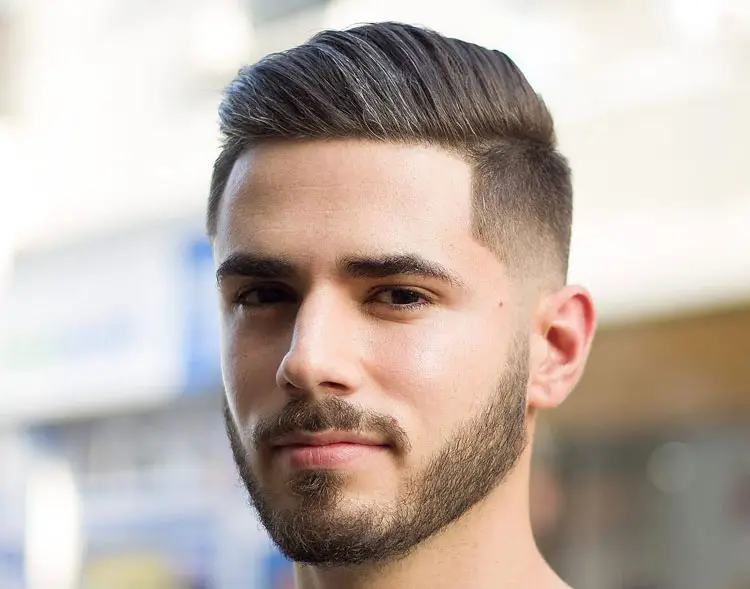 A classic comb over is another great foundation for numerous modern men's haircuts. Though it was once ridiculed for being preferred among men with thin hair or bald spots, this is no longer the case. The comb over hairstyle pairs nicely with a several haircut ideas such as the fade, undercut, hard part and line up.
Comb overs provide numerous styling options. The modern textured look, which is easy to achieve with some matte pomade or wax, is by far the trendiest comb over. If you need a business professional look, the low fade comb over is great. For something edgy and bold, the high fade exposes more scalp yet still styles with a level of sophistication.
Use a good quality hair product and brush over your hair for an effortless style.
4. Quiff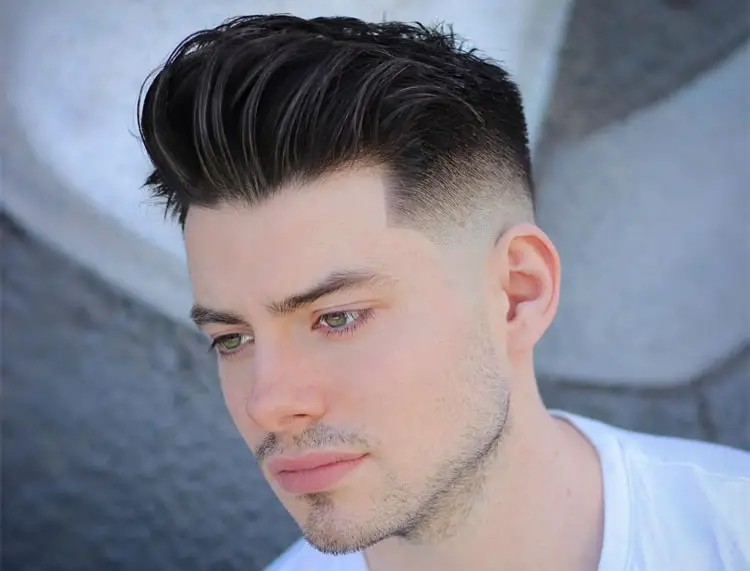 The quiff, known for its extraordinary flow and movement, is one of the best men's haircuts to get for college guys today, according to MensHairstylesToday. For many, the textured quiff offers the perfect combination of business and casual. With 3 to 4 inches of hair on top, guys can style a gorgeous quiff hairstyle that women will love.
If you have thick, straight or slightly wavy hair and want a medium to longer hairstyle, the quiff is an excellent choice. A talented barber can cut a bold, aggressive quiff with a skin taper fade on the sides or a more toned-down version of the cut with a classic taper. We recommend a low shine pomade, wax or styling cream for a natural, healthy fullness.
5. Slicked-Back Hair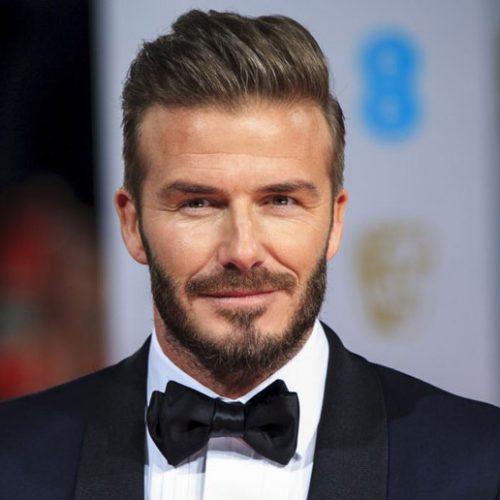 Slicked back hair was once a retro greaser hairstyle worn by the bad boys of the 1950s. While slick hair may still call to mind images of '50s-era films, Broadway shows, and rock n' roll stars, modern versions are quite different. Generally brushed back with looser styling and volume, the slick back is perfect for college guys who want to show off a bit of their rebellious side.
There are two common haircut combinations with the slick back, the fade and undercut. However, the more important decision is how you decide to slick back your hair. Use a high-shine, strong pomade for a flat but classic styling. However, today's styles are trending more towards natural, textured looks. The textured slicked back hairstyle offers some serious volume, and all it takes is a little wax, mousse or cream.
6. Faux Hawk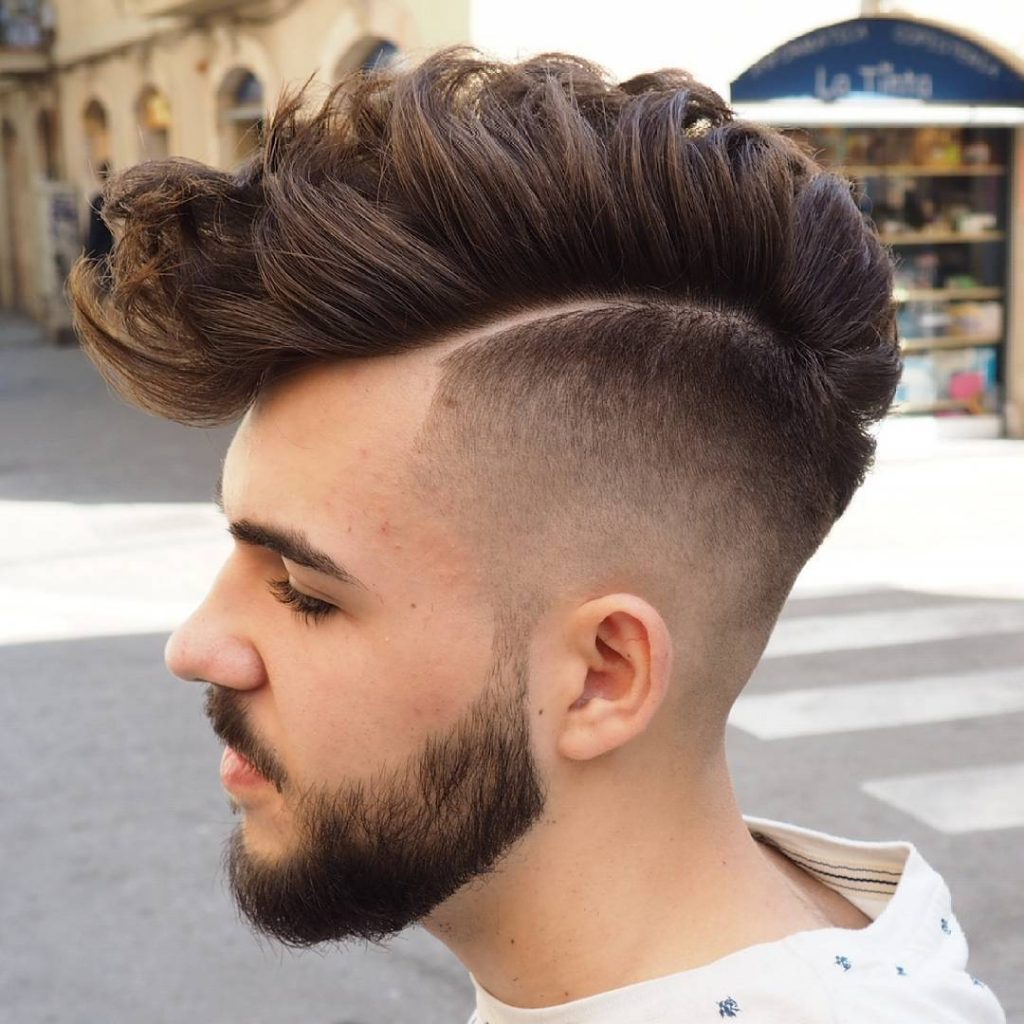 The faux hawk is a great haircut idea for young guys who like the look of a mohawk but want something a little less dramatic. There are a few different faux hawk haircuts, but the most flexible involves about 2 to 4 inches of length on top and a short fade on the sides. For the closest version to a mohawk, ask your barber for a high bald fade.
With the faux hawk fade, guys can spike their hair with a styling gel or high-shine pomade. For thick spikes that look more textured and messy, apply a matte product. The higher and more defined the spikes, the bolder the look. But don't forget to spike and then push the hair towards the middle.
7. Messy Hair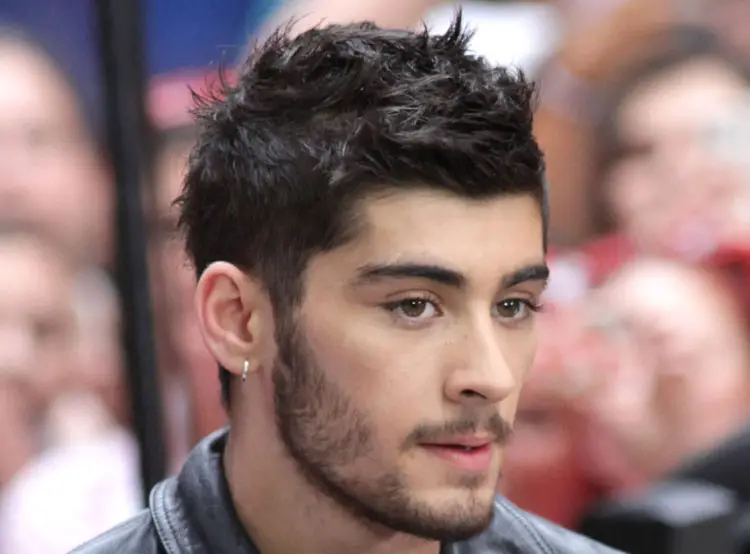 Messy hairstyles work for all hair types and lengths. Whether you have short, long, curly, wavy, thin or thick hair, college guys love messy hair because it is simple to style. Messy styling can also be incorporated into a number of hairstyles. For example, the French crop has been popular across Europe, and most young men wear it naturally messy. The same concept can be applied to spiky hair, a long fringe, or curls.
Unlike a messy roommate, the end result is a look that is boyish and rugged at the same time. With a little effort, a disheveled and tousled hairstyle may quickly become your favorite look.
8. Spiked Hair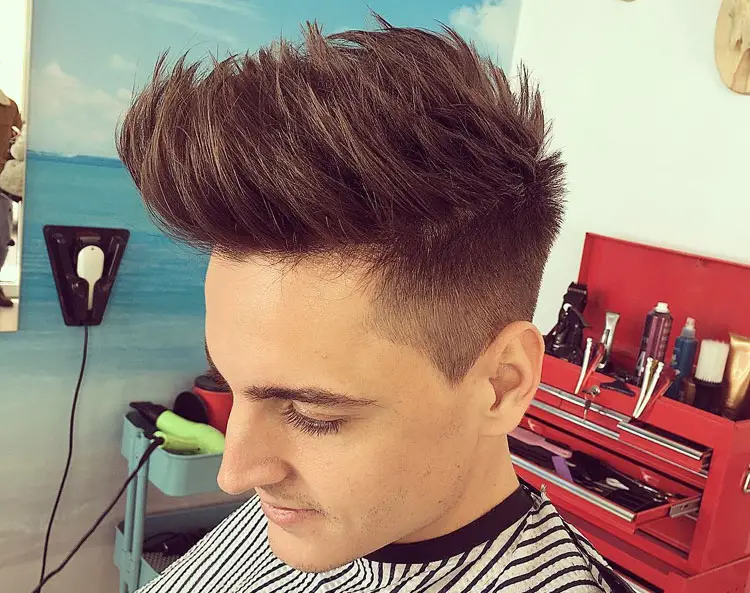 Spiked hair has always been a trendy hairstyle for men. With a fade or undercut on the sides, spiky hair can be short or long and styled neat or messy for a range of looks. But unlike hard spiked up hairstyles of the '90s, you'll need a light to moderate hold, low-shine to matte men's hair product instead of gel.
With the right styling product, spiky haircuts can be chic as opposed to out-of-touch.
9. French Crop Top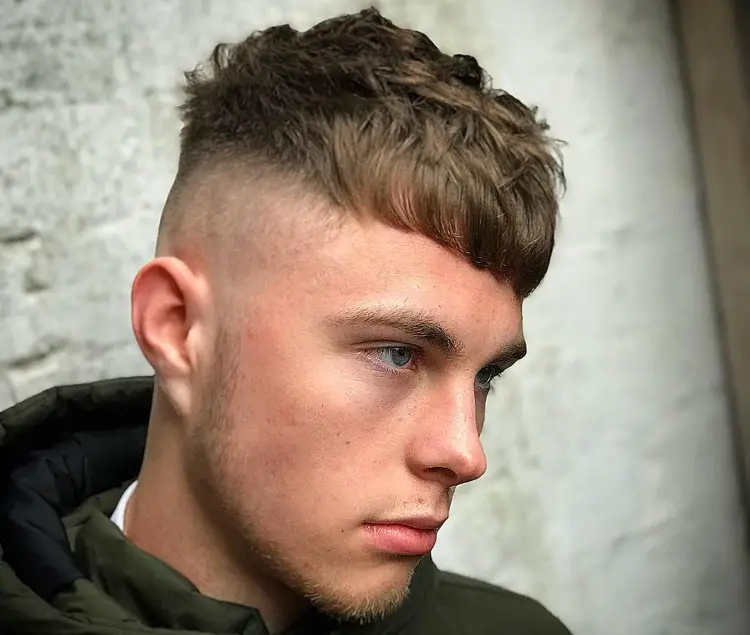 The French crop is the latest short haircut for guys, and with summer around the corner, you'll want to try the cut. Much like a crew cut or Caesar, the hair on top is cut very short at 1 or 2 inches. What makes the French crop unique is how guys style their bangs. Brushed forward and hanging over the forehead, cropped hair emphasizes the short fringe in front.
Run a matte pomade, clay or cream through your hair for a textured look. Clay and wax products can also give men with thin hair a thicker, fuller appearance. Low-maintenance and easy to get, guys are loving the crop top. College guys who want to look amazing every day without having to commit to serious styling often prefer this haircut.