How would you react to Spaghetti-O gelatin or 7 Up Salad Cake? If you are Kalen Allen, you'd promptly say, "Absolutely not!" Reacting to interesting cooking concoctions ranging from strange to downright nasty on his "Kalen Reacts" YouTube channel is Allen's specialty. His quirky personality draws out a lot of laughs on its own, but pair him with the weirdest cooking videos YouTube has to offer, and you have what Ellen DeGeneres calls "The best new thing on the Internet."
Speaking of DeGeneres, on an episode of her show last December she played one of Allen's videos, "Kalen Reacts' 7 Up Salad Cake," and expressed how much she loved Allen and his spontaneous persona. After the video, she called out Allen, saying: "Kalen, if you're watching — and you should be — I want you to come here."
Ellen Just Found the Best New Thing on the Internet
Fast-forward to January of this year, and the young college student behind "Kalen Reacts" sits down with DeGeneres, still reeling from his videos going viral (and grabbing DeGeneres' attention, of all people), and explains how it all began.
He told DeGeneres he was on his way to work when he found a strange cooking video on his Facebook feed and decided to post a funny reaction video for his friends to watch as a joke. He fell asleep to only 20 likes and woke up to over 6,000 new followers on his Twitter account. To say he stumbled upon something big is an understatement.
Now, at the time DeGeneres discovered him back in 2017, Allen was a senior honor student at Temple University studying theater and film. He worked five jobs in college to help alleviate financial stress from his mother — he was a residence hall front desk worker, a student-standardized patient at the University of Pennsylvania for their medical students, an Amazon Prime student brand ambassador, a co-host for Temple University's student talk show "Temple Talk" and a student marketer for the theater and film departments. As of May 2018 Allen was officially a graduate of Temple University.
Back on "The Ellen DeGeneres Show," Allen received the deal of a lifetime that any college student — especially a starving artist with no sense of direction for post-grad life — would die for. DeGeneres offered Allen a platform on her YouTube channel, ellentube, to post more "Kalen Reacts" videos. Allen graciously accepted the offer and made plans to move to Los Angeles almost immediately.
In a follow-up interview on the show after his big move, Allen told DeGeneres, "For you to just be so open, and to give me this platform, and be so generous — it really has changed my life. I'm so thankful and grateful."
Allen's new platform for his "Kalen Reacts" videos on ellentube is cleverly called "OMKalen," mimicking the texting term OMG, where he continues to post reactions to wacky food recipe videos along with witty commentary on the latest pop culture news.
OMK! Kalen Allen Is the Life Coach We Never Knew We Needed
He also offers advice, like in his college tips and life coaching videos, and has been spotted on the red carpet at the Billboard Music Awards and the VMAs. Allen even takes his odd cooking reaction reputation a step further by creating his own segment, "Kalen's Kountertop," where he attempts to make these cooking concoctions and serves them to members of the "Ellen" staff.
His 7 Up Salad Cake tutorial was certainly one to remember — honestly, who thought it was a good idea to mix mayonnaise with 7 Up?
For those of you unfamiliar with "Kalen Reacts," here are some memorable quotes by Allen to give you an idea of his quirky showmanship and commentary as a food critic:
— "Oh, child, that looks like some phlegm up in somebody's throat. That's nasty."
— "This looks like a stomach-ache waiting to happen."
— "Oh no, Jesus take the wheel!"
— "It's a mother thing? Oh, baby, I'm calling child protective services — you better not be feeding no kids no mess looking like that. Y'all have lost your mind. Absolutely not!"
— "Y'all love your salt and pepper, Jesus."
— "What happened to the black lady? Black lady, come back! Come back and fix this!"
— "How in the world do you gentrify corn bread?"
— "Onions? Oh this is nasty. See, this is why I don't eat at the white folks' house. Not on Thanksgiving, Jesus."
If these quotes are any tell about Allen's flavor of humor, you can see why DeGeneres fell in love with him and his videos in the first place. His commentary says exactly what you're thinking, even if you don't realize it.
His own cooking experience — Allen considers himself a home-style, traditional cook — adds insight to his commentary even if it is cleverly concealed by his eccentric humor.
Growing up, Allen was used to home-cooked dinners by his late grandmother, a Louisiana native, so he isn't afraid to poke fun at white peoples' adversity to different spices other than salt and pepper. He once planned to pursue a career as a pastry chef, but ultimately decided on the performing arts instead. In other words, he does actually have the knowledge to back up his food critic status.
Since going viral and working on ellentube, Allen explains that it's been surreal to transition from an everyday college student on Temple's campus to a viral sensation and one of DeGeneres's dearest content creators. He'd always wanted to be an entertainer and an inspiration for others, but never imagined this dream coming true so fast. He enjoys the spotlight but admits he isn't used to it yet.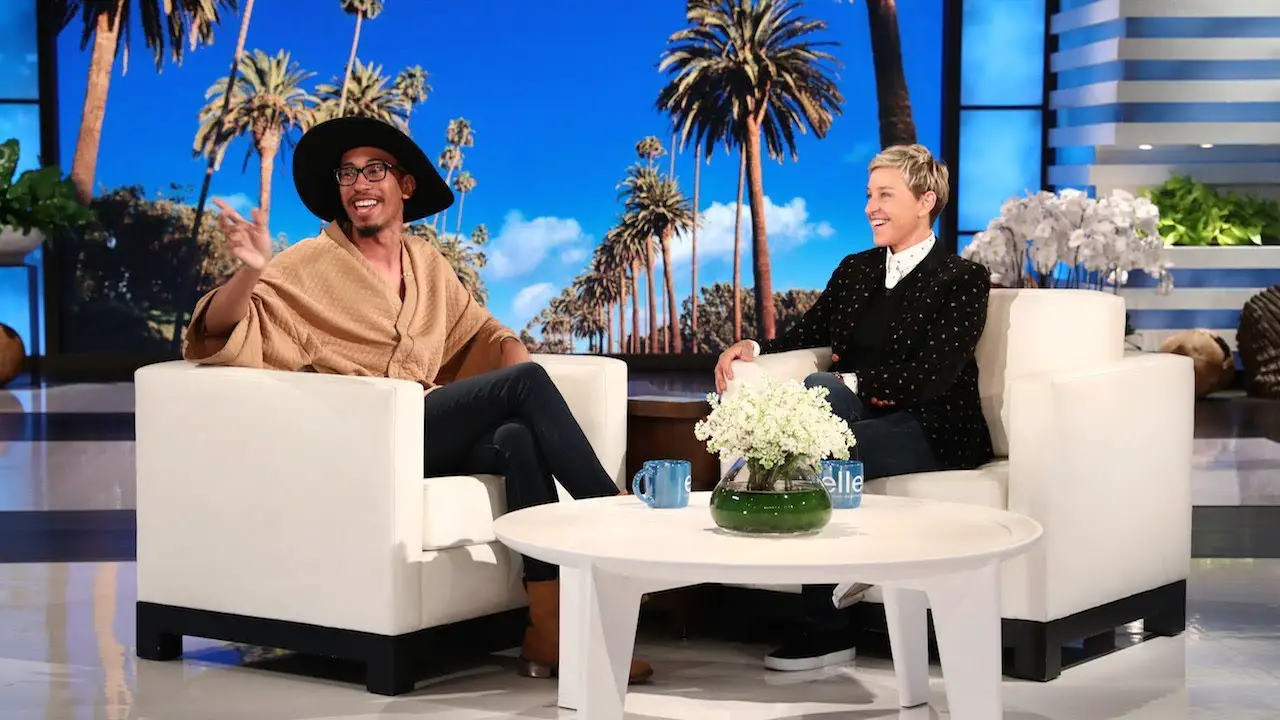 "When people see me out in public, and they say something, it still catches me off guard," he told DeGeneres back in February. "I have social anxiety sometimes, so I never know what to say… It's all very new."
In his follow-up interview with DeGeneres, Allen quoted his mother: "My mother always told me our lives don't belong to us. They belong to the people that believe in us, stand by us, and support us."
Thanks to DeGeneres' offer and support, Allen has had the opportunity of the lifetime to pursue his goal to inspire, motivate and change lives through "Kalen Reacts" and "OMKalen." On his Twitter, Kalen says he works at the kindest place on earth, and if his story is any indication, that is the nothing but the truth.