A teenage boy stares into a camera. His pale, sharp-featured face is centered in the frame, curly blond hair falling over his forehead. Behind him, the low-lit background of his bedroom is blurred and out of focus.
"Hello," he says. "If you're watching this now, then you are obviously now 20."
As he monologues, the boy's eyes dart back and forth nervously. Brief beats of silence interrupt the flow of conversation, as if the boy is waiting for his older self to respond.
"I want you to know what you are doing with your life," he tells himself, "'cause right now, I have no idea. I want to be a director, but I also want to be an actor. I want to do YouTube. I want to do loads of things."
So begins Bertie Gilbert's "A Message to 20-year-old me," published on YouTube on May 17, 2013. Throughout the digital time capsule, the 16-year-old creator expresses his aspirations and voices his concerns about adulthood. He also shows unusual maturity, offering bits of surprisingly wise advice for himself in four years.
"Another thing," he says, "if you ever feel sad or down about the fact that you're an adult, just remember how happy you were now at this age and get into that mindset and just be happy. I really want you to be happy. I really want me to be happy."
The boy's words of confidence carry a subtle note of doubt as he concludes the video and says goodbye to his future self. "In 2019, we're all going to watch this back and we're gonna see if you stayed true to me, 20-year-old Bertie. Good luck."
Who is Bertie Gilbert, exactly?
If you've never heard of him, Bertie Gilbert is a up-and-coming filmmaker who possesses one of the most idiosyncratic voices on YouTube. He hasn't yet achieved the fame of some older YouTube artists such as Smosh or Nigahiga, but he has a modest fanbase of his own, with 465,993 subscribers and 7,464,531 views to date.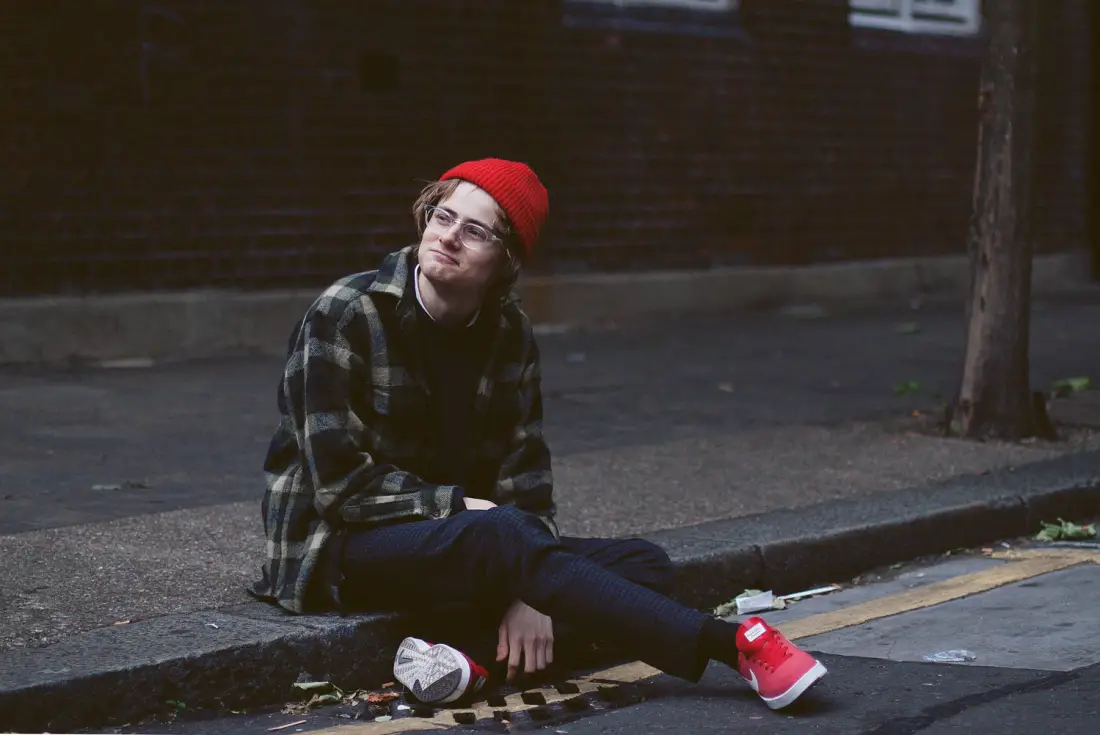 Born on May 1, 1997, in London, England, the young artist is in a league of his own. So far, he's written and directed nine short films, all but one of which star himself. With that resume, it might surprise you that he's still too young to legally purchase alcohol in America. Nevertheless, the 20-year-old's vision and work ethic easily compare to many directors and writers twice his age.
In addition, Gilbert's work reveals a responsible self-awareness you'd be hard-pressed to find amongst many his age. Paired with a style influenced by Spike Jonze, Paul Thomas Anderson and Michel Gondry, comparable to Spike Jonze, Paul Thomas Anderson and Michel Gondry, the substance and heart within the entirety of the writer-director's filmography is the driving force behind his work.
The Evolution of Bertie Gilbert
The voice of adolescent artist often change quickly, adapting to new perspectives and experiences as they continue to grow. It's only natural that a changing mind gives birth to a changing voice, and Gilbert is no exception to this rule.
Gilbert's debut, the short film "Stray Dog," premiered on Youtube in 2013. While admittedly amateur, the 13-minute film radiates budding potential, and displays various quirks and idiosyncrasies that would appear again and again in Gilbert's works. Equal parts time-travel caper and comedic relationship drama, "Stray Dog" contains a character-driven storyline with subtle, downplayed genre elements, which Gilbert uses to explore themes of loss, failed relationships and aimlessness.
"Tick Where It Hurts," released in June of the following year, keeps the themes of loss and failed relationships in "Stray Dog," but disposes of the joy and peculiarities in Gilbert's first production. The short film, which tells the story of a musician coming to terms with his brother's suicide, has a sorrowful, contemplative tone contrasting with the relative optimism of its predecessor. In addition, "Tick Where It Hurts" sees Gilbert experimenting with narrative and visual presentation, while also establishing the central themes of the artist's works.
Gilbert's third film, "Rocks that Bleed," is arguably his most impressive work to date. The 26-minute short film combines the sci-fi elements of "Stray Dog" and the interaction-centered, realistic dialogue of "Tick Where It Hurts," with a breathtakingly bleak vision all its own.
At the length of a stereotypical sitcom episode, "Rocks that Bleed" is far removed from any sort of comedy; the film tells the story of two estranged brothers reconnecting in the final days of their life as the sun threatens to annihilate the Earth. Similar to "Stray Dog," the film toys with elements of science fiction, balancing high-end concepts with the interaction-centered, realistic dialogue of "Tick Where It Hurts."
Gilbert's aesthetic has its roots in the heart of modern independent cinema, with the majority of his work comparable to the coy playfulness of Wes Anderson matched with the relatable, down-to-earth realism of the mumblecore movement. With a feature film currently in the works, Gilbert is an indie auteur in the making.
Why Should You Care About Bertie Gilbert?
Gilbert's brand of art is homemade and personal, and it shows. Whether it is the endearing surrealism of "Let It Be" or the rebellious search for self of "Blue Sushi," the short films mature alongside their creator. Gilbert actively strives to never retread past ground; to keep pushing boundaries while nevertheless remaining true to himself.
Alongside the stories he tells, Gilbert's filmography also stands out in the ever-shifting world of cinema. The beloved aspects associated with the art form remain intact, as Gilbert works toward mastering the medium. On the other hand, his style is unique, even avant-garde; direct audience interaction, combined with unconventional marketing, allows the creator to carve out a niche reputation, a noteworthy talent separated from the corporate aspect of filmmaking.
While his 16-year-old self incorrectly estimated the event would take place in 2019, Gilbert turned 20 in 2017. He released a video in June 2017 as a response to "A Message to 20-year-old me." In the new video, he addresses the aspirations and concerns of his younger self.
In "BERTIE IS TWENTY YEARS OLD (oh no)," he states:
"I like to think that much like every other creative person in the world, I am constantly evolving and changing and mastering my craft and getting a bit better. But, now that I look at [my past films], it's a bit shoddy, it's a bit cobbled together; it's not what I eventually want people to think of me for making."
He adds, "When I'm 50 and I've made a bunch of feature films — hopefully, maybe probably not, I hope to look at those things and go 'Wow. This is great. I'm so proud of you, me'."
Age does not determine quality. Nevertheless, it does take time for a young artist's work to reach its full potential. In Gilbert's case, it has taken more than half a decade of persistence and constant innovation to reach the level of success he has acquired. For many aspiring artists, it can take even longer.
However, if the path to success was short and straightforward, the end result would never be nearly as rewarding. It's in that struggle to create something that a creator realizes the purpose in their art, the story only they can tell. When you find that purpose, you will find the distinct mark that you can leave on the world.
That is the beauty of finding your voice. That is Bertie Gilbert.