As my friends and I sat down last month to plan our third annual road trip out West, memories of our past excursions flashed back to us. We embarked on our first 10-day camping adventure after graduating from high school, traveling across Arizona, New Mexico, Utah and Colorado. The first trip was a mess of unprepared naïveté, but our inexperience made the trip that much more special.
Cramming 10 guys into two cars for extended periods of time proved to be a challenge, but the challenges we endured remain a source of fraternal memories. We learned about each other on these trips, but we also, through trial and error, have learned how to camp, cook and travel more efficiently. Since our first journey, we have improved upon our planning and developed some strategies to ensure a successful road trip.
Plan Ahead
Planning is essential to the success of any trip, and a road trip is no different. Although jumping in the car and spontaneously heading out West without a destination is freeing, it is also very stressful.
The first thing that you must decide is your route. It doesn't have to be a set-in-stone list of specific places, but it needs to include the general areas you wish to visit or set up camp. On our first road trip, we had plans to stay in a national forest in Colorado, and we arrived there at 8 p.m., only to discover that camping was prohibited.
We found a friend's house in Denver where we could stay, but it was a headache, to say the least. To avoid our mistake, visit all of the national forest and park websites you plan to visit, just to make sure they are open to the public.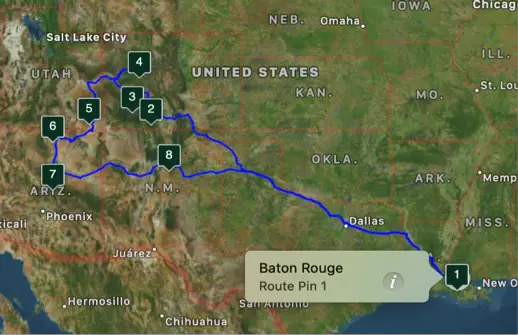 Some people who value comfort opt out of camping to stay in a hotel or Airbnb, but those who refuse to camp are missing out on a vital aspect of the road trip — the connection with nature one feels after spending a night surrounded by wilderness.
I urge those who think they can handle it to camp out in designated campgrounds or dispersed camping areas. Most national parks and forests have designated areas that allow tents or mobile campers. Some of them even have running water and bathrooms for the explorers who need a little more comfort.
To find designated campgrounds, visit the website of the national forest or park you plan on camping in, make sure it is open to the public and find a map that shows where these sites are.
Dispersed camping refers to camping in spots other than designated sites and is only available in national forests. If you disperse camp, you won't have access to some luxuries supplied by campgrounds, but you will be able to find a secluded spot all to yourself.
Although dispersed camping is much more work, the effort is worth it. Finding your own unspoiled camping site will allow you to appreciate the wilderness on a deeper level and will provide you with a stronger sense of accomplishment.
Because dispersed camping does not provide campers with bathrooms, toilets or trashcans, it is important to pack up all of your garbage before you leave and bury your business far away from recognized trails.
Pack Carefully
Packing for a road trip is the most important step because you must have all the clothes, tools and food necessary to ensure a safe and fun trip. You should pack clothes according to the climate of your destinations and have plenty of extra pairs.
On my first road trip, I packed two of my best pairs of work pants, only to return home with them covered in holes and dirt. If you plan to spend a lot of time hiking or fishing in either a fishing boat or an inflatable pontoon boat, you need to pack clothes that hold little value to you. Consider going to Walmart and buying cheap gym shorts and undershirts that you wouldn't mind throwing away at the end of your trip.
If you plan on camping out in the woods, you should bring medical, camping and car supplies, along with food and something to cook it in. If you are in the middle of nowhere, you need to be prepared for the worst, so you should definitely bring a medical supply box to store medicines, bandages and other supplies to keep you healthy and happy. For camping, you should bring a tent or hammock, a sleeping bag, a pillow, some bear and bug spray and food.
What food you bring depends on your preferences, but you will need to store it efficiently — in a place where it won't go bad. Because some food requires ice to stay fresh, many prefer to buy nonperishables, like protein bars, canned goods, beans and rice. Although, if you wish to bring perishable goods, make sure to keep them in an ice chest to keep them fresh.
Water is another essential, both for your own intake and for cooking. Make sure to bring a refillable water bottle and enough large jugs to refill it during the course of your trip. In order to cook your food, you need to bring tin foil, a spatula, cooking oil, pots and pans, reusable utensils and plates, a burner, propane, lighters and your choice of spices.
You also need to make sure you have enough storage in your car to hold these supplies. If you have a small car, you can attach a turtle shell or a trailer hitch basket for extra storage. Other necessary car supplies include a tow line, jumper cables and extra gas tanks.
Taking a road trip provides you with lifelong memories that you will cherish for the rest of your life. It is a challenging experience, but the unforgettable memories you make with the people you're with are more than worth the effort.