Want to get smarter and healthier but not into playing Sudoku and eating kale? Journaling can help you cut a few corners. Scribbling down your thoughts on a daily basis has been shown to improve not only your memory — jotting down what you do every day tends to help your recall and GPA — but also your emotional intelligence.
By reflecting on stressful events or negative emotions in your own life instead of repressing them, you're better able to understand and soothe them in both the present and the future. Plus, writing about your own feelings tends to help you develop more empathy for the feelings of others.
Similar to the reflectiveness that helps emotional intelligence, the same sort of mindfulness is also one of the most recommended ways to take care of your mental health. College is stressful for everyone, and anxiety and depression are no strangers for students, with the former being the most common mental health diagnosis in college students. If you struggle with either, journaling, in combination with other changes, might help you calm down, or even understand your issues a little better.
With the benefits of journaling laid out for you, you might be wondering how exactly to get started. The first basic style of journaling is probably what most people think: just a book filled with what you did that day or week, how you felt and whatever else you feel inclined to scribble down. This form of journaling might feel like a lot of pressure for people to be consistent or creative, so it's easy to be too intimidated to start. But if creative writing isn't your jam, then the good news is that there are plenty of other types of journals you can consider keeping instead.
One form of journaling that might help some more than others is bullet journaling. Bullet journals are a little different from regular journals in that they come equipped with dots instead of lines and are typically used to track daily tasks or goals. They aren't really for pouring out your deepest, darkest secrets, but more for making sure you have a handle on what you need to get done.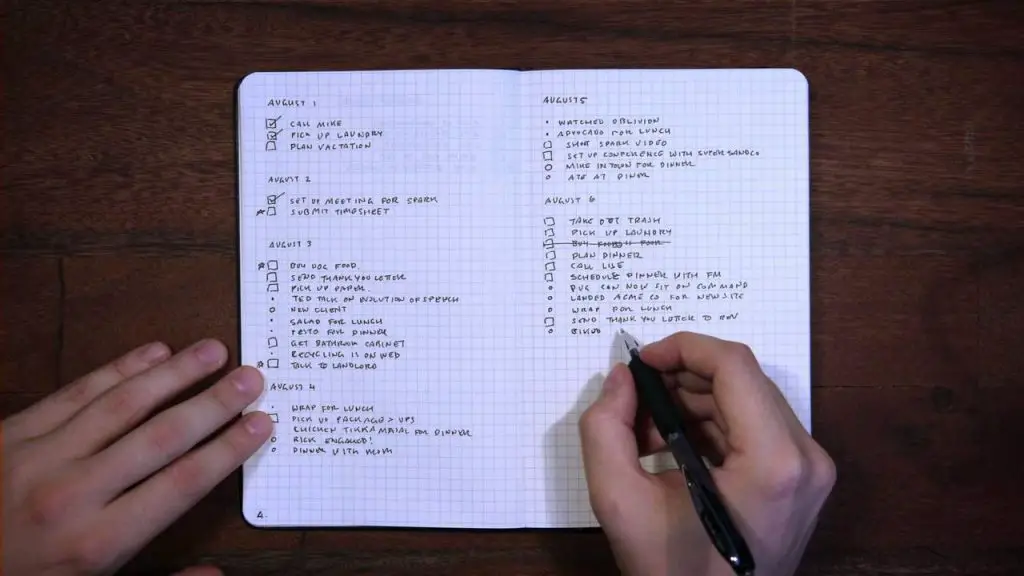 Buzzfeed features a helpful guide on how bullet journaling can help you easily track the emotions you feel every day and what triggered them, or just the habits that you're forming and whether you're sticking to them.  One of the reasons bullet journaling can feel a little less stressful is because you can operate on either a daily, weekly or monthly basis, since it's more of a log or schedule than creative writing.
A form of journaling in a similar vein to bullet journaling is list journaling. With list journaling, you don't need to worry about writing down what happened that day or keeping a schedule. It's literally just a journal full of lists.  Your favorite songs, places you would like to visit, a collection of observations—you're free to start a new list with the turn of a page. Maybe as you get more comfortable, the lists can develop into more serious topics, but this method is a fun and easy starting point for when writing seems daunting but you still crave some creativity.  Plus, there are plenty of lists online to help stimulate your brain.
If you need some more positivity in your life, you could also try keeping a gratitude journal. All you have to do is write down a few good things that happened that day or week in whatever length you feel inclined to: whether it be short blurbs or substantial paragraphs. In one series of studies, young adults who kept gratitude journals showed an increase in energy, sleep and exercise patterns. Time to get grateful, y'all.
Tons of other styles of journaling exist, and if you don't see something here that interests you, try Googling more or just making up something that suits your preferences. The style you pick doesn't have to lead to a manuscript for your autobiography, it just has to be fun for you.
Now that you're sold on the idea of journaling, the fun part starts: shopping. Whether you want a ruled compact notebook, a leather-bound masterpiece, or a quip on the front, the world has journals galore, and all for a pretty affordable price. And the right journal has to be accompanied by the right pen. You might think it won't make a difference to just use any old pen you have buried in your junk drawer, but coming from someone who has felt their life change with the use of a good pen, trust me on this one. Or this one. And maybe this one if you really feel like splurging.
Maybe journaling has never felt right for you, with all the pressure and the time commitments and the guidelines, but it's an easily adaptable hobby for whatever you choose to do. It can be a little intimidating to get started, and even hard to just be that vulnerable with yourself, but imagine the joy you'll have twenty years from now when you're able to look back on the thoughts and feelings of a college-aged you. And if I couldn't convince you, maybe some words from these guys and gals will.