As the son of Cuban immigrants, Michael Rodriguez was born into a family that started with nothing. Now, he's a second-generation college student and the first in his family to leave home to pursue an Ivy League future his parents would have never imagined their children could have.
Michael learned through his parents' sacrifices the value of hard work and dedication to one's craft. Through blood, sweat and tears, he rose through the ranks as a defensive tackle and was drafted onto UPenn's football team. At the same time, Michael is a Business and Finance major at the Wharton School of Business. He aspires to follow in his family's footsteps and carve out a legacy of leadership and sacrifice by giving back to those who need it most.
Christina Vazquez: Why did you choose to attend UPenn?
Michael Rodriguez: I received four Ivy League offers, beginning with Columbia, after my junior year of high school ended. All the Ivy Leagues called, and Harvard and Yale actually came to our house. I refer to "our" and "us" because it's the Rodriguez family, because where I go to college is a family decision. Some people think it's a curse to have this kind of choice be a family one, but I'm honored to have had my family take part in this decision with me.
It came down to West Point and UPenn. On one hand, you have a top institution with UPenn, and then on the other you have a high-ranking sports team with West Point. But, then there's the military component. I was willing to do it, but I didn't want to spend five years without my family; I'd be away from my family the whole time. I tried to rationalize it, by maybe getting a base close to home. I made all these rationalizations because it was a dream of mine to play big-time college football, but I ultimately had to make a decision that was the hardest to date.
It was a "grown-man" decision and a family decision. As much as I love football, at some point it will end. You'll use your mind more than your biceps and triceps. I went to UPenn because although it's a burden financially, money comes and goes, but education is priceless. I love my family, and some would say that'd hinder my athletic career, but that's a risk I'm willing to take.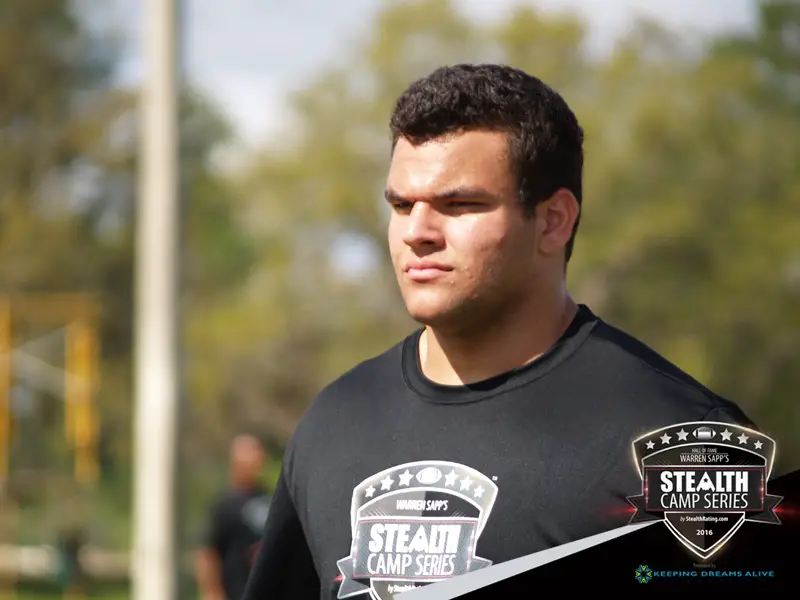 CV: So, with all this talk about family, tell me about yours.
MR: Well, I just found out that my great-great-great-great-grandfather has a football field named after him at the Naval Academy—Admiral Farragut. Farragut saved the life of a captain of the Navy when he was young. He won a battle in the Gulf of Mexico during the Civil War; it was a key battle because the U.S. was shipping supplies.
CV: So, you could say that football is in your blood, right?
MR: Yes, football's in my blood. I went to visit the Naval Academy, for the military background in my heritage. And as far back as my heritage goes, my mom and dad are both Cuban. My dad was fortunate and left when he was two. My mom was fifteen when she fled Cuba to Spain. Her parents were sick so she had absolutely no help, she had to work to put food on the table and care for her parents.
CV: What is your major?
MR: I love leading people. I love seeing people succeed. That's one of the greatest things about football, doing things correctly and seeing people succeed because you've played a part. I think that the only major in which I could possibly achieve that, to see people succeed and have a fingerprint in [their success] is Business and Finance.
CV: What are you looking forward to most at college?
MR: One thing that I'm excited for is the people that I'm going to have the privilege to meet, the people whom I've already met and the people that I'm enamored with. An institution doesn't make itself by the pretty buildings or by the cool facilities and resources. It's the people that push it to the pinnacle of the institution that it is. It's not an understatement. Prestige doesn't happen without the people who are in it, and the people that are going to be, including my class. When I met my peers, I was impressed; I can only imagine the classroom experiences. And it's the people I'm looking forward to. It's my peers I'll learn the most from, more than any textbook.
CV: What is it like to be part of the UPenn football team? What are you looking forward to doing as a part of "The Uprising"?
MR: I'm also looking forward to football; I think it should be really fun. At UPenn there's a competitive playing field. We won three out of six past championships in our division. Winning's fun; feeling vindicated, all that nice cheesy stuff, it feels good.
CV: What are your future career goals?
MR: Well, I want to be able to enjoy my success with my family. I'd be lying if I said didn't want to buy a boat or house on Brickell, but there's things I've always wanted to do that my family, with their diligence, hasn't been able to accomplish as of yet. There's so much I want to do with my family. Just because you want to work hard doesn't mean you have the aptitude to do what my family has been able to do.
I also want to open up a foundation. I think the foundation's always been important, my parents have always been charitable, giving up 15 percent of their salary, but I want to formalize it and make a non-profit and giving causes, such as for underprivileged children. A lot of kids nowadays need help. I've met some of my UPenn peers coming from underprivileged, low-income households, and there's a lot of people who don't get that kind of help. So, that's a goal of mine, to help people like that, to benefit kids who have the drive to impact the world any way they can.