Although women fill almost half of the U.S. jobs in the economy, they fill less than 25 percent of STEM (science, technology, engineering and math) fields. This number can be attributed to perceived gender notions, stigma attached to girls wanting to learn "boy" subjects such as science and math or girls deciding to not pursue or ignore their interest in STEM fields if they have one.
Sabina London, a student at the University of Pennsylvania, is getting girls interested in STEM subjects with her organization that offers free summer camps for girls and is slowly expanding to include after-school programs and workshops as well. Since its founding, "STEM You Can!" has over sixty programs located in fifteen states to date.
Lizzy Spangler: How and when did you get the idea for "STEM You Can!"?
Sabina London: My idea to start "STEM You Can!" extends as far back to my sophomore year in high school, when I noticed I was one of only four girls in my honors chemistry class. I was struck by studies that reflect this because many women lack confidence or believe they are incapable of succeeding, they do not enter scientific fields.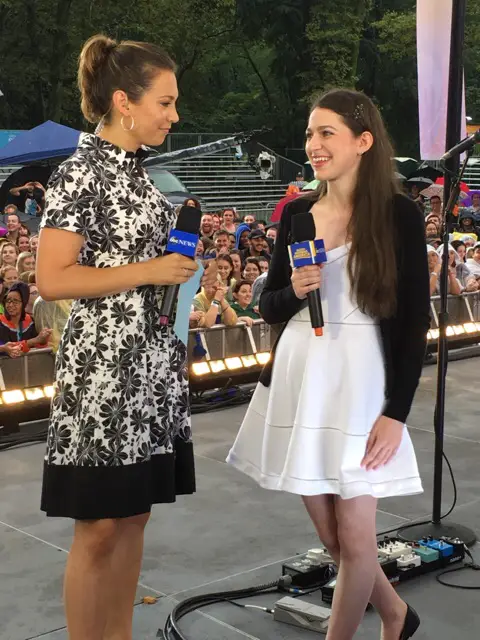 I've always liked science, and I have been working in a professional immunology research lab since I was fifteen years old. Often, especially in the beginning, the results I achieved were unexpected and difficult to interpret. I was lucky to be trained by the most amazing mentors, who inspired me to be curious and constantly ask "why" when approaching a scientific problem. Eventually, I found it so fascinating that I wanted other young girls to become as passionate about science as I am.
LS: How hard was it to set up the first "STEM You Can!" camp? How did it go? 
SL: Before I ran my first camp in 2013, I spent about a year creating the curriculum, and researching how to make science fun for young girls. In the beginning, it was very difficult to advertise and publicize the program through local middle schools and encourage girls to attend. After seeing how much the girls enjoyed the camp, I had a vision to bring it to as many girls as possible. So for the last four years, I've recruited and provided training seminars for other students to organize free "STEM You Can!" camps in their communities and low-income areas.
The most challenging part of doing this was motivating other students and building their confidence as I trained them to lead their own camps. Today, I am honored to be working with Sam Beard, the president and co-founder of the Jefferson Awards. With the help of the Jefferson Awards Foundation, I am so happy that a single camp I ran in New Jersey has expanded into a national nonprofit network of over sixty free STEM summer camps, workshops and after-school programs in fifteen states.
LS: How has "STEM You Can!" expanded from that first camp?
SL: To date, we have had sixty programs in fifteen states. The majority of our programs are run in low-income communities where families may not be able to afford after-school or summer programs. We have also aligned our curriculum to state standards, and begun training teachers to run these programs in their classrooms.
LS: How does the summer camp run and what kind of things do the girls learn?
SL: Instead of lecturing about different scientific disciplines, I developed a curriculum involving group discussions and hands-on experiments that would demonstrate that what the girls learned had real-life applications. For each day of the summer camp, we cover different topics such as energy and matter, global warming and renewable energy, astronomy, chemistry, engineering and neuroscience.
LS: What's your long-term plan for "STEM You Can!"? 
SL: In the next five years, our goal is to impact at least then thousand kids. My dream is to someday see our curriculum in every school across the United States.
LS: In your opinion, why is STEM education so important for girls?
SL: Although women represent half of the U.S. workforce, they make up only 24 percent of STEM careers. As Michelle Obama says, "If we are going to go out-innovate and out-educate the rest of the world, then we have to open doors for everyone." The demand for STEM skills is expected to grow substantially in the next decade. According to the Bureau of Labor Statistics, at the current growth rate, the United States will fall short of at least one million STEM professionals. We need to provide opportunities for absolutely everyone and encourage girls from a young age to be interested in science.
LS: What's your favorite part of "STEM You Can!"?
SL: I always love when the girls come up to me and say, "I wish we could do this in school. This is so cool!" It is an incredible feeling to see their excitement when an experiment works. Four years ago, I would have never imagined that one camp would evolve into an organization in fifteen states. I wouldn't be able to do it without the commitment and motivation of our incredible team of high school and college students.
We now have over a hundred student volunteers who teach in the camps and have committed to over sixteen thousand hours of service. After running the camps, every one of the teen leaders found the experience so rewarding that the following year they not only continued but inspired many of their friends as well. Many of them have also contributed their own ideas to the curriculum. Their passion and dedication has allowed "STEM You Can!" to reach many more kids.