Larisa Morales lives between two unlikely ends, being a professional athlete and a student at an Ivy League university. Morales, now with several championships and sponsors under her belt, continues to compete in professional wakeboarding, all while attending the Wharton School of the University of Pennsylvania.
Born and raised in Monterrey, Mexico, Morales started wakeboarding at six years old. Weekend trips with family to the coasts of Mexico is where Morales first became acquainted with the sport, but as her interest in the sport grew, she traded Mexico's coasts for Texas', specifically at the Texas Ski Ranch in New Braunfels. "The Texas Ski Ranch is where I started getting exposed to the actual world of wakeboarding," she says. "Because in Mexico, it is just an activity."
It was at the massive facility along I-35 where Morales saw professional wakeboarders for the first time—most notably, a group of professional women wakeboarders. "I started seeing the other women that were pro wakeboarders," she says. "They became my heroes." Morales' siblings were also influential in her growth as an athlete. Her older sister, a figure skater, and her older brother, a wakeboarder, both excelled in school. "I just wanted to do everything they were doing," she says. Her entire family was, and remains, supportive of her wakeboarding.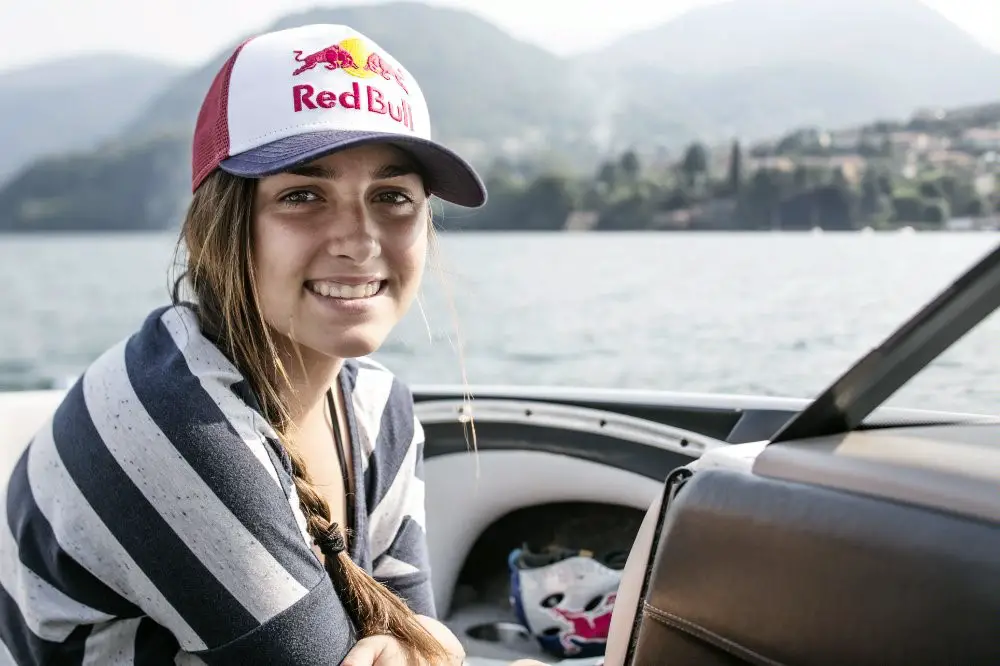 Morales began competing professionally around the time she was twelve. While riding in a world championship, she attracted the attention of a wakeboard brand CEO and was offered a sponsorship. More companies approached Morales when she started competing in the men's division of some competitions. Since then, she's been sponsored by Red Bull, GoPro, Roxy, Ronix and several other brands. "After getting support from sponsors, [my lifestyle] really changed," she says. "Now I was traveling full-time and training with the best coaches." If you want to try wakeboarding, Wakeboard Buddy is a great site that recommends some beginner-friendly wakeboards.
Boarding/School
It was while traveling for wakeboarding competitions that Morales first began considering attending university in another country. "The traveling, that professional side of wakeboarding, had a big impact on my interest in business, and going to school outside of [Mexico]," she says. She considered several schools, including the University of Cambridge in England, but ultimately it was her philosophy toward wakeboard training that led her decision. "My approach to where I wanted to study was the same as who I wanted to be coached by in wakeboarding. I want to learn from the best in my field."
That field is a major in Economics at the Wharton School at the University of Pennsylvania. The school is considered one of the best business schools in the world, with notable alumni like Elon Musk and Warren Buffett. "I moved to Philadelphia without ever visiting and fell in love with it," she says. "[But] Philadelphia is not an ideal place to wakeboard. It's cold, and there's not many bodies of water around." There were other considerations beyond the weather, as even the type of water available to board on in Pennsylvania differed from what she was used to, and everything from the depth of the water to the size of a boat's hull can impact her performance. "I had to start riding in a river, so training has become harder," she admits.
School hasn't slowed Morales down, however, and she continues to compete around the world. Early years of wakeboarding and attending school in Mexico made Morales develop a balance between sport and academics from an early age, and her sponsors and professors have been supportive and accommodating. "In the competitions I've done since I moved to Philly, I've done better than I used to," she says.
Waves of the Future
Morales is unsure where academics will take her, but enjoys being a university student. "Even though I like physical challenges," she says, "the things you can learn from school have real value." She is also cognizant of the professional athlete's duration, citing the constant risk of injuries and competition that come with the lifestyle. "I've had a really good time wakeboarding," she says. "I hope that for the next few years I keep enjoying it and I keep doing well, but I do believe it's going to come to an end at some point."
Still, she remains hopeful. "When it comes to a point where the next stage in my life is to continue growing academically and professionally, I'm definitely looking forward to it."