It seems that in the past couple of years, new rappers are appearing at every turn. The underground rap scene has exploded overnight, and new artists and their music are hitting YouTube, SoundCloud, Spotify and even iTunes. But, someone you may not have heard of is Kalamazoo, Michigan-based rapper Jordan Green of 2G's Music. Green, a junior double-majoring in Accounting and Finance at Western Michigan University, has recently formed a new rap group with his friend, rapper Young Ras. After their single racked up seven hundred plays in the first week of its release, the young group realized their collaboration showed promise. "When we put our first couple of songs out we hoped to reach one thousand plays total—we ended up doing one thousand six hundred plays in just two weeks, and that alone let us know we're on the right track," says Greene. 
Green, known in the 2G's group as Young Schlump, has always been in the rapping and songwriting mindset. A native of Joliet, Illinois, he began writing and recording music as young as eighth grade. Once he began high school at Joliet Catholic Academy, his music career began to take off. Known back in the day as Wizdom, Green debuted a couple tracks on SoundCloud and they were an instant hit. During his freshman and sophomore year, he found his popularity growing on the music site and released twenty-three tracks in his time as Wizdom.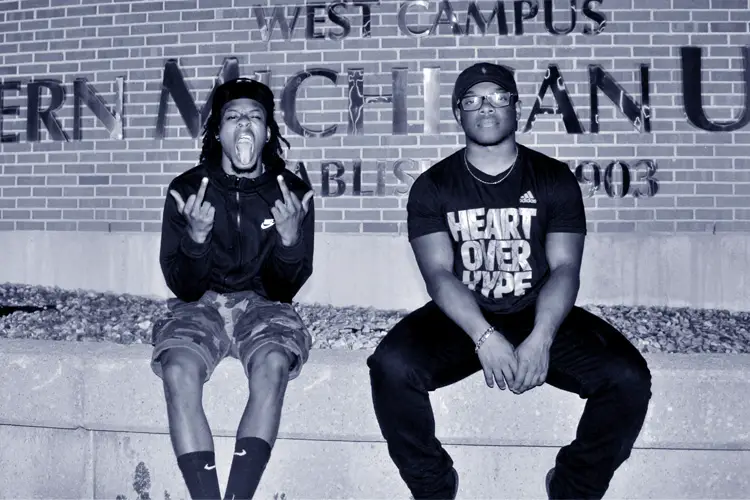 After his taste of the music industry, Green took a quick detour into the bodybuilding community for a few years. He built up his physique, made connections and even competed in a couple shows. However, it just did not feel the same as producing music. At one point he won first in his class and second overall, but did not feel the same satisfaction or happiness from this physical feat that he felt when songwriting and releasing music. So, although he seemed to have a promising future as a bodybuilder, and still participates in competitions occasionally, he returned to his roots as a rapper.
Kalamazoo, Michigan, and Joliet, Illinois, are extremely different atmospheres, especially in the rap game. While both are suburbs of major cities, Detroit and Chicago respectively, Green says that the topics discussed in music vary almost completely. Joliet, a town known for its maximum-security prison and high crime-rate, deals with more violent topics. Green talks about these subjects, such as living on the streets or committing violent crimes, with a much more negative vibe and connotation in his music. On the flip side, rap music in Kalamazoo is much more catered to the college kid lifestyle, with a hype man or party vibe taking the forefront. Green much more prefers the Kalamazoo style, as it fits more with his relaxed personality.
The beginnings of 2G's Music started just as a regular day of two guys hanging out. The topic of rap, creating music and songwriting came up, culminating in the idea of creating a group. After a couple of preliminary discussions of what to call the group, how and where to promote and the purchase of a mic and equipment, 2G's was born. The guys both decided on their stage names, Young Ras and Young Schlump, and got to work.
Upon listening to their first single, "GO (Pilot)," the first beat alone is incredibly infectious. The college party vibe is almost tangible even without Ras and Schlump's lyrics. In all honesty, just listening to this song while writing made me dance in my seat a little bit, and I'm really not ashamed at all. Schlump's verse of the single is so easily sung along with and even includes a line referencing Pokémon character Pikachu, which has been wildly popular with fans of the single. Both artists sound as if they have been rapping for ages, and the song seems like it belongs on iTunes and in clubs and bars in college and party towns across the country. "We've been planning on putting out music for so long and the fact that we're finally doing it and its being appreciated amongst the public is so such an unreal feeling to us," says Green.
They don't act pretentious or rap about having millions of dollars or gold chains and Gucci, because they don't have those things and that's not them at all. Part of what seems to make 2G's so popular is that they aren't relatable to rich celebrities and socialites; they're just regular guys that want to have a good time and create art about their life and experiences. Sure, they reference girls, drugs and alcohol, but they don't over exaggerate or sell themselves out.
Already seeing a huge popularity boom in Kalamazoo and spreading via word of mouth, Green credits help in 2G's success to the community of rappers in Kalamazoo. Often, the music industry is vicious and cutthroat, with artists clawing at one another to be on the top, so this was surprising. However, Green has found the opposite, acknowledging his friends and fellow artists as the boost that jumpstarted 2G's spread and newfound following. "Making music that we like and our peers like is one thing, but having other people outside of our immediate circle like our music is an unexplainable feeling—the feeling can only get bigger and bigger from here on out," says Green.
As for personal inspiration for his rap career, Green cites Bone Thugs-N-Harmony, Mobb Deep and Jay Z as his personal rap role models. Some may be surprised that he does not look to newer artists as influence, but after listening to these artists in comparison to Young Schlump and Young Ras, the connection is clear. Similar to 2G's, these artists employ contagious beats and melodies, chill vibes and a general sense that the music could work at a party or hanging with friends. Looking at the linkage, it comes as no surprise that 2G's Music has blown up so quickly in the Kalamazoo community.
Green wants fans of the group to be able to enjoy themselves and the songs in any setting, whether it be alone, with a couple friends or at a huge party surrounded by strangers all connected by the music. Green also revealed that 2G's Music will be releasing a new single titled "Go Crazy," so be on the lookout. For now, when you're looking for new songs to listen to in any scenario, check out 2G's Music on SoundCloud and give them a listen. You won't regret it.