As a freshman at Trinity University, Jacob Hurrell-Zitelman was bit by the entrepreneurship bug and started Quick Sip Coffee, a cold brew coffee company based in San Antonio, Texas. Currently a sophomore majoring in business marketing and management (dual concentration) with a minor in entrepreneurship, Hurrell-Zitelman knew during his first year that he wanted to start his own business.
As is common with many entrepreneurs, his first and even his second attempts did not come to fruition, but he persevered until he landed on an idea that worked.
His first attempt at business, a social media consulting company, "fell through really quickly because I wasn't really experienced or knowledgeable about entrepreneurship at all." During the second semester of his freshman year, he took an entrepreneurship course.
Trinity University, according to Hurrell-Zitelman, has an excellent entrepreneurship department that assists students with developing their business ideas. The mentors at Trinity who have helped him reach this point are so innumerable he says he couldn't possibly list all of them.
The burgeoning entrepreneur explained that he wasn't initially into the popular specialty coffee culture that is growing in San Antonio. He got into "the whole Keurig thing" in high school because that was what his parents had in their house.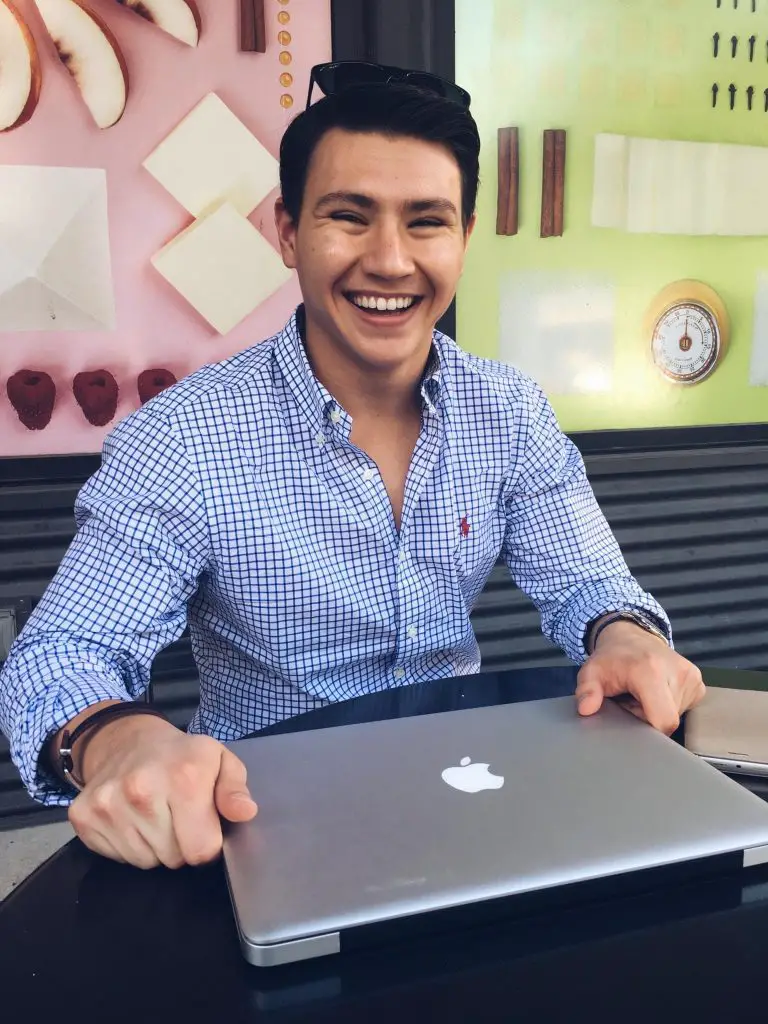 Like many new coffee drinkers, when he started consuming coffee it was more cream and sugar than coffee. He explains, "During my senior year of high school, I just pounded black coffee that was really over-roasted and packaged for way too long."
In fact, it was not until he tried to start his business that he really got into the coffee culture at all. At that point in time, his plan was to open a bar that was a secondary coffee shop, so that it could turn a profit throughout the day and night.
It was while he was trying to start his bar-coffee shop that he began meeting people in the local coffee scene. His conversations with local roasters and baristas, all of whom were really passionate about specialty coffees, inspired his appetite for the coffee culture.
Following the social media marketing attempt, and knowing a bit more about entrepreneurship, Hurrell-Zitelman committed himself to the idea of the bar-coffee shop. Due to his young age and lack of capital, however, that also proved to be a difficult business to break into. His next big idea, Quick Sip, became the opportunity he had been looking for.
How Quick Sip got started
When Hurrell-Zitelman first founded his business, he was out on his own and wasn't yet selling his own coffee. At that time, he was private labeling and reselling other people's wholesale cold brew bottles, which were manufactured in San Antonio. While attempting to get into a farmer's market, he met his first partner — the owner of the farmer's market he was attempting to get into.
The two had a meeting and the owner expressed interest in selling cold brew coffee at the market, as well as in working directly with Hurrell-Zitelman. Seeing this interest as an opportunity to have a successful business professional as a mentor and partner, he accepted the offer and they set out working together.
The partner is now Quick Sip Coffee's sales manager and is in charge of all of their accounts. They have since added a second partner, Hurrell-Zitelman's girlfriend, who is in charge of manufacturing.
As a college student with limited income, Hurrell-Zitelman explains "we boot-strapped our business." He and his (manufacturing) partner would take whatever cash they had laying around and would try to find the lowest cost possible while developing their product.
Their primary goal when starting out was to be sure they had a really good product prior to investing in bottles or other business-related expenses. According to him, "luckily that was relatively cheap because coffee is not super expensive."
Hurrell-Zitelman would "slave" over his cold brew machine every night, making a new coffee nightly until he had perfected his process and flavor profile. It took him about two or three weeks from the time the idea for a cold brew business was conceived to the time he developed his first marketable product.
What is "cold brew"?
Hurrell-Zitelman explained that he opted for a cold brew coffee business over hot coffee for a few reasons. First and foremost, their business model didn't fit with a hot coffee storefront or café model, mostly because it required a much higher financial investment than he had initially anticipated.
Beyond that, he had learned through his conversations with local roasters and baristas that people really love cold brew — it sells out quickly. This is especially true in areas like San Antonio that are warm for most of the year.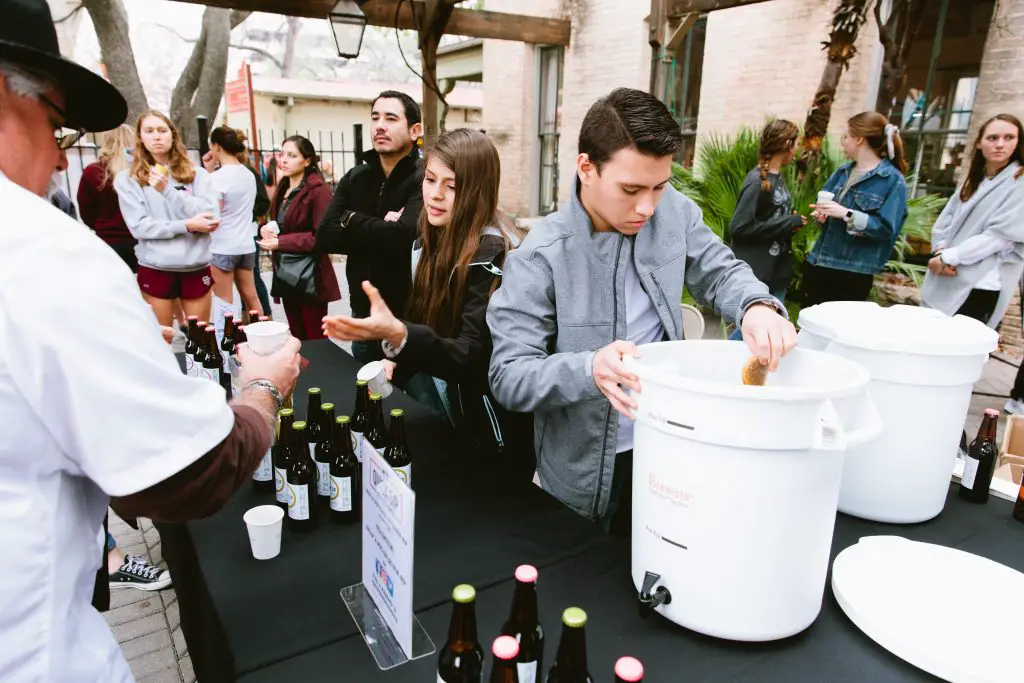 Cold brew is less acidic and is associated with a healthier lifestyle than typical energy drinks like hot coffee. Whereas hot coffee is associated with coffee culture, cold brew is associated with a healthy lifestyle culture. Seeing the marketing potential for cold brew, he decided to take his company in that direction.
So, what is cold brew? Hurrell-Zitelman explains that traditional hot coffee, such as a pour over, is basically a cone dripper that you pour over the top. It takes about four minutes to brew a cup and the flavors and caffeine are extracted by both the brewing time and the heat of the water used.
Cold brew removes hot water from the equation, so the flavor profile and caffeine are extracted through the time it takes to brew. The coffee sits either at either room temperature or in a refrigerator for 10 to 24 hours — depending on the process of the brewer — and is then typically served over ice.
Flavor profiles
As is commonplace in the specialty coffee industry, the focus for good coffee is the origin of the beans. Quick Sip is currently available in two flavors, which means it is brewed with beans from two different locations or regions.
The Original Cold Brew is brewed from a natural Ethiopian coffee bean that varies from time to time because the coffee beans Quick Sip uses are "very selective in that there are certain growing periods, so the same bean isn't available year-round." The natural Ethiopian varietal gives the Original Cold Brew a profile including notes of chocolate, berries, apples and strawberries.
The Texican Cold Brew is "more true to San Antonio" and is brewed with Mexican Chiapas beans that are available year round. It is brewed with cinnamon and has notes that are nutty and chocolatey. Hurrell-Zitelman's inspiration for this brew came from his upbringing in San Antonio and the Mexican culture surrounding the city.
He appreciates the ways the Mexican culture "spice[s] things up, instead of just leaving them plain" and wanted to highlight that influence in one of his coffees. In the future, Hurrell-Zitelman would like to follow the model of specialty coffee cafés in which brews are available from a variety of beans and regions.
For example, the house brew would be something less expensive, like a Colombian brew. They would also feature beans from Ethiopia, Papua New Guinea or possibly El Salvador. Whereas a regular specialty coffee house offers these in hot brews, he would provide them in cold brews. The bean varietal or origin will be the product, so each new bottle will possess the flavor notes of the region from which the bean originates.
Biggest challenge
Hurrell-Zitelman noted that the biggest challenged he faced, and indeed that he still faces, is getting people to listen to him and understand that he and his team are truly passionate and serious about this business.
"It's always hard when you're younger and being an entrepreneur in any business because people think it's just a side project and it's not serious," says Hurrell-Zitelman. "It took a while for people to understand that this isn't a joke to me, I'm not doing this for a project in class, I want to do this for real."
Funding
During March of this year, Hurrell-Zitelman and his partner entered Quick Sip in the first round of the Louis H. Stromberg Venture Plan competition at Trinity University. Quick Sip was one of the top five finalists, and thus received one of the five $5000 seed money investments.
They will go on to the final round of the competition in October of this year for an opportunity to win a $25,000 investment in Quick Sip. He and his partners will also participate in entrepreneurship programs in San Antonio and throughout South Texas over the summer, with the goal of growing the business with the funds currently available to them.
As far as other investments are concerned, he explains that they have had some interest but haven't yet pursued any of those options as they are still small and want to get a true feel for the market prior to taking on investors.
Quick Sip's future
Ideally, Hurrell-Zitelman would like to have a Quick Sip storefront or café in the future. They obviously need a place to manufacture, and the idea of creating a business similar to a beer taproom for cold brew coffee has been thrown around. He says, "Doing a dual thing, manufacturing and also having a café in the front where we serve all of our origins of cold brew on tap, or just have hot coffee, so everything is still running throughout the day."
For the time being, Quick Sip is available in the San Antonio market only; however, there are plans to expand to Austin, Texas soon. Within San Antonio, they are available in one Shipley's Donuts with plans to expand to all Shipley's locations in the area.
The product can also be purchased in some beer tap rooms, as well as on campus at Trinity — through Aramark catering. Hurrell-Zitelman and his partners have plans to expand to several more universities in the San Antonio area as well.
Life
When asked about work-life balance, Hurrell-Zitelman replied that he doesn't sleep as much as everyone else, but that he's found his passion. There are 24 hours in every day, and in his experience, that's a lot of time. He says, "you can spend it doing things that either really grow you as a person, or really don't."
He considers himself lucky that his partner in manufacturing is his girlfriend. Really focusing on surrounding himself with people who help him be the best version of himself and truly support his lifestyle has been key to his success thus far.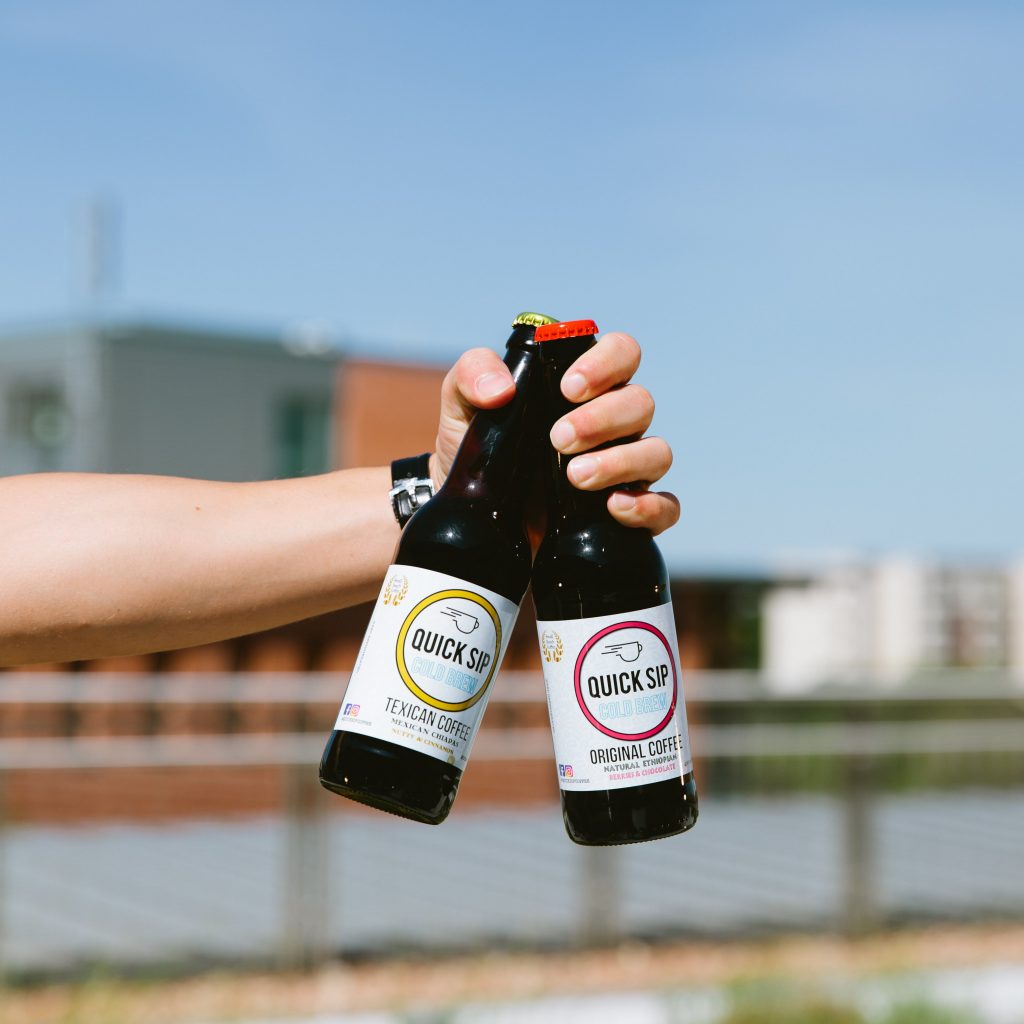 When he first started Quick Sip, his parents were adamant about him not pursuing it as they were concerned about the financial constraints, as well as his ability to perform well in school and handle all of his other commitments — Hurrell-Zitelman is also a member of the swim team at Trinity.
"[My mother]wants me to graduate, and I keep joking with her, 'what if this gets big enough for me to drop out?' and she's like 'absolutely not, whatever you do, you're getting that degree'," he says.
Ultimately, however, his parents have been extremely supportive, and his father helped him in the beginning when he started brewing by himself.
As advice to other students who are aspiring entrepreneurs, he says "try everything and don't let anyone tell you that your lifestyle isn't worth it, or that you should spend your college career doing whatever it is that most college students think is fun."
When he started college as an athlete, he would go out with friends on weekends, but quickly realized that just wasn't how his brain was wired. He considers himself a workhorse and says his passion is running around to meetings and making coffee at midnight.
Hurrell-Zitelman still has fun but felt at first that people were trying to convince him that his lifestyle was different from what it really was, and that deterred him from the rest of the 24 hours he could have focused on his passion.
"[A]ll of that excess time we fill with things that other people think are important," he says, "that's the time we can use to try new things, and things that are maybe in the back of our minds, like 'why would I do this, I can't do this right now because I'm too young'."
"Too young is not an answer," he says, "if you go out and try it, maybe you will fall flat on your face and that's ok. And now you know, 'well I don't want to do that anymore', or 'I can't do this', or 'I need to work harder if I really want to do this'."
He feels that there is so much focus on taking the slow route through the major program and that jobs are given to you when you graduate, not in your freshman year of college,
"That's completely right, the job your major brings you is given to you in your senior year, but is that the job you want? You can choose the job you have if you start early; you can't choose the job you want if you start late."