Whenever I'm searching for new Young Adult fiction material at the closest library or bookstore, my go-to genre is almost always the novel. I love getting swept into a character's life and adventures for 300+ pages, and can never contain my excitement when the author decides to write a sequel or spin-off, so I can spend even more time with their characters.
However, there are also times when a novel just doesn't do it for me—i.e. the writing's dull, the characters are meh, the plot makes absolutely no sense—and I end up not finishing the book altogether. The pattern then follows for each subsequent book I pick up, and before I know it, I'm deep into a reading slump that I desperately want to break.
Instead of picking up another Young Adult novel, though, I've taken to reading anthologies, collections of short stories, poems and other types of writing that tend to revolve around a specific motif. Unlike chapters in a novel, each section of an anthology can be read on its own, meaning readers won't feel obligated to finish the book in its entirety.
Even more, they don't have to go through the same hit-or-miss game of finding new authors they might enjoy; anthologies tend to contain brief publications from many novelists, and allow readers to get a sense of an author's writing style before they entertain themselves with one of their full-length works. And as for others like me who've recently felt let down by one book after the next, anthologies can provide a quick, excellent read, and easily remind someone why they love reading in the first place.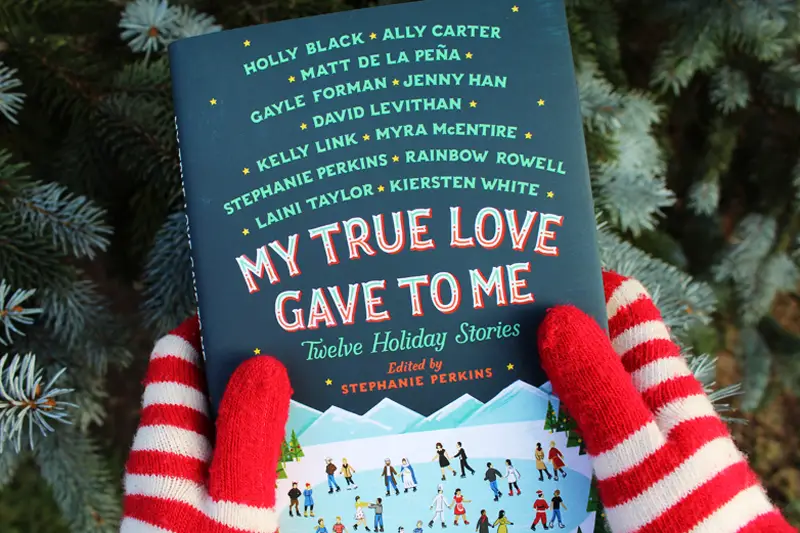 But even though anthologies have been around for more than a century, it is only in the last year that I've discovered them on the shelves of bookstores, specifically in the YA section. The first one I ever picked up was "My True Love Gave to Me," a collection of holiday short stories written by twelve bestselling Young Adult authors. At the time, I had only read the books of one of the authors on the cover, Rainbow Rowell.
Both of her YA contemporary novels, "Eleanor & Park" and "Fangirl," were some of my favorites, and I was open to reading anything else she had written, even if it was much less than the customary few hundred pages. And truth be told, "Midnights," a short story about the growing relationship between two friends over five years' worth of New Year's Eve parties, had the same lovable humor and wit as Rowell's other work. That, and I wished that it didn't end so quickly.
Since reading "Midnights" and realizing firsthand how enjoyable a YA short story can be, I scoured Goodreads for other published YA anthologies, hoping to find more brief literary gems by other authors I've read in the past. Come to find, there were many gems out there: "21 Proms" featured a John Green tale about two girls hosting a morp, or a backwards prom; "Summer Days and Summer Nights" included Tim Federle's literary take on a summer break-up; and "Once Upon Now" showcased Ali Novak's modern interpretation of "Sleeping Beauty," which involved the protagonist having a rare sleep disorder.
Just like with their full-length novels, Green, Federle and Novak managed to breathe life into characters with words and keep readers hooked till the very last sentence. The only difference was that their anthology characters could only hang out for a little while, even though their stories may have been far from over.
And considering the knack Young Adult authors like Green, Federle and Novak have for creating compelling characters and plots within a limited word count, it's not surprising that other bestselling YA authors want to take a crack at writing their own short stories, from Marissa Meyer (author of "The Lunar Chronicles") to Nicola Yoon (author of "Everything, Everything" and "The Sun Is Also a Star").
Not to mention it explains the number of upcoming anthologies that are set to make their bookstore debut in the next two years: "Because You Love to Hate Me," coming out on July 11, will contain thirteen short stories told from the perspectives of infamous literary villains; "Meet Cute," coming out January 2, 2018, will feature original short stories about the first meeting between two people; and lastly, "Toil & Trouble," another 2018 release, will present a collection of witchcraft stories highlighting feminist characters.
While I have no doubt that these new anthologies will sell on their premises alone—I already know I'm going to be smiling non-stop when I read the stories in "Meet Cute" next year—it remains blatantly clear that they're beginning to gain more popularity because of renowned-author involvement. Let me put it this way: When "21 Proms" was published in 2007, John Green was five years shy of releasing "The Fault in Our Stars," his most notable book to date. Not many people would've gone out of their way to search for his lesser-known work. And while there were other bestselling authors in the prom anthology, none of their reputations exceeded Green's present prestige at the time of publication.
In contrast, the list of authors contributing to the latest YA anthologies have all made a prominent name for themselves in recent years: Besides Meyer and Yoon, there's Victoria Schwab (author of the Shades of Magic trilogy), Julie Murphy (author of "Dumplin'"), Sara Shepard (author of the Pretty Little Liars series) and many others who are topping the bestseller lists or having their books made into films and TV shows.
But more than that, YA authors are becoming more renowned because YA as a genre is becoming more renowned. All the statistics show impressive growth: The number of YA titles has more than doubled between 2002 and 2012, sales for YA books went up by 22.4 percent in the first three quarters of 2014 and between 2006 and 2012, sales jumped almost 150 percent. At this rate, the young adult fiction market will just continue to skyrocket, as well as the reputations of YA bestselling authors. And if their names are printed on a cover of an anthology, then the short story collection is bound to receive attention.