In the Midst of Division, America Turns to the Olympics
Though torn apart by racial and religious strain at home, the games are a reminder that our country's advantage is its diversity.
 By Daniel Enjamio, Santa Fe College
---
It's a polarizing time in the United States.
Most notably, the country is in the middle of a particularly peculiar and nasty presidential election cycle, in which even members of the same party aren't exempt from turning on each other.
It was in the midst of this division that America turned its attention to the Olympic Games. And what a beautiful remedy it has been, because few things bring Americans together like patriotism and sports.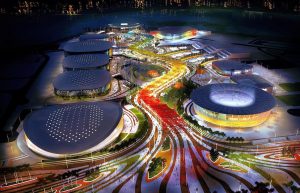 This nation's affinity for those two runs so deep that most people, like myself, will immerse themselves in many sports for just two weeks every four years, then forget about them right after the Olympics are over.
It won't change anything, of course, as the country's obstacles don't take a break just because the Olympics are on TV. Americans will still bicker over trivial topics, and the bigger problems and injustices in the country will still exist.
But the Games do allow for Americans to largely forget about those issues, at least for a moment, and appreciate American dominance—utter, overwhelming American dominance.
After one week, the United States has eleven more gold medals, and almost thirty more total medals, than the next country. In the United States' annihilation of its competitors, Americans can bask together in the glory and, dare I say greatness, of this country.
They do so through the finger wagging of the country's not-so humble female swimmer, as Americans use her ability to successfully back up her trash talk with a victory over a Russian opponent as a collective middle finger to the country's most despised national rival.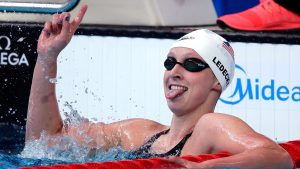 They do so through the brilliance of the best female gymnast in the world today, and maybe ever, as she wins gold in the all-around competition with a bigger margin of victory than in every final between 1980 and 2012 combined.
And even through the poise of the most decorated American Olympian of all time, who remained quiet while a rival swimmer attempted to get inside his head then ultimately kicked his ass and won gold.
There are few things Americans enjoy more than an excuse to flex their muscles in the name of country, so these Olympics have been pretty great thus far.
It's not merely the fact that the U.S. is on top that yields so much pride. It's how America has done it, too.
One of the unfortunate realities about the Olympics is how, for some events, the opportunities for success aren't available for everybody. This trend is undoubtedly true in regards to the Winter Olympics, but certainly plays a role in the Summer Games as well. As Joel Anderson tweeted, "For most folks, their ability to compete at an Olympic level is largely a function of privilege and resources."
That's what makes the diversity of this U.S. Olympic Team so noteworthy. Barriers hinder the opportunities for many people to compete at the highest level in certain sports, and for so long, those barriers meant U.S. Olympians in those sports mostly looked the same.
In just one week in Rio, some of those barriers have been broken.
The gold medalist in the women's 100m freestyle is a black American, becoming the first black female to win an individual swimming gold medal in Olympic history and debunking a hideous stereotype in the process. The United States bronze medalist fencing team included a Muslim-American, the first U.S. Olympian to compete while wearing a hijab. The gold medal US female gymnastics team itself, which is made up of two black, two white and one Hispanic American, exhibits what makes America special.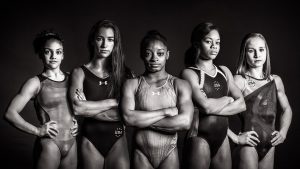 So not only was the talent of America on display this first week in Rio, but its diversity as well.
This Olympic Team, which is made up of hundreds of athletes of varying backgrounds, represents the idea that inclusion and opportunity brings out the best in this country. If you want evidence, just look at the medal count.
Every Olympics, though, does bring a unique version of an annoying characteristic that exists in sports fans. I'm referring to the trait that usually causes people to criticize athletes for not acting the way they want them to, like a baseball player flipping his bat after a homerun or a quarterback flaunting a signature pose after a touchdown.
Because athletes in the Olympics represent their country, a worse version of that idea exists, as the Games leave athletes vulnerable to complaints related to patriotism. And some Olympians have unfortunately had to endure the brunt of the limelight.
Like Gabby Douglas, who had to deal with the body language police that bestowed such petty criticisms upon her as the manner in which she saluted her country's anthem and the perceived lack of enthusiasm she displayed when her teammates succeeded.
The decorated gymnast learned that she didn't have to only worry about the gymnastics judges in the arena, but also the millions of Americans in their living rooms, judging her every move.
I suppose as long as sports exist, that'll exist too.
Anyway, beyond that, Americans have mostly come together in a positive way to accept the nation's athletes. Nothing elicits unity in America like love of country, and it's certainly nice to see it on display, particularly now.
For the moment, the country's plights and disagreements take a backseat to this Olympic Team—this talented, diverse group of Americans, not unlike the country itself.
And that may be the real lesson of these Olympics: That America's greatness lies in its talent and diversity. Hopefully the nation remembers that lesson long after these Olympics.