Let me begin by saying this: This is not a festival review.
I did NOT sit down with a notepad and critique each artists' performance whilst sipping wine out of a plastic cup. I was doing what I call investigative reporting: exploring the anatomy of moshpits and interviewing myself every 30 minutes to make sure I was properly hydrated. This is not a pro-and-con list, this is my narrative of all that happened at Day N Night 2016.
Day N Night was a music festival made for me: An almost entirely hip-hop lineup complete with a chicken-and-waffles food tent and a beer list actually worthy of its prices. Set in Oak Canyon Park tucked in the hills of Silverado, CA, the venue was a secluded destination that allowed bass to reverberate throughout the area and create ripples in my beer.
The entrance to the park was a drunken hike downhill littered with groups trying to chug their last bit of liquor before going inside, or stuffing bottles into their pants only to watch it get thrown out in front of them by security. After rough pat-downs and receiving a wristband I was sure was cutting off my circulation, I had arrived. I was immediately welcomed into the festival by pounding bass hitting my chest and I knew I was home.
Atlanta's resident weirdo Father beckoned to me from the headliner stage at the very back of the venue and I heeded his call. Walking through the park to the rhythm of "Back in the A," I realized why festivals have become so popular. The diversity in this little corner of Orange Country was unlike anything the locals of Newport Beach had ever seen before. People of all shapes, sizes, colors and creeds descended on the motherland of Range Rovers and plastic surgery to watch A$AP Rocky, Young Thug, Lil Uzi Vert and others command the stage, and it was a beautiful thing.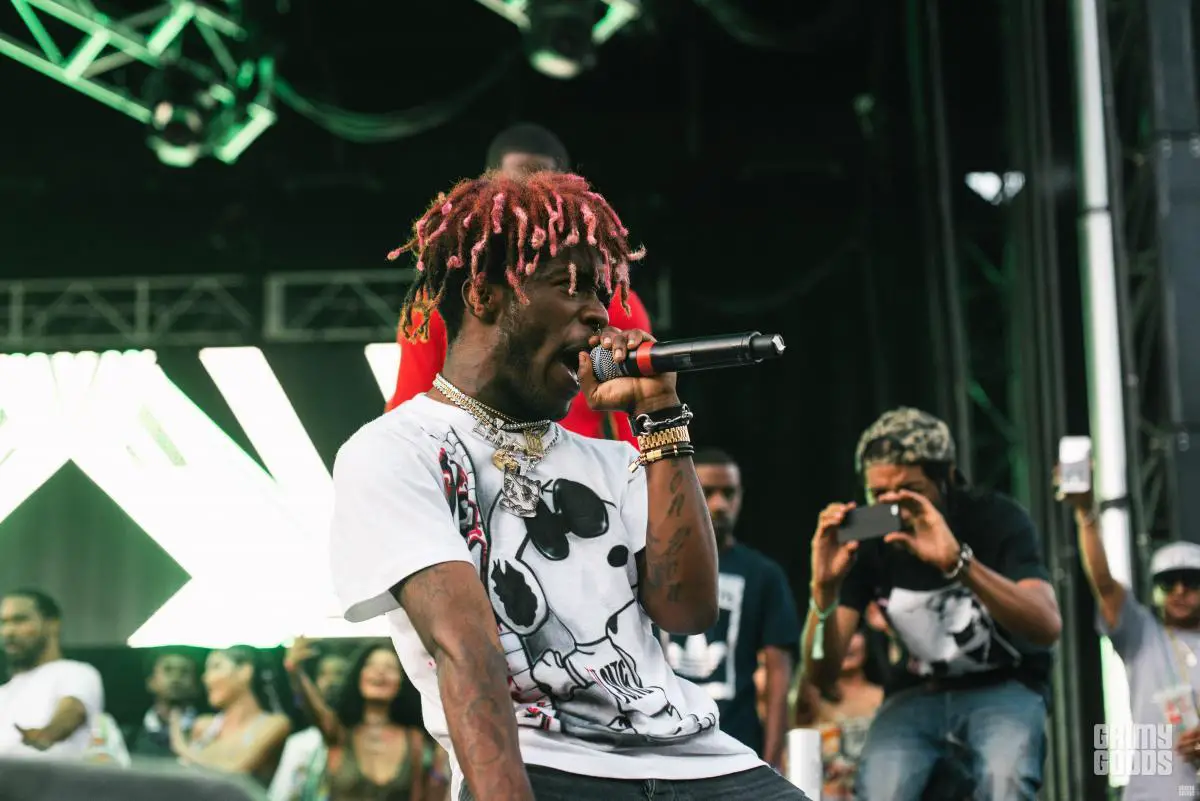 My beer budget began taking major hits as the day went on, probably due to the LA heat that pounded down on the festival and body heat that radiated from the crowds. All those beers were downed in anticipation of Lil Yachty, who graced the stage around 6 pm when the heat began to take mercy on us. He and his Sailing Team crew performed hits like "Shoot out the Roof" and "Broccoli" that enticed the crowd into perpetual motion, finishing with his crooning anthem "1 Night."
While I thought Yachty had me hyped up, on came Lil Uzi Vert after him who takes stage presence to an entirely new level. During the course of his set, Uzi covered the entire length of the stage and at one point jumped off a speaker and ran through the park with fans in tow, running over a few adoring fans along the way.
The pace slowed when Post Malone took the stage to perform "White Iverson" twice but then picked back up immediately when YG shut it down. Beyond performing favorites like "Why You Always Hatin?" and classics like "Toot It and Boot It," YG made the night his by declaring that if any girls are raised up on shoulders, they must flash their breasts. That night YG's demands were met and as girls went up, so did their shirts, in a moment that will forever be remembered in Day N Night history.
The nights' performances concluded with A$AP Rocky blowing people's eardrums out with a set that could've registered a small earthquake. By that point though, I had blown through my beer budget and I began to feel the bloating and grogginess that comes with consuming too many IPAs, so I didn't enjoy the set as much as others had, though the fun didn't stop there.
The one road in-and-out of the venue became a Lyft driver parking lot, preventing anyone from leaving in decent time. The fact that there was no cell signal within a mile radius of the venue prevented anyone from getting ahold of their rides, so it took 4 hours to call a taxi to drive us a decent distance away and then call a Lyft to relieve us from taxi fares. It wasn't all terrible however, I did have my 5 seconds of fame when Lil Uzi Vert almost ran me over in his Ferrari during his escape from the park.
After no apology from Uzi, I declared the night over and slept until it was time for day two. With Henessey in my cup, I was going to make sure day two would be just as eventful as the previous day, and with Vic Mensa, 21 Savage and Young Thug on the lineup, that was a sure thing. It all began with the hour long Lyft ride to the park. Whilst stuck in traffic, our minivan became the life of the road, bumping Too $hort and dancing to the amusement of our driver.
A black car pulled up alongside us and out hopped our new friend, a girl we knew only as "Pri." She began dancing in the middle of the road in a dress that was way too short, drunkenly walking in-between cars and making out with my friend while stopped in traffic. Unfortunately, after getting back into her car we'd never see her at the festival, but our friend Pri set the tone for what would be a great day.
The Henessey, Jack Daniels and beer combination began to hit me while entering the venue and immediately I sought out food after realizing we had missed Flume due to traffic. The ridiculous $5 tacos hit the spot and we were on our way to see Vic Mensa.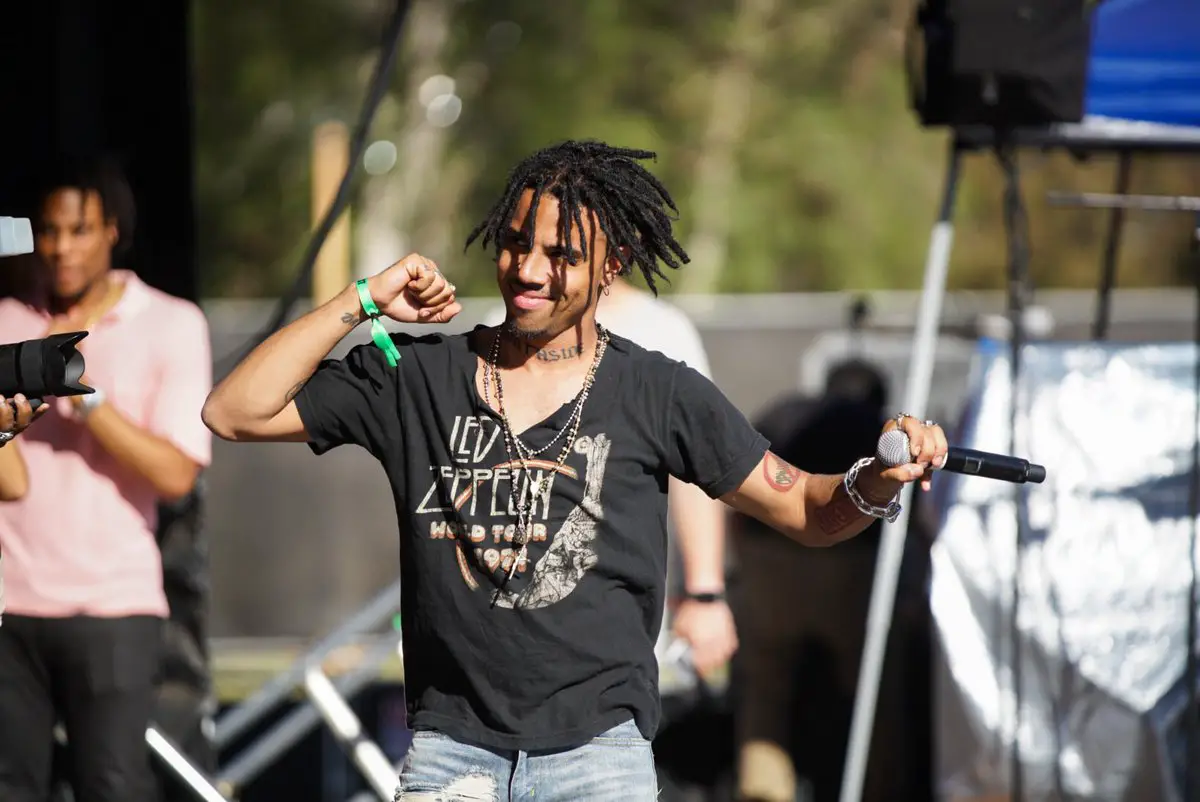 His set was cut short by delays but by no means any less amazing. He performed "16 Shots" to a sea of raised middle fingers and hands swayed side-to-side during "There's Alot Going On." He ended his set with "U Mad," which had me trying to protect my girlfriend from flying elbows while trying to get in a few of my own.
Bryson Tiller came on to get girls into their feelings while guys belted out the lyrics louder than the girls did and while our Lyft predicament caused us to miss Young Thug, the last thing I remember seeing was Metro Boomin bringing out the legend that had me singing about strippers in middle school: T-Pain. He performed "Buy U A Drank" to my delight and my night was made as I stumbled out of the festival and into the Lyft that would take over an hour to get us back to our Airbnb—but I didn't care, I was happy.
My first festival experience was enjoyable beyond all expectations, I saw many of my favorite artists grace the stage and I remember it all. As I sit here typing this story on Tuesday afternoon, I only have one regret: I should have taken a picture with Uzi's Ferrari before it almost ran me over to put with this story…. but hey, there's always next year.