The first time I saw Billie Eilish perform, I was standing in a crowd of around 50 people at a small park in Isla Vista, California. The makeshift stage had been set up in front of the Isla Vista Community Center, and small tables behind the crowd were selling an assortment of merchandise like sweatshirts and long-sleeve shirts. Our school's Associated Students' organization had booked her to perform at the University of California, Santa Barbara, on a Friday night, the day between her Los Angeles and San Francisco shows.
I remember showing up about 45 minutes early to the small outdoor concert expecting a large crowd, but only seeing a small group of fans buzzing with excitement waiting for Eilish. She appeared on the stage wearing her signature style of insane-patterned clothing: an oversized blue turtleneck sweater and checkered pants, all complemented by a gold chain around her neck. That performance was the greatest concert I've ever been to. Standing at the edge of the stage, I belted out the lyrics of every song from her album, "don't smile at me," and left the concert looking forward to the next time I could see her perform.
The second time I saw Eilish perform was at Outside Lands 2018, a little under a year after I saw her perform at UCSB. The crowd was so large that I watched the majority of the performance on the large screens surrounding the main stage. Every single aspect of that performance was different — except for Eilish's energy. Clad in a Louis Vuitton-designed medical boot, she jumped around the stage, hyping up the audience while singing. She ran around as best as she could considering her boot, and sang her song "Bored" while sitting at the edge of the main Lands End stage, capturing the audience's attention with every move. Although the experience was incredibly different from the one at that small park in Isla Vista, it was just as memorable.
This increase in Eilish's fan base didn't happen overnight, but it certainly occurred quickly. When I started following Eilish on Instagram in November 2017, she had just over 250,000 followers. Today, she has over 9.3 million.
Eilish's career started with her debut single, "Ocean Eyes," which she released on SoundCloud in 2016. That same year, Eilish released another single, "Six Feet Under," and, following positive reviews from critics on her music, Eilish released the single "Bellyache" on Feb. 24, 2017. Produced and co-written by Finneas O'Connell, her brother, "Bellyache" was a success and loved by audiences, especially once the remix by Marian Hill was released. Later that year, on Aug. 12, 2017, Eilish released her debut EP, entitled "don't smile at me." The EP consisted of nine singles that she had released over the course of the summer.
In February 2018, Eilish started her Where's My Mind? Tour. That same year, she collaborated with singer Khalid to release the single "lovely," which was featured in the second season of the show "13 Reasons Why." In 2018, Eilish also released the singles "bitches broken hearts," "you should see me in a crown" and "when the party's over." As fans anticipated her sold out tour, entitled 1 by 1, which started in October 2018 and ended in late November, they were also ready to hear Eilish's debut album. Confirmed by O'Connell and her studio, Eilish is currently working on her debut album and is expected to release it before the end of 2018.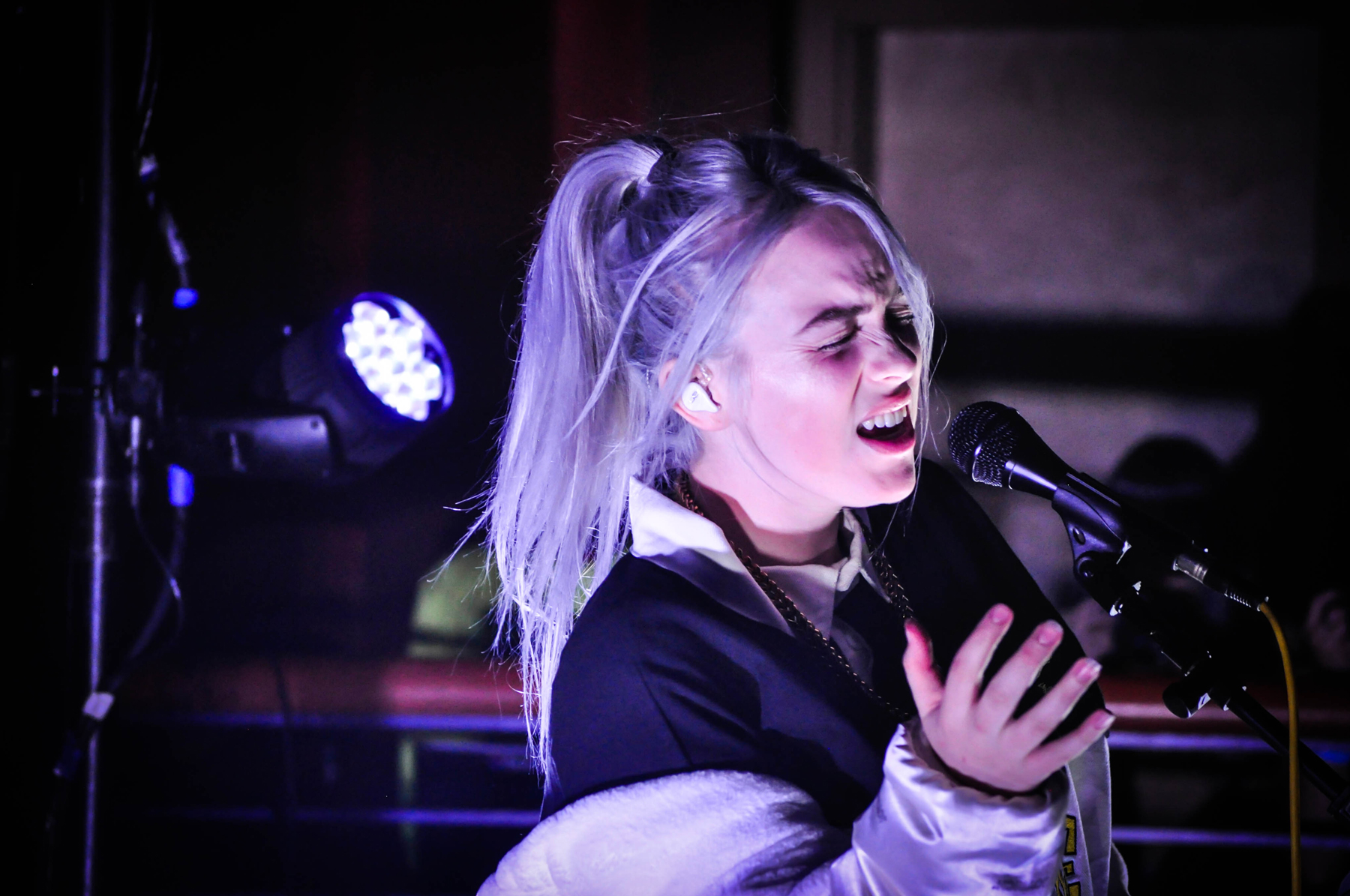 So how does fame acquired in such a short amount of time affect 16-year-old Eilish? In a YouTube interview entitled "Billie Eilish: Same Interview, One Year Apart," uploaded by Vanity Fair, it's clear to see the difference in Eilish's character. While she maintains her authentic edge and genuine responses, an important aspect of Eilish's breakthrough success is made clear. In a question posed by Vanity Fair to Billie, the interviewer asks her about the largest number of people Eilish has performed in front of. Fifteen-year-old Eilish responds, "It was at the Crocodile in Seattle and it was like 500, I think." Sixteen-year-old Eilish, watching the old interview, reacts in amazement and responds to the same question, "That's what I said? That's so cute. Um, the best one I've had was Music Midtown in Atlanta. 40,000 people. Such a dream."
Another question asks Eilish if she has met Tyler, The Creator, who is the artist who inspires her the most. Fifteen-year-old Eilish responds, "No. I would love to meet – I have not met him. Oh my god, I would explode if I met him." With a slight smile, 16-year-old Eilish looks straight at the camera and softly says, "I met him. I met him and it was great."
Much of the interview continues in this fashion, with 16-year-old Eilish amazed at 15-year-old Eilish's naivety. The comments section of this video has a very somber tone to it. A comment, posted by YouTube user Emily Storey-Smith, which gained over 21,000 likes, reads: "This is so sad. Her enthusiasm has disappeared :(."
While Eilish's enthusiasm may not have disappeared, it's clear to see that she's tired. She still loves what she does and will continue doing it, but gaining that much traction over the span of a year is tiring. I most probably will not get to see Eilish perform in a setting as intimate as the one in which I did in 2017, but if her later performances have been any indication, neither the venue nor its number of people can change Eilish's passion. Just hand her a microphone and give her a stage. She's got the rest.