Classic delta blues is getting a fresh face in 2018 as sister duo Larkin Poe embark on their latest tour in support of their newest full-length release, "Peach." Megan and Rebecca Lovell grew up in Georgia, a culture rife with a blues influence, and have been laying down the gritty soul of the blues ever since their early teens.
The sisters were home-schooled country girls whose initial exposure to music, at the tender ages of 5 and 6, came in the form of classical violin and piano.
As they grew a bit older, their interests shifted, however. Rebecca cites bluegrass as a huge musical influence for her in early adolescence. As a result of her interest in the genre, Rebecca learned to play the banjo, and eventually, the guitar.
Similarly, as her interest in bluegrass and classic rock grew, Megan also learned to play a variety of instruments. The silver-haired vixen is probably most associated with her prowess on the lap steel, however, which is a variation of the slide guitar played horizontally across one's lap.
The sisters dedicated much of their childhood and early adolescence to practicing and writing music, and it paid off early on, as the pair went on to win competitions in their teens. Once a bluegrass trio named the Lovell Sisters, their oldest sister Jessica eventually went on to pursue an education, which left her little time to practice.
After Jessica quit the band in 2010, the pair adopted the name Larkin Poe after their great-great-great grandfather, macabre poet Edgar Allan Poe. Being a family band, the sisters have said that they wanted their band name to have familial significance, and what better way to do that than to highlight their famously artistic lineage? The name change marked a new beginning for the soulful sister duo.
Larkin Poe began deviating from their bluegrass beginnings and adopting a new sound that they've dubbed "roots rock," a genre that encapsulates the essence of old Georgia blues, classic rock and soul.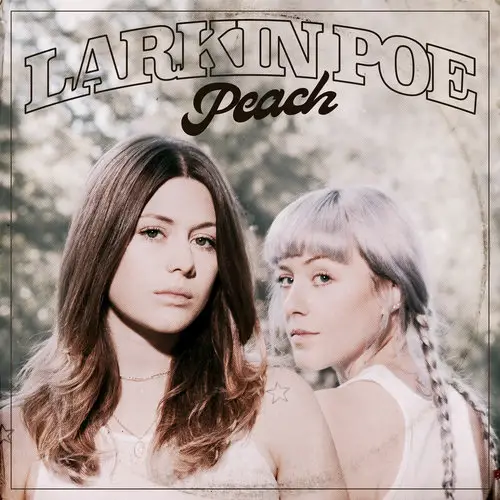 Larkin Poe has released five EPs and three full-length studio albums since becoming a duo and they show no signs of slowing down. What makes this band particularly unique, however, is their presence on social media.
The pair gained name recognition and notoriety by sharing videos of themselves playing music in their bedrooms on Facebook and Instagram, to the delight of several unsuspecting would-be fans.
Playing mostly covers, Larkin Poe largely attributes their success to their social media presence. In the modern era, social media serves as a platform for many artists to gain stardom. Larkin Poe saw a fortuity they never expected as a result of social media.
Covering everything from The Beatles to The Black Crows and Eric Clapton and even reinventing blues classics, such as "Rollin' and Tumblin" by Muddy Waters and "Spoonful" by Howlin' Wolf, the soulful duo has reached an unexpected level of stardom via Facebook and Instagram.
In fact, the positive feedback the band received on social media served as the influence for their latest album, "Peach." Fans suggested the duo strip down their sound and get back to their gritty roots with a less polished ambiance that captures the magic they created in their home videos, and tracks like "Look Away" and "Preachin Blues" do just that.
Larkin Poe | Preachin' Blues (Official Video)
In an era in which electronic dance music and dubstep reign supreme, youthful sisters Larkin Poe have given audiences a new appreciation for the analog sounds of the electric guitar and a soulful vocal.
Compared to other contemporary artists, Larkin Poe's range of appeal puts them in a class of their own. Because of their gritty and bluesy approach to older and more traditional styles of music, older classic rock fans tip their hats to the roots rock duo, while younger audiences are able to garner a newfound appreciation for the classic styles of soul and the blues.
In many ways, Larkin Poe has revolutionized the blues for whole new audiences. Since the release of their first full length album, "Kin," the duo has gone on to do several notable live performances, including an episode of "Conan O'Brien" as a last minute addition to the show, as well as a performance at the Maverick Festival, where they were dubbed the little sisters of the Allman Brothers.
Because of their appreciation for classic rock, the band was even invited to perform at MusiCares Tom Petty memorial, an honor they were delighted to accept in the wake of the tragedy of the legendary singer's untimely passing. It seems with hard work, there's nothing these girls can't accomplish.
Another notable factor regarding Larkin Poe's seemingly overnight success is the band's insane work ethic. Megan and Rebecca live and breathe music, and spend much of their days rehearsing, and it comes through in their polished, yet gritty sound. Perhaps that's why they've achieved such a notable level stardom and the sound of seasoned blues musicians in their mid-twenties.
Currently, Larkin Poe is on tour in North America, largely playing in the southern states (which seems fitting considering the band's rootsy southern rock style), and in Canada. Their third full-length release, "Peach," is available for purchase on Spotify.
These workaholic sisters aren't slowing down anytime soon either. The pair says fans can expect much more from Larkin Poe in coming years, and for that, blues lovers are eternally grateful.