This is Charli XCX's first chance at pop superstardom. She's the musical guest on an early 2017 episode of "Jimmy Kimmel Live!" and she's still flying high from the immense triumph of her appearance on Iggy Azalea's "Fancy" and her own chart-climbing track, "Boom Clap." Her second album, "Sucker," was a minor success, and now Charli XCX has become a voice recognizable to radio listeners worldwide.
But tonight, Charli is an artist reborn. She'll debut a brand-new sound, and Jimmy Kimmel's show, with its massive audience, universal appeal and the frequency with which its clips go viral, is the perfect place to do it. It's a main line to middle America, the critical audience who could finally decide to wholeheartedly embrace her as a solo artist, to give in to more than just the boom clap, the sound of her heart.
She had previously experimented with her newly adopted style in her live shows. She would tease the fans with the promise of a new track, and with her audience primed for a song in her familiar bratty, punky but-not-too-alienating pop princess style, she unleashed the new Charli XCX. Her new sound was a crack of a leather whip, the revved engine of a souped-up sports car. Charli had been inspired by the hyperactive production of PC music, as well as the sounds of the London raves she began her career in.
The track she performed on "Kimmel" was called "Bounce" and was produced by PC music mainstay A.G. Cook. The performance was, in so many words, a messy disaster. In it, Charli jumped around an all-white stage covered in feathers while Cook lay on a platform face down the entire time. As she shouted the song's lyrics — which mostly consisted of the word "bounce" repeated several times, a common trope in PC music but not commercially successful pop songs — Charli's viability as the world's next pop phenom dwindled away.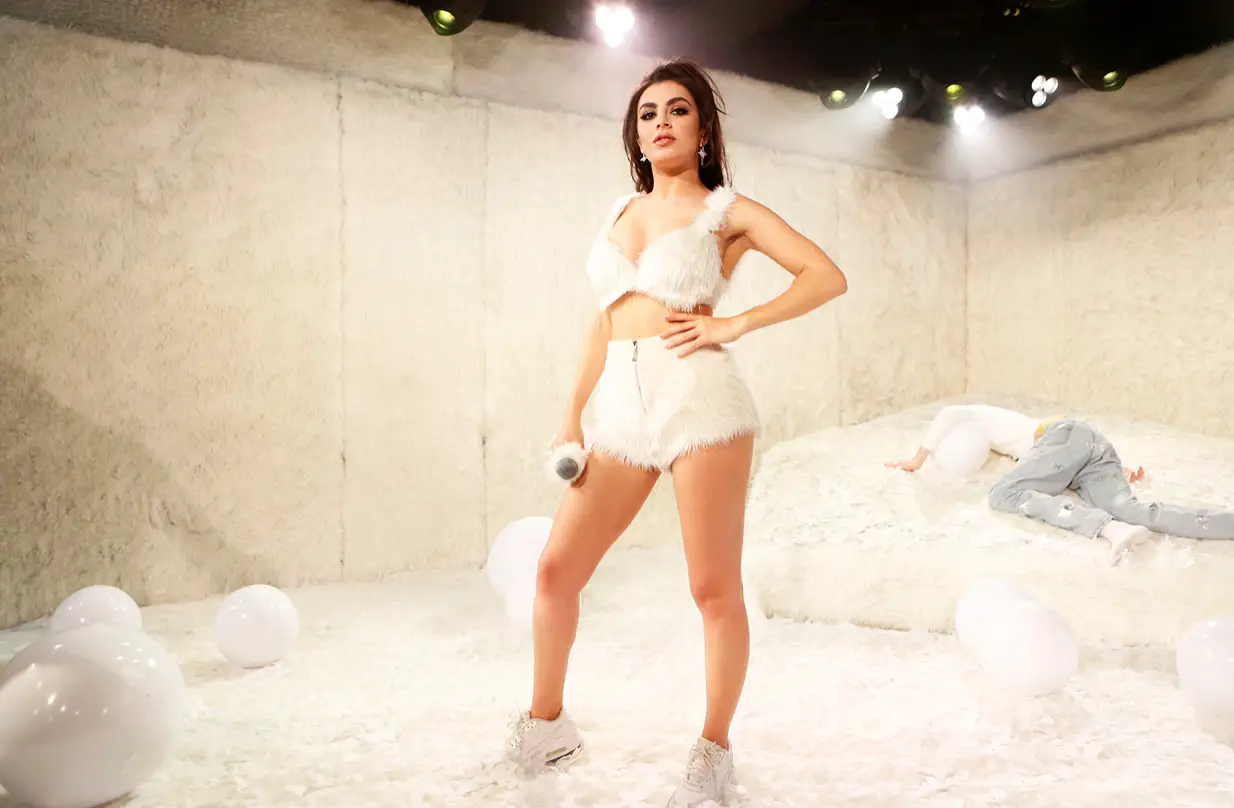 "Bounce" was allegedly set to be the first single from Charli's third album. But following the withering response to the performance online, all traces of it were scrubbed from the internet. Atlantic Records, Charli's label, tried to figure out how to course correct their wayward starlet. The late-night litmus test of the newer, harsher sound proved that she could not be a pop music rule-breaker if she was ever going to be a superstar.
With any official releases now in label limbo, the most dedicated of her fans, known affectionally as "Angels," found themselves starving for a new album. But soon, a rift opened up in the Charli XCX musical universe. Songs reportedly meant for her third album that she had crafted with Cook as well as SOPHIE, another PC music producer and artist, began to leak online.
The tracks were a treasure trove. The "Bounce" performance may have alienated the fans Charli had picked up during her "Fancy" days, but she had captured the attention of listeners who were ready for a new pop music renegade.
Leaked cuts like "Taxi," "Come to My Party" and "TKO" weren't as abrasive as "Bounce," nor did they borrow as heavily from the most aggressive of PC music's tendencies. They made use of the pop music confections and earworm hooks that Charli had mastered on her previous releases. They were a sound of her very own, tracks conceived unmistakably from the mind of the artist. The leaks proved everything she was capable of, and Charli's Angels solidified their devotion.
Although leaks typically serve as nightmare fuel for pop stars, Charli's unofficial discography has become as vital to her career as her sanctioned releases. The songs were the ones Charli had always wanted to make, but were never meant, or never allowed, to see the light of day. Rumbling below the surface of the stalled superstar was a pop music disruptor.
This is who the fans came to see. At her live shows, nestled between hits like "Fancy" and "Break the Rules," Charli would treat her most loyal listeners to a performance of "Taxi" or another unreleased fan favorite, like "No Angel." As these performances made their way online, Charli's secret fan club grew. They traded illegally obtained MP3s of the tracks like Pokemon cards. They tweeted her, begging for studio versions of the tracks or a one-off live show with a setlist consisting solely of unreleased songs.
Like any pop music fanbase, the Angels had always been a persistent bunch, but nothing lit their fire like wanting something they couldn't have. To whet her fans' appetite, Charli released a 10-track effort called "Number 1 Angel." Despite being a typical album length, the project was billed as a mixtape, a music industry trick often used by artists to circumvent label intervention.
Released just a few months after her disastrously received Kimmel performance, "Number 1 Angel" received mixed reviews, with critics calling it rushed and unfocused. But for the most part, it didn't matter. She was back in the public eye with an (almost) official release and the reintroduction of the new and improved Charli XCX. By the end of 2017, she released a second mixtape called "Pop 2." Mixing the glitzy pop hooks of her past with a metallic, futuristic PC music-influenced production, the release was hailed by listeners as an encapsulation of everything Charli's sound could be.
This is Charli's second chance at pop superstardom. Not only did "Pop 2" enthrall her most devoted fans, but it also secured her one very critical listener. Along with Camila Cabello, Charli was announced as an opener for Taylor Swift on the tour for her album "Reputation," meaning she would be performing every night for hundreds of thousands of people, in some of the biggest venues in the world. Charli also announced a concurrent series of much smaller shows she would headline, a gift to her Angels that would feature her less radio-friendly tracks, including much of her unreleased material.
While on the tour, Charli dropped a nostalgia-stimulating track with Troye Sivan called "1999." The song has proven to be a slow but steady builder in popularity, reaching the top 20 on the charts in the UK, with its music video raking up 12 million views and counting. The track is also set to be her first song as a lead artist to be sent to American pop radio since "Boom Clap."
She expressed her shock in an Instagram caption, writing, "Omg 1999 is top 20 in the UK!!!!! Thank u everyone for making this happen, this literally never happens to me anymore LOL!!!!"
It may have taken her a couple tries, but Charli has carved out a new kind of pop stardom. She's figured out how to operate outside of the watchful eye of her label, making the kind of music most pop stars wouldn't dare to create. Every new release, official or otherwise, is exhilarating, and it's paid off. Vacillating from massive stadiums playing her biggest radio hits to taking over tiny clubs to perform for crowds who sing along to every word, Charli has been spearheading the rebirth of her career.
Charli won't stop at being a pop star. She's the ruler of the pop music underworld.